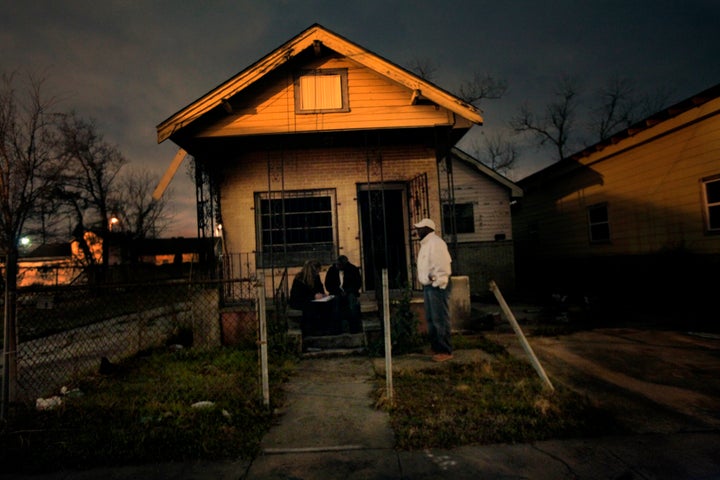 Ald. Deborah Graham (29th) announced at a news conference Sunday that she will introduce an ordinance backed by the Chicago Teachers Union requiring vacant buildings to be secured during school hours.
At the press conference in front of Leland Elementary School in Austin, a resident complained about a property next to his home that's been empty for three years. He says drug dealers use the vacant property as a base.
"This house has been really, really bad and full of trouble," Sherman Carter, 41, told the Chicago Sun-Times. "The need is great to take care of these buildings for the safety of the schools and the neighborhoods."
The ordinance will require banks that own foreclosed buildings near schools to hire watchmen to guard the property between 8 a.m. and 4 p.m., the Chicago Tribune reports. Noncompliance would be punishable by fines of up to $1,000.
"[Our community] is being horribly affected by foreclosures and the unresponsiveness of the banks," he told the Huffington Post.
The ordinance would add the property security requirement to the Safe Passage program, to which the school district is committing about $10 million this year, Chicago Public Schools spokeswoman Becky Carroll told the Tribune. The program aims to protect students while they commute to and from CPS schools.
"Providing safe passage for our students to and from school is a top priority for CPS," Carroll told the Tribune.
Carroll told the Tribune that a security camera initiative being piloted at Fenger that has helped reduce reported crimes in schools by 22 percent over the last two years.
The Vacant Property Safe Passages ordinance will be introduced at the next City Council meeting Wednesday, Fox Chicago reports.
Related
Popular in the Community