 The report, which was prepared by five researchers working for the union, aims to highlight the shortcomings of the city's efforts to close neighborhood schools and replace them with privately-run charter schools. It contends education reform efforts have fostered racial segregation and hindered academic gains.
"When it comes to matters of race and education in Chicago, the attack on public schools is endemic," CTU President Karen Lewis said in a release. "Chicago is the most segregated city in the country, and our students of color are routinely deemed as second-class by a system that does nothing but present one failed policy after the next."
According to the report, 88 percent of students affected by CPS closings since 2001 are African-American, and schools enrolling more than 99 percent students of color have been a primary target of CPS school actions, representing more than 80 percent of all affected schools. The union's report also takes issue with the teacher-student diversity gap that is especially apparent in charter schools; while more than 95 percent of students at charters are black or Latino, only a combined 30 percent of teachers are.
However, a 2009 report by the RAND Corporation appears to contradict the union's claims. Among other things, the RAND report examined the racial and ethnic mix of the student bodies at both new charter and old public schools. It found that transfers from neighborhood schools to charter schools in Chicago do not increase racial stratification across the schools; rather, transferred students moved to schools with similar or slightly lower proportions of other students of the same race and ethnicity.
The union especially takes issue with the district's push to shutter public schools in favor of opening more charters. Even if Chicago Public Schools closed 100 schools, the report argues, its annual savings of $50-$80 million would constitute only 1-1.5 percent of the district's operating budget. The report also notes Chicago has the highest class sizes in Illinois and argues closing public schools will only force more students into overcrowded classrooms.
Chicago Public Schools Chief Executive Barbara Byrd-Bennett disputed those claims. "The fact is that CPS simply has too many underused buildings, and too few students," she said in a statement. "Much of this is due to Chicago having 112,000 fewer school-aged children than the last decade, resulting in dwindling school populations."
She went on to say that more than half of the district's schools are underutilized and nearly 140 are half-empty, diverting resources that could be used elsewhere.
The union claims the district's resources are already going too heavily to charter schools. The report finds charter school spending increased by 624 percent between fiscal years 2004 and 2012, despite the district's calls for overall spending reductions.
Overall, the union is pushing for CPS to end what it calls a "failed policy" of replacing neighborhood schools with charters, and instead "provide neighborhood schools with the resources needed to give students and parents the schools they deserve." One of the biggest arguments in favor of charter schools -- that they outperform CPS neighborhood schools -- is also one of the biggest myths, the report attests.
According to the union, among elementary schools where 90 percent of the student population qualifies for a free or reduced lunch, charters average at the 33rd percentile in reading test score gains. Their neighborhood school counterparts, by comparison, score in the 43rd percentile. On average, non-selective magnet schools outrank charters by 12 percentile points in reading and two percentile points in math.
CPS cited its Charter Performance Report, which compares charters to the neighborhood schools students would otherwise attend. According to the 2011 comparison, over 80 percent of charters outperformed neighborhood schools in various categories, including dropout rate, attendance rate and graduation rate. Additionally, more than 80 percent of charters outperformed their neighborhood counterparts on two key state exams.
Before You Go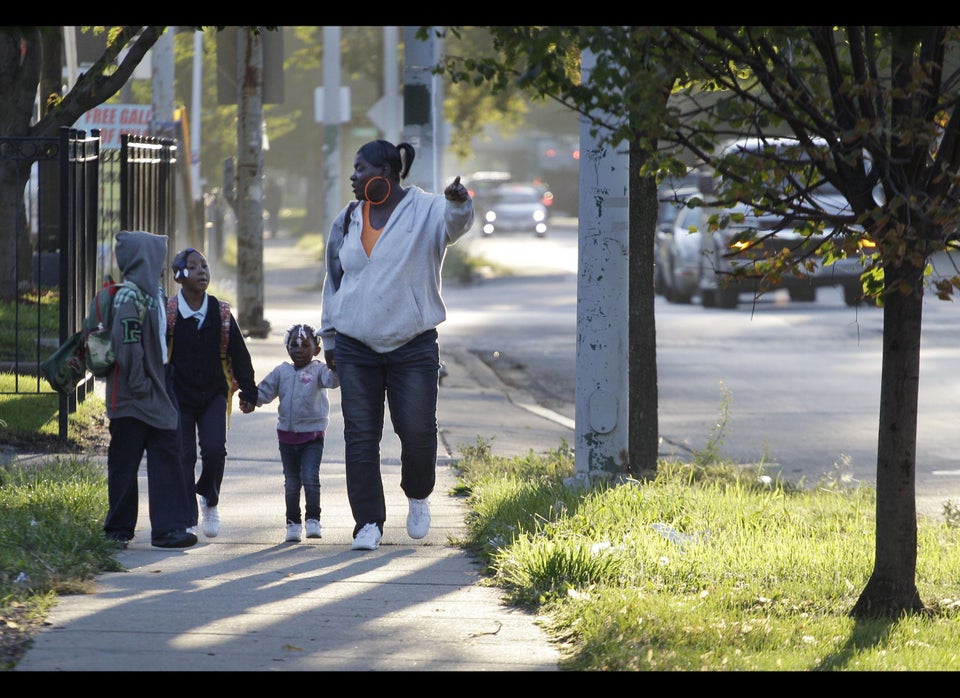 Chicago Teachers Strike
Popular in the Community