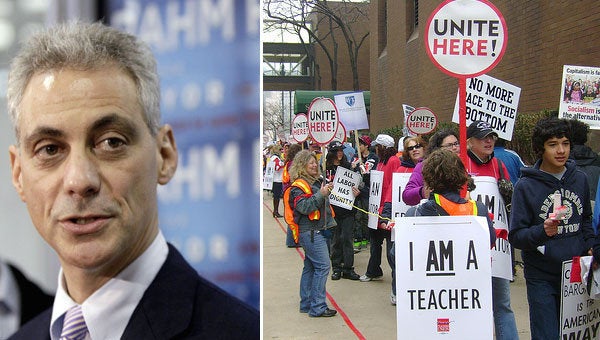 The Chicago Teachers Union on Friday filed a unfair labor lawsuit against Mayor Rahm Emanuel's Board of Education, claiming that the board has coerced and bribed schools into lengthening their instructional day by 90 minutes.
The same day, Chicago City Council members, by and large, lined up behind Emanuel's push for the longer school day. Ald. Ed Burke, typically a labor proponent, said he was "starting to get embarrassed at the attitude of some leaders of organized labor."
"It is unfortunate the City Council bowed to the pressure of a well-orchestrated propaganda campaign that has no scientific evidence to show that this will do anything to improve the quality of education in our neighborhood schools. It is shameful that not one politician stood up for our students and teachers who deserve better. A longer school day is inevitable but how will it be funded and how will it be planned? … The longer school day campaign is nothing more than a political gimmick based on lies, misinformation and half-truths."
News of the lawsuit arrives on the same day that former CPS head and current U.S. Secretary of Education Arne Duncan arrived in Chicago to discuss education reform alongside Emanuel, Illinois Governor Pat Quinn and current CPS chief Jean-Claude Brizard in a North Side panel discussion at Schurz High School. The event is part of a multi-state bus tour.
(Scroll down to watch a video report on the debate over the longer school day.)
"We were unsuccessful (in pushing for a longer school day), and it was one of my big regrets. There's no question about it," Duncan told the Tribune. "This is an amazing opportunity for Chicago to go to another level … They need to be thoughtful, they need to be smart, they need to be inclusive, they need to be strategic, but they need to get this done."
"They are going around us to negate the contract with our members, and that is unlawful," Lewis told the Sun-TImes. "This is an attempt to take down and make irrelevant the Chicago Teachers Union because if the CTU goes, they can roll over every union in the city."
WATCH Fox's report on the debate over educational reform in Chicago:
Related
Popular in the Community