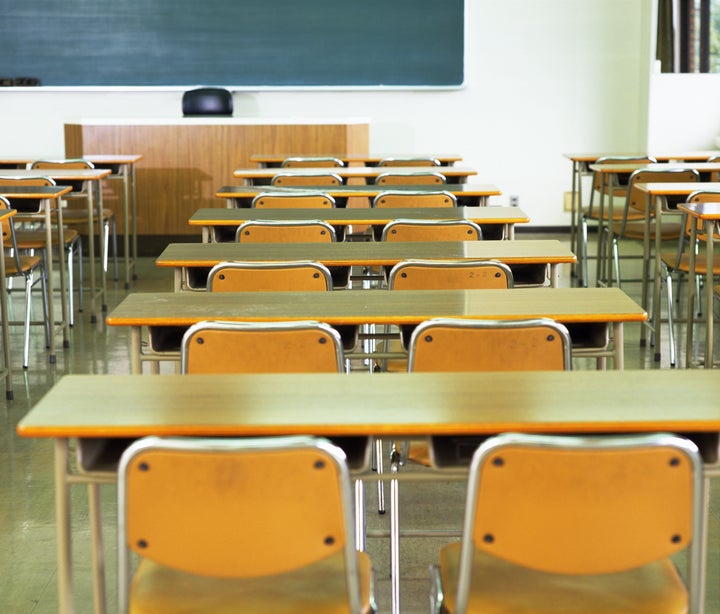 After years of attending Chicago Board of Education monthly meetings, on December 14, 2011 I felt like I left one where the community was actually heard, by the public and by the board. During the "public participation" segment of the meeting, a lone voice stopped the business-as-usual.
Adourthus McDowell, a Chicago Public School parent and member of the Kenwood-Oakland Community Organization, began the takeover by rising from his chair and interrupting a presentation by Chicago Schools CEO Jean-Claude Brizard on a new $660 million capital construction plan.



Using a 'mic check' technique borrowed from Occupy Wall Street protestors, McDowell read from a prepared text in short bursts so comrades planted around the room could repeat his words and thereby amplify them for the crowd.
The action continued. Parents, educators, and community activists repeated Mr. McDowell's speech and were escorted out of the room one-by-one.
Some local bloggers and politicians have become highly critical of the "mic check" tactic, where public meetings and events are upstaged by the voice of those who feel voiceless. On its face, it does appear to be rude and counterproductive.


This would be true if these public meetings really were about providing community input. I've attended hundreds of public meetings, both as an activist and as a reporter. Board of Education "public participation" segments are two hours where taxpayers are allowed two minutes each to describe decades of neglect or outright sabotage of their school communities, as bemused members of the Board of Education play on their Blackberries.
Ever have that nightmare where something terrible is happening and you can't scream for help? For the parents, students, and educators who take a day off of work to attend these meetings, this becomes a reality.
This particular meeting was held in the wake of CPS' announcement to close and turnaround more schools. Many came to defend their school communities. They were prepared with data and research to show why the board should halt their plans.
A study by UIC professors last year showed that the turnaround model espoused initially by CPS during the Richard M. Daley administration has served largely to re-segregate the school system.
The Board of Education didn't get to hear any of this at the meeting, as James Warren describes in the New York Times:
David Vitale retreated into executive session. Mr. Vitale is a banker who was picked by Rahm Emanuel to be president of the Chicago Board of Education.
This was after the Mr. Vitale, much like a bad first-year teacher:
... told the crowd that he hoped they'd 'gotten it out of their system,' prompting more jeers.



'We need you out of our system,' one man yelled back.
It seems that when confronted by the public they chose to serve, the Board of Education retreats. After the board members left the room, Jesse Sharkey -- the vice president of the Chicago Teachers Union -- who taught for over a decade in CPS schools explained their cowardice:

'I've had many hard days as a teacher and... you can't just take your ball and go home,' Sharkey said, addressing the empty seats.
When you are working on changing a system led by the richest people in the city who have no patience for the people whose taxes pay their stipends and subsidize their friends, you have to come up with new tactics.
Had the community members played by the board's rules last week, the meeting would have been just another one like countless others. Motions would be passed and communities would be destroyed, as members of the board could continue playing Words With Friends.

REAL LIFE. REAL NEWS. REAL VOICES.
Help us tell more of the stories that matter from voices that too often remain unheard.