And so it will happen. This week, powers that be in Chicago will demolish a little work by Mies van der Rohe. A small part of his extraordinarily important campus for the Illinois Institute of Technology will bite the dust.
Another small piece of when Chicago ruled the architecture and planning worlds will be gone forever. In the hopes that maybe we will save the next small piece of our history to be threatened with sacrifice in the name of progress (see Stock Exchange, Chicago, Louis Sullivan; Arts Club Chicago, Ludwig Mies van der Rohe...) I send this open letter to a friend, the architecture critic of the Chicago Tribune, Blair Kamin.
You know I respect you immensely as an architecture critic, but I must differ with you for accepting without loud cry the unnecessary demolition of a work in Chicago by the great modernist architect Ludwig Mies van der Rohe.
We speak of what is called the "Test Cell," at the Illinois Institute of Technology (IIT) on the south side of the city. It will come down this week, maybe even today, because nearby -- not even directly on its site -- the commuter rail line Metra will erect a new station on its Rock Island District Line which chugs through Chicago's South and Southwest Sides to the Southwest suburbs. The station will be used by local residents of Chicago's Bronzeville neighborhood and also by fans going to White Sox park right across the Dan Ryan expressway and by IIT faculty, students and staff. That's all good -- no one is more in favor of train stations and public transportation than we are.
But honestly, Blair, wouldn't it be easy to have the train station on site it is planned for and to not touch a brick of Mies's building and adjacent walls? You don't address how easy that would be. Look -- here's the Test Cell, in the lower left corner: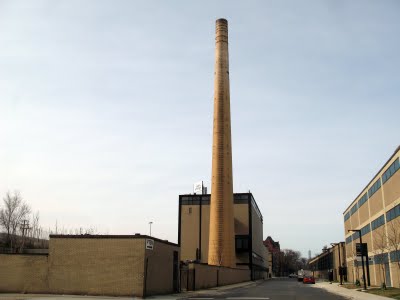 Test Cell and walls to be demolished- bottom left.
-Ludwig Mies van der Rohe
And here is a rendering of the planned station: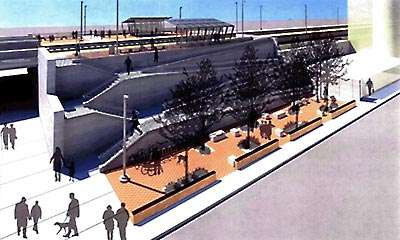 The lower left corner is basically -- empty! Couldn't the existing works by an acknowledged master have been easily incorporated into the new station? Wouldn't that make the site more interesting, not less? It seems to the Test Cell and its adjoining walls could easily be saved and incorporated into the station project.
Is there some other force at play here? Some antipathy to Mies or Modernism or as sometimes happens in Chicago, antipathy to anything that strives to be a little better, a little more designed, thought through and significant.
Blair, in your most recent writing on Mies's Test Cell you cite another excellent critic, Richard Lacayo of Time Magazine who wrote about the Test Cell issue: "Buildings occupy land, and in a densely settled city every acre is contested ground." This makes it sound like the Test Cell is in mid-town Manhattan, standing in the way of some great development with no alternative but to remove it. The truth is that near the Test Cell are many lots that look more like Detroit -- not so "densely settled," not so contested, not so desired even. You and I know that much land to the south and to the west stands vacant and with a little creativity, vision and sensitivity the station could be built on any of those three sites. Here's the view directly across the street from the Test Cell.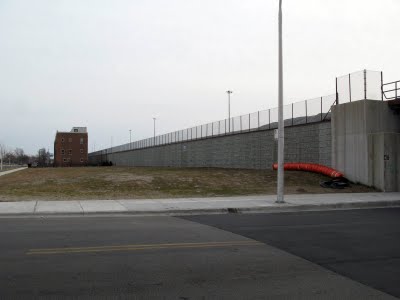 A densely settled city?
Chicago -- a Midwestern city in a tough climate -- ignores the lessons of Detroit at its own peril. By destroying heritage buildings and making the place less interesting the city alienates and risks losing the creative class. Tearing down an asset such as a part of a masterpiece campus by Mies van der Rohe -- one of the most important architects in history -- is short-sighted and will lead to more blight, not less. A Google Earth photograph already shows desolate land by the Test Cell.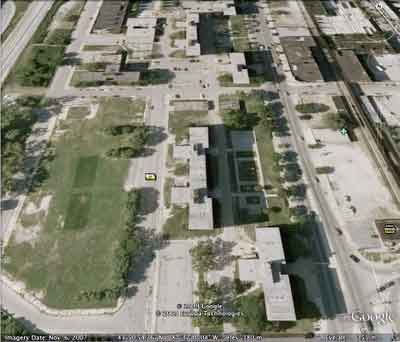 Figures from the year 2000 put population density for Chicago at about 13,000 people per square mile. But the area around IIT housed only about 4,000 people per square mile. That is hardly "densely settled."
Berlin, Germany has about 10,000 people per square mile and they manage to preserve their minor and major works by Mies. Berlin officials are now trying to rebuild a brick monument Mies designed.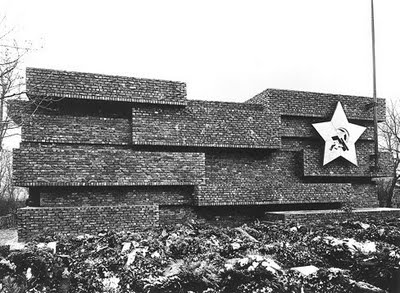 Monument to Rosa Luxemburg and Karl Liebknecht, Berlin, 1926
-Ludwig Mies van der Rohe
Unappreciated and torn down by the Nazis.
Rather than demolishing works by the masters who made Chicago great, the city ought to preserve and project the greatness of this legacy to the world. Sadly at the same time we lose a part of Mies's IIT campus we also lose important works nearby co-designed by another Bauhaus master Walter Gropius.
Chicago tried to take a world stage with an Olympic bid and it failed. In recent memory it has gone from being the city internationally famous for Al Capone to being more famous for Michael Jordan of the Bulls and then of giving the world Barack Obama; but now Chicago seems to be slipping backwards, enduring slurs about "the Chicago Way" in politics. The great Mayor Daley sees his power and his popularity dissipating, after his triumph of imperial proportions at Millennium Park. Financially the city is doing the equivalent of tearing down the Test Cell by mortgaging its future for short term "gain" however it can, such as by leasing out its parking meters and maybe also its water supply.
This week, the best news for the state of Illinois, seems to be that the Feds might use an Illinois prison to house terrorists. Is that Illinois' future? We need to support what is great in Chicago, which includes the incredibly important work of Mies van der Rohe. We should work together to have all of the Illinois Institute of Technology designated a World Heritage site.
We all know that at fifty or sixty years old buildings go through a phase where they have aged and are decrepit and look ugly and are under-appreciated. They are "your father's buildings" and we want new. History teaches us that that is not the time to pass final judgment.
By the way, we know the Test Cell is by Mies. The work is listed in his published archives.

I advocate a sort of "Hippocratic Oath" for architects, one tenet of which would be: if you must tear down something of value, you must replace it with something of equal or superior value.
From renderings the new Metra station and plaza by Skidmore, Owings and Merrill looks rather bland as seen above and here: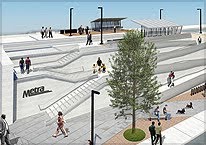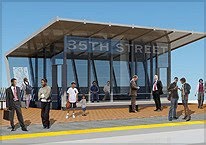 Images Skidmore, Owings and Merrill, LLP
More uninspired infrastructure, from a design point of view. This is worthy of its place along the Dan Ryan expressway. It's far inferior to, for example, this more exhilarating work by SOM Chicago for China (Ross Wimer - SOM Design Partner for the project). Why is that? Are Chinese cities today ambitious and experimental in ways Chicago was when Mies was around?
Blair -- when you write of the Test Cell you do not write of it as part of the Mies van der Rohe-designed IIT campus. You consider it in and of itself. But you have written eloquently in the past of how individual buildings make a fabric. You have written well of how not every building should stand out, how some should be background players; and that's what the Test Cell is. In my opinion what is important there are the brick walls that extend from it, and connect Mies's IIT campus to the city around it.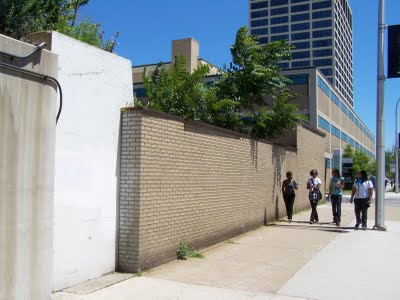 I know you and I agree that Mies is one of the most important architects who ever lived, and certainly who ever built anything in Chicago. Mies is the man who said, "Architecture starts when you carefully put two bricks together. There it begins." There are several important words in that quote. One is that you must work and think "carefully." We are not doing that by tearing this down. The word "Architecture" is important -- he does not mean building, he means Architecture. There is so precious little of it in all the buildings we put up today, but the campus of IIT is one of the most important Modern Architecture sites in the world; why are we altering it, desecrating it? And finally, it is important that Mies is talking about bricks.
The Test Cell offers those who will listen a quiet message of doing much with little, of not wasting, of honesty, of each American citizen being like a brick- our common material- and when you arrange them into a wall, each supports the other and you create a society, a self-reliant society that does honest work and stands on its own. Each building at IIT is like a state, made of citizens. Together they make a nation. E Pluribus Unum. Each part is important, each brick is important. Mies, coming from post-Enlightenment Berlin was impressed with Karl Friedrich Schinkel's neo-classical buildings that also sought to build strong, enlightened, progressive citizens .
Only when you have enough little buildings like the Test Cell are you perhaps ready for a masterpiece such as Crown Hall - Mies's great "temple" just around the corner. The one needs the other. And if we can not value the Test Cell, then we can not fully appreciate the masterpiece. The Test Cell is your foot soldier, your pawn, your second baseman (turning a corner), your factory worker, your proletarian. It exudes decency. Are we so besotted with spectacle that we no longer value decent, little honest "supporting actors" of buildings?
Mies is one of Chicago's great triumvirate -- Louis Sullivan, Frank Lloyd Wright, Mies van der Rohe. We've lost so much of their work. Perhaps it was a fluke that they built there at all. The U.S. was a different place then -- in their time, Chicago was the center of the architecture and urbanism world. Since then, Los Angeles and other cities have siphoned off much of Chicago's creative talent. New York developed a super-rich architecture scene, the warm southwestern cities grew in population at Chicago's expense. By chance, I write this from Las Vegas of all places, where life has taken me for a few days. I would argue that Mies's little Test Cell is worth more than just about every building here.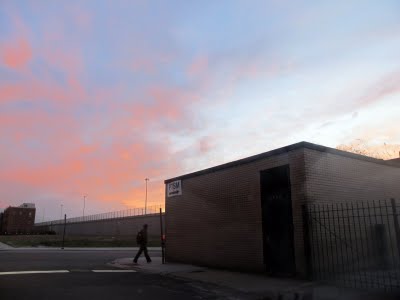 I wrote that tearing this down is like destroying forever a minor work by Mozart. You support the counter-argument that sheet music can be stored in a drawer. I counter that with this: architecture can only truly be experienced by walking up to it around it and through it. No photograph, computer or drawing can completely convey the architectural experience. By tearing down the Test Cell -- when it does not need to be in order to build the station -- we are depriving all future generations the chance to experience a progression designed by Mies van der Rohe. No one will be able to walk underneath that bridge at 35th street, see that thin brick wall reaching out, forming a plane in space, just beginning to form an ensemble, becoming something great and historically important, making a turn to reveal to the viewer a great Modernist street and cathedral-like power plant -- to herald a new world and a new way of life. A democratic way, a technological way but one with art -- technology and new materials through sensitive artistic handling to help to give us dignified lives -- that is Mies's lesson for us.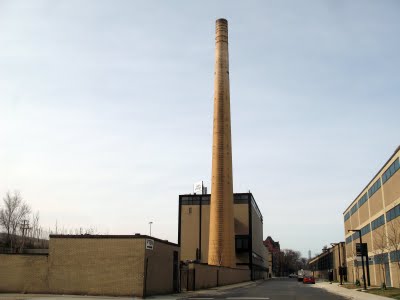 Why not clean up these nice yellowish bricks and turn this into a kiosk dispensing information to all who pass on the importance of the campus of the Illinois Institute of Technology? It's hard for many to see it now, but people always come around to appreciating quality. Unfortunately, that's often not until it's gone.
More on Mies's Test Cell here.
Cultural Critic Edward Lifson writes about architecture, Mies and design at Hello Beautiful!
Popular in the Community