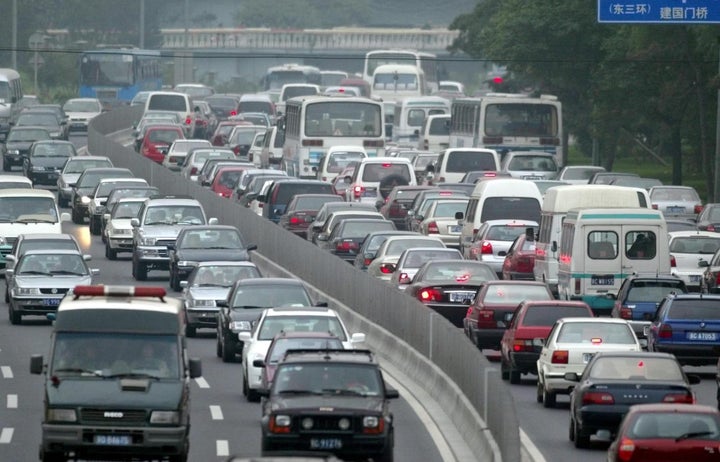 Thought the commute to downtown was rough this morning? Well, don't expect it to get any better tomorrow. Or next week. Or next year, for that matter.
The Eisenhower (I-290) will have it the worst. The already congested expressway will get worse starting in April, as the Illinois Department of Transportation undertakes the highway's first resurfacing in 11 years. There will be a total of 27 miles of construction work on the highway, from Thorndale to the Loop, causing "lane shifts and lane closings on a highway that already is bursting with traffic for many hours each weekday," Hilkevitch writes.
To make matters worse, the Congress Bridge will also be undergoing repairs, starting on the exact same date. The grated surface on the top of the bridge -- one that many drivers know from the wobbly, out-of-control feeling it causes -- will be completely rebuilt.
"We will be replacing the grate system, the top of the deck with a closed system so that the water and salt won't rust the steel in the future. We will replace the structural steel on the side of the bridge that you can see," said Jim Patton, IDOT resident engineer and technician.

During the work, traffic will be reduced to only two lanes inbound and only one lane outbound.
The Congress Bridge, of course, connects the Eisenhower to downtown, compounding the already messy situation on the Ike.
Thinking of using Wacker Drive as an alternate? Think again. Another construction project will be affecting both levels of Wacker, shutting down two-block sections of the upper roadway and leaving only one lane open below.
NBC Chicago reports that the project will begin in June, and "Lower Wacker will be narrowed down to one lane of traffic until the $360 million project is complete in 2012."
Why all the construction at once?
"Our plan is to get in, get out and stay out," Thomas Powers, acting commissioner at the Chicago Department of Transportation, told the Tribune."Rather than take 10 years to do all four projects, we get in, we use that terrible word no one wants to hear -- coordination -- and we deal with the traffic."
Some good news? The Kennedy's exit ramps at Jackson, Monroe and Adams are expected to reopen soon.
Related
Popular in the Community