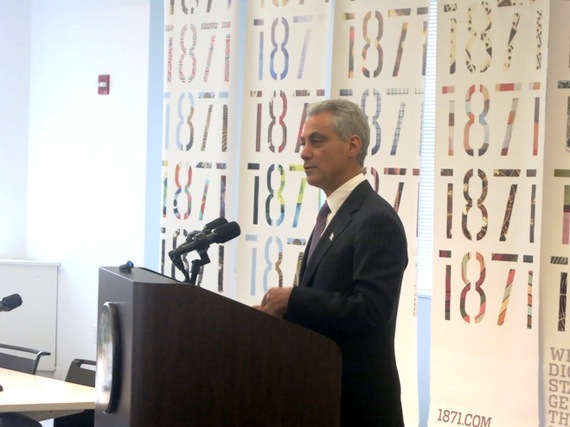 It is hopeless for the occasional visitor to try to keep up with Chicago -- she outgrows his prophecies faster than he can make them. She is always a novelty; for she is never the Chicago you saw when you passed through the last time. -- Mark Twain "Life On The Mississippi," 1883
Chicago, as Mark Twain observed in 1883, is a city that's always changing.
Throughout its history, the city has been known as a retail hub (it was the home of Montgomery Ward, Sears, and Marshall Field's); an agriculture and food nucleus (Armour and Company was founded in Chicago in 1867, and Kraft Foods and McDonald's are headquartered in the Chicago suburbs) and, more recently, an airline manufacturing center, luring away Boeing's headquarters from Seattle in 2001. The city is also home to medical sector giants including Blue Cross Blue Shield, Baxter International, and Abbott Laboratories.
In fact, no single industry generates more than 13 percent of the city's employment. "Unlike New York, and its connection to the financial sector or Los Angeles with the entertainment sector, Chicago's economy is built on its diversity. That allows us to be a world leader in many different areas all at once," Mayor Rahm Emanuel said during a recent speech at Chicago tech incubator, 1871.
While the mayor touts Chicago's diversity, he's also quick to point out that the startup industry has provided the gas for the most recent boom. In 2002, only 11 digital startups were launched in Chicago. In 2012, 367 startups launched -- that is one new startup every 24 hours. The Chicago tech industry employs 40,000 people and Emanuel has set a new goal to add another 40,000 new tech jobs in the next decade.
With Emanuel on board as the city's chief tech evangelist, it's no surprise that the city itself is applying a startup, tech-friendly mentality to solving its citizens' most pressing needs. Chicago was one of the winners of Bloomberg Philanthropies' Mayor's Challenge, a competition to "inspire American cities to generate innovative ideas that solve major challenges and improve city life." The city is using the money to build a real-time analytics platform, an open-source project to be built over the next few years that will allow cities to use data to improve services.
In September, the City of Chicago released its first-ever comprehensive technology plan. The 115-page Tech Plan covers five broad strategies, and provides 28 targeted initiatives to support them. The strategies include building a next-generation digital infrastructure, fostering tech education through "smart communities" and providing for efficient and open government, civic innovation and tech sector growth.
Brenna Berman, the Chief Information Officer for the City of Chicago, is ready to make the city a laboratory for startups. "I'm lucky that I get to play a role in that. I have pilot authority as the CIO, and I can use that to actually turn the city into a lab of innovation so that startups that have technologies that can benefit cities and really solve urban problems can use Chicago to experiment with those technologies. I can be their partner in that and help them test those technologies here in Chicago, and prove that it solves urban problems not just for us but for any city," Berman told me after the recent Chicago Challenge Cup pitch event.
But despite all the progress and the increase in the number of startups, Chicago has been stung by startups in the past. The founders of Netscape, PayPal, Yelp and YouTube all studied at the University of Illinois, one of the best schools in the country for computer science and engineering. But upon graduation, they made a beeline for Silicon Valley.
"Chicago is a great town, but there isn't really a startup culture here. The majority of people that have done well have left Chicago and found more success elsewhere," Brenden Mulligan of ArtistData told Northwestern University blog Medill Reports in 2010. "We've lost some great entrepreneurs to other cities."
But that was 2010. In 2013, Chicago is where the money is staying. "The missing link has always been venture capital, a problem that in the past not only forced companies but individuals to chase capital to the East and West Coasts," Mayor Emanuel said. "We have reversed that direction and today, money is chasing companies here to the Third Coast."
Chicago-area start-ups raised $654 million in venture capital funding in 70 deals in 2011, according to VentureSource. This year suggests the number will be even bigger. Chicago tech companies raised more than $265 million in the third quarter of this year, according to Built In Chicago; a site dedicated the startup scene.
Chicago's venture capital scene is benefiting from the PayPal Mafia effect - successful company founders are now founding or funding the next nexus of great startups. Groupon co-founders Eric Lefkofsky and Brad Keywell founded Chicago-based VC firm Lightbank. Chicago entrepreneur Al Goldstein sold his online payday loan company for $265 million, and has invested in Pangea Properties, a real estate investment trust that owns 7,000 apartments in Chicago, Indianapolis and Baltimore.
Then there's J.B. Pritzker, son of the Hyatt hotel founder and a veritable godfather to Chicago startups. Pritzker founded venture capital firm New World Ventures, which has invested $300 million in 104 Chicago companies. As if that wasn't enough, Pritzker launched the i2A Fund, which makes early-stage investments; the Chicagoland Entrepreneurial Center, a nonprofit that advises startups, and Built in Chicago, an online social network for the tech community. He's also a backer of 1871, a 50,000-square-foot tech incubator that opened in the Merchandise Mart in May 2012.
Besides a mayor who gets it and the increasing presence of much-needed capital, Chicago has other assets that make it attractive to startups and vice versa. It is an intellectual and research hub that includes Illinois Institute of Technology, the University of Illinois at Chicago, and Northwestern University.
Chicago also has a diverse business community and broad customer base with nearly 3 million people and countless Fortune 500 companies within its city lines. And, thanks to its earlier infrastructure development as a railroad town and midcontinent location, Chicago has ideal physical and geographic features for technology. It's been proclaimed one of the nation's most digital cities.
Vince Leung, co-founder and CTO of MentorMob (an education technology startup) recently compared the startup culture in Chicago to New York for Forbes. Leung highlighted Chicago's cost-of-living, the availability of good technology developers and designers, the organized angel community, and the basic Midwestern desire to genuinely help entrepreneurs out. "Leaders within Chicago's startup community are organized and passionate about seeing it succeed, with all the pieces of the puzzle in place (e.g., startups, accelerators, shared facilities, government, universities, angel investors, venture firms)."
To quote famous Chicago writer, Nelson Alger, "Big-shot town, small-shot town, jet-propelled town--by old-world hands with new world tools, built into a place whose heartbeat carries farther than its shout."
The heartbeat of Chicago's startups will surely carry the city far into the future.
Related