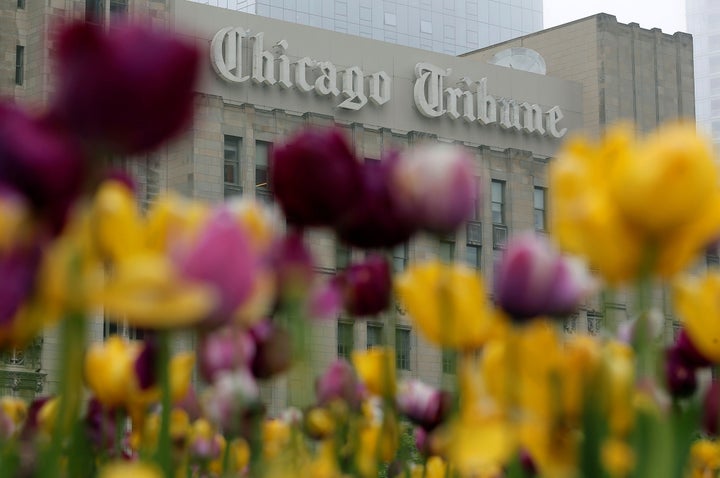 Staffers at the Chicago Tribune have announced they will try to successfully organize the newsroom for the first time in the paper's 170-year history.
On Wednesday, employees sent out a letter to the newsroom announcing their plans to form a union. Shortly after NPR broke the story, multiple employees went public with their intention over social media as well.
"We decided we needed a voice," Charlie J. Johnson, a home page editor and key union organizer at the Tribune, told HuffPost. "We needed a say in how this place operated and the union was the tool that was available to us."
Johnson told HuffPost that the Times' decision to push for a union proved critical in the Tribune's own unionization efforts.
"They basically poured gasoline on an extinguishing kindle fire," he said.
Wednesday afternoon, Tronc issued a statement from Tribune publisher and editor-in-chief Bruce Dold, who said everyone in management "has the utmost respect for the decisions you make and for your rights on this issue."
Dold went on to emphasize a recent pay bump and previously announced diversity goals, and said that the paper is undergoing a "newsroom reorganization" so it may "thrive in an intensely competitive media environment."
He concluded: "My door is open. Please come on in."
The union letter sent around the Tribune newsroom was signed by dozens of organizers and cited concerns including "a series of corporate owners — Tronc being only the most recent" that have "jeopardized our ability to do great work."
Others included concerns over job stability, regular raises, parental leave, diversity in the newsroom and availability of resources.
"We believe the union is an investment — in our work, in ourselves, in our readers, in our city and state," the letter read in part. "For the Chicago Tribune. For Chicago."
Since its founding in June 1847, the paper and its staffers have earned more than two dozen Pulitzer prizes. But over the past six months, the Tribune has been hit by two rounds of layoffs.
"We have lost many talented colleagues to higher-paying jobs that offer better protections and more possibilities for advancement," the staffers' letter read.
Some told NPR that corporate pay at Tronc has also sparked outrage. For example, controlling shareholder Michael Farrow will still receive $5 million a year through 2020 even after stepping down as chairman last month amid sexual harassment complaints.
In recent years, news organizations including the Intercept, Vox, Vice, Slate, MTV News, ThinkProgress, Thrillist, HuffPost and the now-defunct Gawker. (Gizmodo Media Group, which comprises Gawker's sister sites, is still unionized.) The Onion announced late last month that it intended to unionize, too.
In some cases, as with the LA Times, the process has led to significant conflict. Writers at a string of local news sites including Gothamist voted to unionize late last year and, days afterward, found themselves jobless. Gothamist and some of its sister sites were later saved by public radio stations including WNYC.
"We hope that Tronc will realize the strength of the support for this in the newsroom and voluntarily recognize us," Johnson said, "and if they don't, we'll go to an election."
This story has been updated with additional information and comment.