Last March, the Chicago Tribune assembled a four-person social media task force to help modernize the stodgy media giant by integrating the bright and shiny social media world of Facebook, Digg, YouTube, Flickr and Twitter. Before joining these networks, the group needed a face - an avatar and persona. And so Colonel Tribune was born.
As web ambassador, Colonel Tribune helps the social media team reach out and interact with online communities that congregate around similar interests. Over the last six months, the Colonel has established a solid foundation of online friends and followers on key social networking platforms like Facebook, Digg and Twitter. By sharing its relevant, high-quality content through these new social channels, chicagotribune.com immediately realized an uptick in traffic and eventually an eight percent increase in pageviews. For a site that generates millions of pageviews a month, eight percent is no small feat.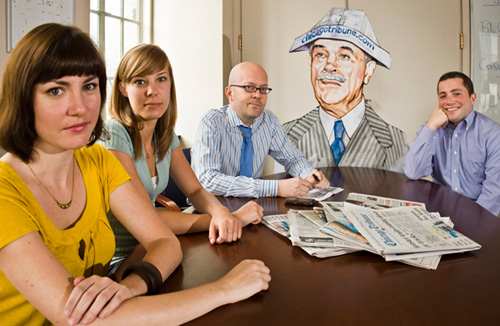 From left: Erin Osmon, social media coordinator; Amanda Maurer, social media coordinator; Bill Adee, Associate Managing Editor for Innovation; Colonel Tribune, Web ambassador; Daniel Honigman, social media coordinator/strategy. (Chicago Tribune photo by Bill Hogan)
"We knew we needed to join these social media communities," said Daniel Honigman, the Chicago Tribune's social media coordinator/strategy. "But we can't just show up to the party, say 'we're here' and drink everyone's beer." No, that would be like the one-way days of old media.
Just as beer is a social lubricant in real life, Twitter and Facebook are social lubricants online and have made the 160-year-old newspaper more approachable than ever. Through social media, Colonel Tribune listens to story ideas, news tips and site suggestions.
Last week, the Colonel was notified via Twitter about the Daley Center bomb threat and building evacuation. The tip was checked out by the Tribune's Metro staff. A story went live on chicagotribune.com and ended up on page three of the Metro section the following day.
Social media also helps the Tribune to better understand its readers and stay ahead of Chicago's emerging trends, issues and breaking news. "Essentially, social media gives us a year-round, real-time focus group to monitor conversations and keep us in tune with what consumers are thinking," said Bill Adee, associate managing editor for innovation and head of the Tribune's social media task force.
By monitoring the micro-blogging service Twitter, the social media team was reminded that many people only see Chicago through O'Hare Airport. Understanding that O'Hare is a like a city itself, social media coordinator Erin Osmon helped put together chicagotribune.com/ohare as a resource for visitors to read reviews of O'Hare restaurants and learn more about nearby amenities.
Moving forward, Colonel Tribune plans to further educate reporters and editors about the power of social media. Today, half of the newsroom is on Facebook - most signed up within the last year because they learned it's a great way to discover online discussions and new sources for stories.

Related
Popular in the Community