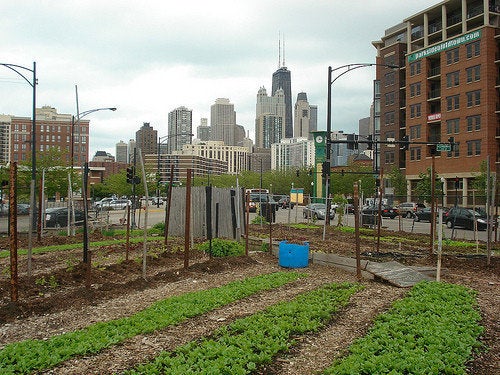 In a pointed reversal of his predecessor's policies, Chicago Mayor Rahm Emanuel announced on Tuesday that he is supporting an ordinance that would allow for a vast expansion of urban farms around the city.
Advocates say such projects have the potential to transform decaying vacant lots into vibrant farms producing healthy, locally-sourced foods that can be sold in neighborhoods where produce is otherwise hard to come by, and providing jobs in economically depressed areas.
Mayor Richard Daley was nominally a proponent of urban farms, and his administration supported an ordinance last winter that would have legalized certain types of agriculture within city limits.
But many farmers argued that the bill would actually choke off urban-farming growth by placing a series of onerous restrictions on how and where the farms could be established.
By contrast, Emanuel's proposal, unveiled at a Tuesday press conference at the Iron Street Farm in Bridgeport, marks a turnaround on almost every major point of contention, according to the Chicago Tribune.
"Mayor Daley told us that people moved to the city to get away from farms, not to have farms in the city," Ken Dunn, who runs the one-acre City Farm in the Cabrini-Green neighborhood, told the Tribune. "He got a lot of mileage out of being the 'Green Mayor,' but he didn't have it in his bones."
The new proposal would increase the maximum size of community gardens to 25,000 square feet, a size that advocates say would help them become viable growing spaces. It would also ease fencing and parking restrictions on some of the larger urban farms, to allow them to operate in a more cost-effective way, the Associated Press reports.
"Our ordinance will deal with the ability of turning a plot like this that was an eyesore into an economic engine in the neighborhood," Emanuel said at Iron Street, according to WBEZ. The site was formerly an abandoned truck depot.
The farm is "creating hundreds of jobs just here, and there's thousands of sites like this throughout the city," he said.
Emanuel's measure could be moved through the City Council as soon as September of this year.