A team of veterans is going above the call of duty to keep young students safe.
The Safe Passage Program, founded in 2011 by nonprofit Leave No Veteran Behind (LNVB), deploys vets to monitor unsafe Chicago neighborhoods as students walk to school.
The goal of the program is twofold: to reduce youth violence in Chicago and pay off veterans' student loan debt. The organization covers veterans' debt and helps them search for jobs, and in return, the veterans dedicate time and energy to looking out for students on their commute. More than 400 veterans have gone through the Safe Passage Program since it began, NationSwell reports, and LNVB services contribute to over 8,000 Chicago Public School students daily.
Veterans can have their student loans paid off by LNVB through the Retroactive Scholarship Program, which has, to date, paid back over $150,000 in student loans. Participants of the program must complete 100-400 hours of community service, for which they are paid, and the schedule gives veterans time to look for jobs while they are working with LNVB.
"This isn't just volunteerism, but actual work," Eli Williamson, co-founder of Leave No Veteran Behind, told The Huffington Post. "It provides flexibility to go and look for alternate employment."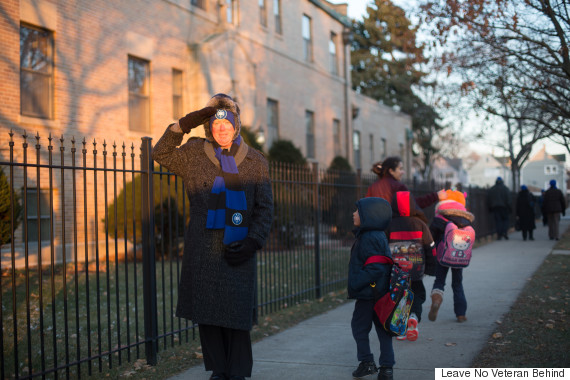 The 40-50 veterans of Safe Passage are dispatched to the area surrounding the corner of 35th street and Martin Luther King Jr. Drive in Chicago -- the intersection of five high schools with gang affiliations -- as well as other dangerous neighborhoods. Their presence is meant to provide the passing students with positive interactions that help build supportive relationships.
"This has visibly decreased youth violence in these areas," Williamson told HuffPost.
The Safe Passage Program works with the Chicago Police Department, crossing guards, as well as a number of community outreach programs to support their efforts. Williamson plans to expand the organization's work throughout Chicago over the next year.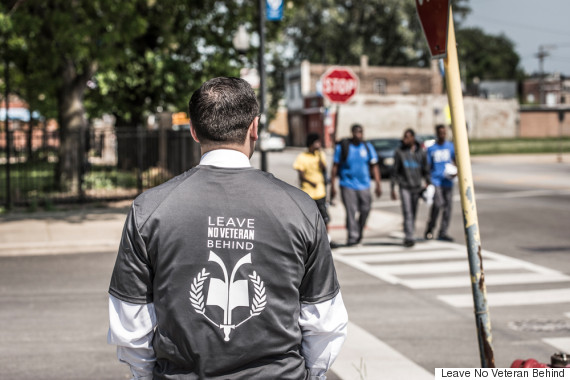 "Our intention is to be here until the last day so kids can figure out that, 'Hey, there's somebody that actually cares about our safety,' Safe Passage Program veteran Bernard Cooks told NPR. "And they can feel confident going up and down these streets."
CORRECTION: This story originally stated the amount of student loan debt paid by LNVB was $250,000. The amount is actually $150,000.
Related