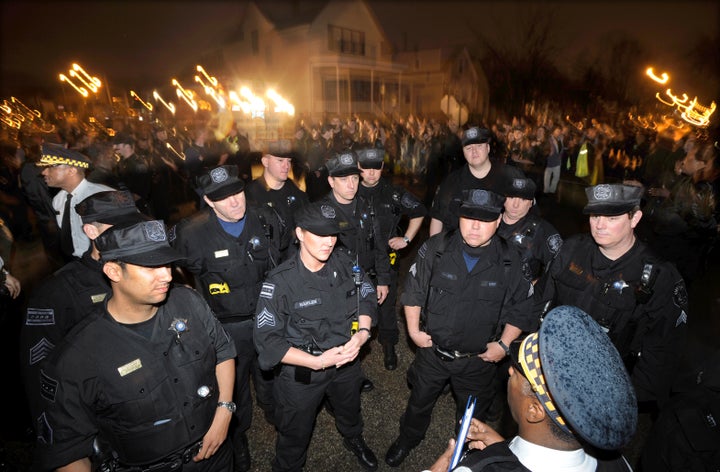 It seems that every year, as Chicagoans celebrate the first warm days of the season, the excitement is tempered by a wave of violence. After months of cold and snow, everyone from newspaper reporters to officers on the street can see it coming: a forecast of 70-degree temperatures in April spells trouble.
In 2008, 36 people were shot and two people stabbed over a single warm weekend in April. Nine of those people died. CBS reported:
"Authorities said that, although that is a large number of violent crimes for such a short time span, it is not unusual as the weather gets warmer."
"We will never, never use warm weather as an excuse for an increase in violence," Chicago Police Superintendent Jody Weis said at a Friday press conference. "It is a factor...not an excuse."
Director of CeaseFire Illinois Tio Hardiman, has been making his rounds with television and newspaper interviews following the wave of shootings that, once again, put the national spotlight on gun violence in Chicago. CeaseFire is local organization that focuses on street-level outreach, conflict mediation and changing community norms to reduce violence.
"Whether it's cold or hot outside, people are thinking violently," Hardiman told HuffPost Chicago. "When the weather gets warmer, people see the person they're after on the street corner."
Weis said that the police department does consider the weather when preparing for a night on the street. By looking at patterns of violence--including where people affiliated with certain street gangs hang out, whether to expect retaliation from a previous shooting and what the motives were in previous crimes--officers can try to be at the right place at the right time.
"It's like a chess game," Weis said. During Thursday's violence spree, specialized units were working in certain areas of the city where they were expecting an uptick in violence, trying to "be in place before the criminals are," but he said it's far from an exact science.
Charlie Ransford, a data analyst for CeaseFire, said that warm weather "always" has an affect on violence.
"Shootings go way down in winter," Ransford said. "There are half or less than half [the number of shootings] than there are in the summer time. Weather does make a difference. [With a] warmer Spring, its natural to think there will be an increase in homicides and shootings."
Last year, when the Spring was much cooler, there were 81 murders reported as of April 16. As of April 16, 2010, there had been 97.
"We are in summer crime fighting mode," Chicago Police Department spokesman Roderick Drew said Friday. The department is expected to reveal new plans for summer policing later this week.
When asked why warm days in Chicago seem to be more violent than warm days elsewhere, Hardiman said it comes down to several factors--including the city's history.
"There is a history of gang violence," Hardiman said, adding that short periods of crime spike in gang areas of Los Angeles as well. "In Chicago, you have the beginning of a lot of major street gangs...and young guys still fighting a war that's been over for 20 years."
Hardiman also mentioned the socioeconomic factors that come into play. "I live in a working class reality," Hardiman said. "If someone takes $100 from me, I go to the ATM and hopefully can get more. If [someone in a poor area] gets $100 taken from him, he may not have any more money. He feels he has to shoot this guy. He doesn't want to be a victim [again]."
This is where CeaseFire comes into play, Hardiman said. The group sends trained outreach workers to the streets, where they work with known gang members--many of which carry weapons and have previously served time in prison. The workers try to talk down someone wanting to commit a violent crime.
"We say, 'I know you want to shoot this guy, [but] that doesn't make any sense,'" Hardiman explained. "'You go to the penitentiary, he goes to the cemetery.'"
The organization has mediated over 1,300 conflicts since 2004--stopping gun crime in its tracks. So far in 2010, the group has stopped 108 violent acts from being committed.
"Police can't do it alone," Hardiman said, echoing Weis' plea for the community to get involved. "We need to change behaviors...change the way [criminals] think about violence."
Hardiman said CeaseFire's goal is to make violence abnormal, to change the way violence "infects" people, but so far, budget constraints have limited the work that can be done. In the summer months--when crime usually peaks--CeaseFire has to shut down due to lack of funds, and the state's budget crisis has made the situation even worse. CeaseFire is currently operating in 20 percent of Chicago's police beats, but Hardiman said they need to be working in 78 percent of police beats, adding that if CeaseFire were able to implement a city-wide effort, they could bring homicides below 200 within 3 years.
"When people are expected to make nothing of their lives, their life is reduced to the block they live on," Hardiman said. "It's a big world out here, and when someone [does not have the resources] to be exposed to what is going on, they get stuck on the block. We understand what is going on. Who else is gonna go out at 2 a.m. and talk to a guy dropping pills? Who has a .45 and is mad as hell? If the police go, they have to arrest him. We go in and get him to put his gun up."
To learn more CeaseFire, click here.
Related
Popular in the Community