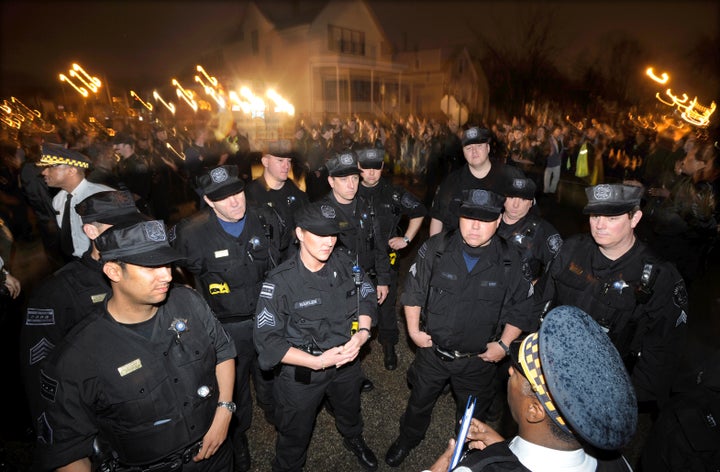 UPDATE: According to the latest report, at least 52 people in total were shot between Friday evening and early Monday in Chicago.
At least 52 people were shot over the weekend in Chicago--seven of them fatally. Police are blaming gangs for most of the widespread incidents.
The Chicago Tribune reports that after Friday's severe storms through Monday at 6:30 a.m., violence erupted throughout the city.
Saturday night and early Sunday, at least six people were shot near the annual Puerto Rican festival in Humboldt Park. A 15-year-old girl was among the injured.
A Shakespeare District lieutenant told the Sun-Times Media Wire that the girl was not seriously injured. "She'll be fine," the lieutenant said. "She just got caught in crossfire, unfortunately."
Another bulk of violence occurred late Sunday into early Monday morning--when at least 18 people were shot, the Tribune reports--including a 1-year-old girl.
About 12:11 a.m., the child was struck by gunfire along with four men in the 1300 block of West Hastings Street on the Near West Side. From the Tribune:
The girl's graze wound was to her ear. She was driven in a minivan to the University of Illinois Medical Center where she was treated and released, police said.

The four men, including the girl's father, were taken to Stroger Hospital for treatment. A 34-year-old was listed in critical condition with a wound to his abdomen. A 30-year-old was in good condition with wounds to his face and abdomen. Another 30-year-old was shot in his right arm and leg and a 33-year-old was shot in the left arm. The latter two were listed in stable condition at the hospital, police said.

Chicago Police Superintendent Jody Weis on Sunday acknowledged a high number shootings over the weekend and said gangs were involved in more than half of the incidents.
Popular in the Community