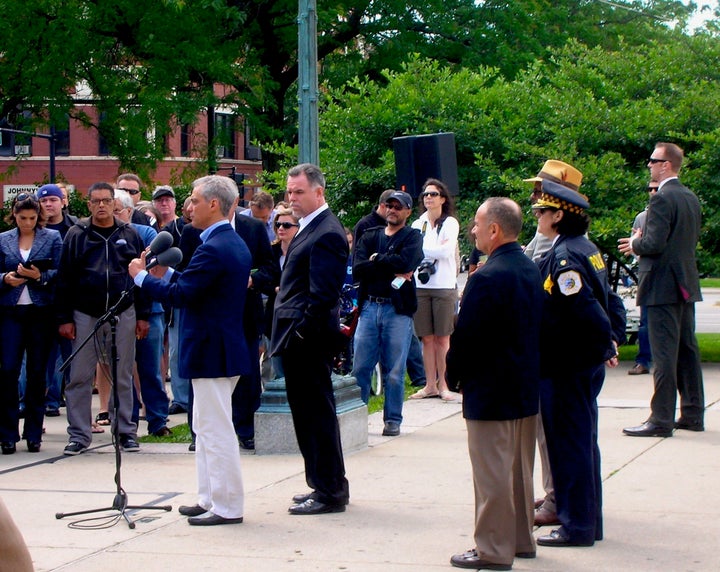 Standing before a crowd of several reporters and over a hundred community members, Chicago mayor Rahm Emanuel and new police superintendent Garry McCarthy announced that 150 police officers would be moved from administrative jobs to the beat.
The announcement was made at the Centennial Monument, a stately column in Logan Square that stands a little more than a mile from the site of a tragic shooting last week. Gang member Antonio Bucio is suspected of opening fire on a basketball game in nearby Avondale Park, when stray bullets grazed a two-year-old girl's head and struck a seven-year-old girl in the back.
Standing before the column, Emanuel said that the new reassignments were a cornerstone of his anti-crime policy. "More police on the street and getting kids, guns and drugs off the street, that is just the basic strategy that we have to follow," he said, according to the Chicago Sun-Times.
McCarthy echoed the mayor's sentiment, as the Chicago Tribune reports, emphasizing that the onus will be placed squarely on the shoulders of the district commmanders. "I've publically stated that the single most important thing that we can do is get cops on the street, put them in the hands of the (district) commanders and hold the commanders accountable," the superintendent said.
While Bucio was in custody for the shootings of the girls, the weekend of the announcement was marred by violence around the city, with at least seven dead between Friday at noon and the end of the day Sunday. NBC Chicago reports that the weekend's homicides included a man shot to death attending a graduation party and a couple inside their car.
As of Sunday night, no one was in custody for any of the seven fatal shootings on the South and West Sides, which were credited to a war between rival gangs sparked two weeks ago.
The reassignment of the 150 officers follows an earlier redeployment of 500 policemen from special operations units to walking the beat. It is part of Mayor Emanuel's pledge to put 1,000 more cops on the street, although he has done so thus far primarily by dismantling the special operations units put together by McCarthy's predecessor Jody Weis. So far, no new officers have been hired, while the department remains understaffed by approximately 2,000 cops.