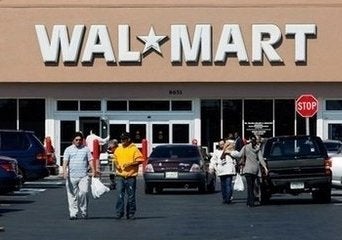 The Chicago City Council unanimously approved the construction of a Wal-Mart super-center on the city's South Side, ending a six-year stalemate.
Located off the Bishop Ford Expressway at 111th Street, the new Wal-Mart will be the anchor of a 180-acre complex being developed on the Pullman Park site. And proponents of the development it will help address a sprawling "food desert" in the area, where fresh produce is unavailable for miles around.
Union leaders have long fought against Wal-Mart's expansion into Chicago. In 2004, a hotly contested vote in the City Council ratified one Wal-Mart, built in Austin, and rejected another one destined for Chatham.
In the years since, Wal-Mart has continually lobbied to expand around the city, with labor arguing that the retail giant would treat workers poorly and fail to address the problems of the neighborhoods it entered.
They eventually did: the Wal-Mart will be built entirely by union construction workers; employees will be hired from the neighborhood; workers at the store will be paid $8.75-an-hour, fifty cents above the minimum wage, with a mandatory raise of at least 40 cents per hour in the first year.
"We finally put the people first in front of politics," Beale said. "If you consistently put the people first, you have nothing to worry about."

For years, he's been trying to attract a major retailer and grocer to the abandoned industrial site, only to get the cold shoulder.

"It's rough being in the middle between Wal-Mart and the unions," Beale said. "But when we finally got both parties together, they were saying the same thing . . . Wal-Mart moved off their position. Getting Wal-Mart to do something is like turning around the Titanic. You can't do it fast. It has to be done slowly. Everything has to go up the chain."

But now that the Titanic has turned, it may start to gather momentum. There has been speculation, supported by Mayor Daley, that the retailer may develop dozens of stores around the city now that it's reached an agreement for labor.
According to WBEZ, the Pullman Park location could open as soon as the spring of 2012.
Related
Popular in the Community