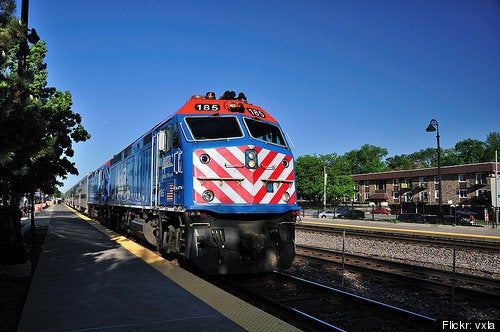 In a city where parking costs a bundle, parking tickets seem to come in twos and traffic is jammed around the clock, it isn't surprising that many residents would like to see a more robust public transportation system. It turns out, however, that city dwellers aren't the only ones who have grown tired of being stuck in their cars.
According to a Chicago Tribune/WGN poll released over the weekend, a majority of people in Chicago's suburbs would rather see money put into improving public transit than expanding expressways.

Suburban residents also said they are driving less and taking more advantage of expanded suburban train and bus service in communities where the automobile has been king.

Drivers who said they would back spending more on mass transit cited the growing stress associated with congestion; high gasoline prices; and, to a lesser degree, the environmental and financial benefits of riding transit instead of inhaling belching emissions from cars.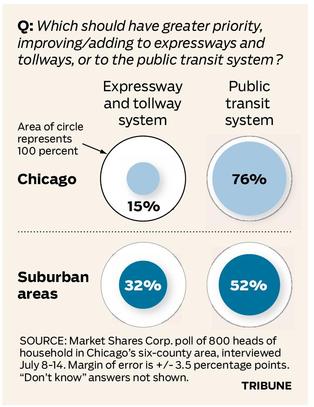 "I wish the mass-transit system were expanded a lot," Elgin teacher Jim Ceithaml told the Tribune:

"The problem with Metra is that it is a spoke system without a wheel," Ceithaml said, noting that the only way to get from one suburb to another on a different Metra line is to travel to downtown Chicago, switch trains and head back out. "Why don't we have an around-Chicago rail line?"
Similar complaints have been made by Chicagoans, who have long waited for a "crosstown" public transit system. Residents who want to get from the West Side of the city to the North or Northeast Side generally have to transfer Downtown--and that is true of the CTA "L" system in general.
"People are seeing that a car-oriented culture is limiting economic development and quality of life in the region,'' Frank Beal, executive director of Chicago Metropolis 2020, which promotes social and economic ideas for the 21st century, told the Tribune. "There is a general recognition that friends, neighbors and family see what is happening around the country but not here. Phoenix, Arizona, has a light-rail system.''
About half of the suburban motorists surveyed by the Tribune said they drive less due to high gas prices. Four in 10 drivers said the environment was a concern for them.
"As is so often the case, the public often shifts before our political leadership senses the shift,'' Beal added. "I would hope the poll results will be trumpeted far and wide and change policies in Springfield.''
Calling all HuffPost superfans!
Sign up for membership to become a founding member and help shape HuffPost's next chapter