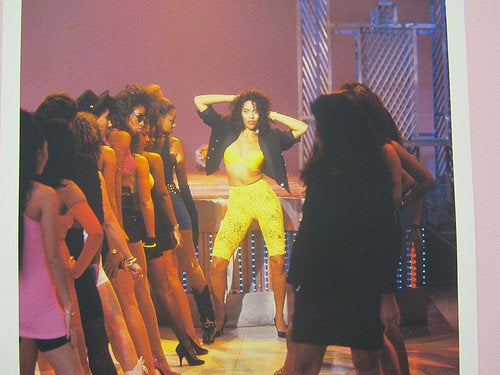 Chicago may be feeling a little used and abused this week, with many residents fleeing for the Labor Day weekend, while North Coast Music Festival brings in visitors from across the country. For the year-round locals seeking shelter from the dubstep storm, worry not: Chi-town's ready to show you a good time. This week's guide includes some bonus treats to spice up that extra day off.
Chicago Jazz Festival
It wouldn't be Labor Day weekend in Chicago without the Jazz Festival, which for 33 years has been jamming at landmark sites across the city during the holiday weekend. Highlights include the Saxophone Summit Friday night at Pritzker Pavilion, the Keith Henderson Band on Saturday, and the Skinny Williams Band on Sunday.
Where: Venues vary by performance
When: 5 p.m. - 11:00 Friday, 12 a.m. - 11 p.m. Saturday and Sunday
Price: Free
Chicago Fringe Festival
Chicago's second annual interpretation of the nationwide Fringe Festival movement showcases performing artists from the area and beyond. With a focus on connecting non-traditional theater-goers with edgy performances from diverse artists, The festival is hosted in Pilsen this year, and features highly-anticipated pieces like "Jesus, Shakespeare and Lincoln Walk into a Bar" and "My Salvation Has a First Name: A Weinermobile Journey."
Where: Venues vary by performance
When: Varies by show. Full schedule here
Price: Varies by show; packages available
Friday Night Groove
Wondering how to squeeze in one last tour in those gold lame hot pants before the summer weather fades? Boogie on down and relive the days of "Soul Train" at the Friday Night Groove with ChicAGoGo at Expo 72. Disco it up to the sounds of several DJs on a replica of the Soul Train set.
Where: 72 E. Randolph St., Chicago
When: 6 p.m. - 8 p.m. Friday
Price: Free
First Fridays at the MCA
The dawn of September means another First Friday at the MCA, where happy hour takes on new meaning with the fusion of modern art, music, specialty cocktails and a pampering and creation station. DJ Madrid will be providing the soundtrack to a preview of a new collection launching Saturday. Featuring the work of Chicago-based abstract artist David Gunn, this month's event theme is "guilt."
Where: 220 East Chicago Avenue, Chicago
When: 6 p.m. - 10 p.m. Friday
Price: $18 for non-members, $10 for museum members
Conrad Chicago Hotel with Special Guest J'Marcus Webb
Got a bear-sized appetite? Chicago Bears offensive tackle J'Marcus Webb started 12 games in his rookie year, and sure worked up an appetite. Luckily, the Brian Piccolo Award-winner loves to cook and eat, a passion he'll share as part of the Magnificent Mile Shopping Festival. Webb joins Conrad Hotel executive chef Darnell Reed to dish out cooking demonstrations, samples and answers to audience questions.
Where: The Shops at North Bridge,520 N. Michigan Avenue
When: 1 p.m. - 2 p.m. Saturday
Ravenswood Remix
In the true spirit of a "remix," more than 100 artists will be showcasing and selling works of art made from recycled and found materials at this outdoor festival on Ravenswood Avenue. The block will be hopping with live music performances, free educational workshops and other treats. Proceeds benefit the neighborhood's Hamilton School art program.
Where: 4100 Block of N. Ravenswood Ave
When: 12:00 p.m. - 10:00 p.m. Saturday and Sunday
Price: $5 suggested donation
SinFest 2011
Founded by graduates from the School of Steppenwolf, Chicago theatre company SiNNERMAN hosts its annual "gala that's not a gala" fundraiser, SiNFest. Catered by Chipotle and Goose Island, the burritos and libations will be flowing during a set of performances by Jon Drake & The Shakes, Sad Brad Smith and Dick Wolf. (Full disclosure: HuffPo's Associate Chicago Editor Joe Erbentraut will be playing a DJ set.) Get lucky at a raffle and silent auction, and update that Facebook profile pic with snapshots from a party photographer--all while raising money to for the ensemble's upcoming theatrical productions.
Where: The Den, 1333 N Milwaukee Ave. (2nd Floor)
When: 7 p.m. - 1:30 a.m. Sunday
Price: $25
Taste of Polonia
Witaj! Fans of Polish music, food, film and culture can polka on down to Portage Park for a celebration of all things Polski. Multiple stages will host dozens of American, International and Polka bands, as well as folk dance and theater performances, arcade games, old-world treasures for sale and free Polish cooking classes.
Where: 5216 W. Lawrence Ave. Chicago
When: 12 p.m. - 11 p.m. Sunday, 12 p.m. - 10 p.m. Monday
Price: $7 adults, $3 seniors, kids under 12 free
Feria del Libro de Girón Books
Wrapping up the summer book fair season is the Feria del Libro de Girón Books, or the Girón Books Book Fair, the biggest Spanish-language book gathering in the Midwest. Expected to bring in about 30,000 people for a series of readings, book signings and other events, this huge event grew out of a small storefront book fair that began 25 years ago. The book fair's quarter-century anniversary marks a rejuvination, after a hiatus last year when the event was dwarfed by the Mexican bicentennial.
Where: 2601 S. Cicero Ave.
When: 9 a.m. - 9 p.m. Friday - Monday
Price: Free
Calling all HuffPost superfans!
Sign up for membership to become a founding member and help shape HuffPost's next chapter