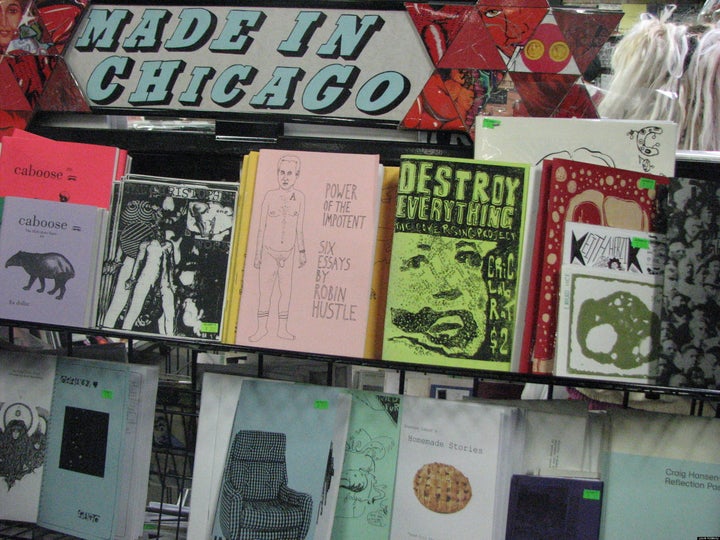 Produced by HuffPost's Eyes & Ears Citizen Journalism Unit
Hundreds of enthusiastic zinesters attended the first annual Chicago Zine Fest this weekend, which celebrated the abundance of zines, mini-comics and zine-related art that is produced in the Chicago area.
The two day fest showcased the diversity and exuberance of Chicago's DIY publishing culture by offering a string of free events that included interactive workshops, a zine-related art show and a standing-room-only zine reading at Quimby's Bookstore in Wicker Park. Concluding the festival at Columbia College's Conway Center, zine artists and their fans packed the space as they swapped, sold and offered up an overwhelming profusion of the personal, intensely low-tech, highly expressive missives known as zines.
The fest was organized by four Chicago-area zinesters, Ramsey Beyer, Neil Brideau, Matt Czerwinski and Leslie Perrine, who noticed that for a city with such a vibrant zine community, it was odd that Chicago had no event that offered a chance for them to come together.
"There was a zine fest in almost every other major city except Chicago, and we thought we should take on the role to make that happen here," Beyer said. "Zines are completely personal in every way and the best part of doing a zine is the direct feedback. We wanted to bring people together to share ideas and also share their work."
Zine Fest coincided with the Comic Symposium of Chicago, hosted by the School of the Art Institute of Chicago, which featured many comic artists who got their start as zinesters. In attendance at both events were notable Chicago-area artists and writers, including Jeffrey Brown, John Porcellino and Anne Elizabeth Moore, whose work has influenced fellow zinesters and comic book artists alike.
Moore, the former editor of Punk Planet and founding editor of the "Best American Comics" series, said that zine culture originated out the need that creative people have to be in touch with each other.
"Zine culture is about wanting to share resources and ideas and experiences with each other--it's not about making a name for yourself, or making money. It's about 'let's change this, let's share this, let's get something going,' " Moore said.
Often reproduced on copying machines, many zines are created using markers, paper, gluesticks and scissors to craft one-of-a-kind mini magazines that sell for no more than a few bucks. 12-year-old Harrison Rosenberg is an example of the zine culture's approachable, everybody-can-do-it ethos. Rosenberg, who traveled from South Bend, Indiana, came to the zine reading at Quimby's to meet Jeffery Brown, the popular Chicago-based comic book creator and zinester.
Earlier this year Rosenberg created his first mini-comic, called "My Short and Odd Adventure," and is now at work on a zine about his grandfather.
"I only made three handmade copies of the first one and I sent one of them to Jeffery Brown," Rosenberg said. "I got a postcard back from him and that was huge for me. It's on my desk at home."
King-Cat Comics creator John Porcellino, who has been part of the zine scene since 1989, sees an even larger significance to the unique handmade aesthetic and the interactive energy that is central to zine culture.
"The thing I love about zines so much as an artist and as a person is the connection and the communication I have with people who read my stuff," Porcellino said. "A major part of the zine world is that there is a real give and take between the reader and the creator that is deeply integral to the whole scene. The thrilling thing about self-publishing is having that direct connection. Zines are a way to express personal things as a form of radical self-acceptance and a kind of head-on, face-to-face encounter with your own life."
Related
Popular in the Community