It happens all over again tonight; Chicago's art galleries, and most of those around the world, begin their Fall Season. In Chicago, it's a big party with throngs flocking the galleries and the streets of River North and the West Loop.
I previewed about 25 exhibits that I was optimistic about and culled those worthy of recommendation.
There are a lot of galleries showing Chicago artists - I like that - supporting one's own. In River West Diana Guerrero-Macia is opening at the Tony Wight Gallery. I've been following her work for at least 10 years; always with words and always with fabric, literally a hands-on, contradictory approach to fine art. Sometimes the phrases, typically drawn from our vernacular, are easily decipherable. But the new work gets more layered, in actuality, from the layers of fabric, and with content. The work is fresh, tactile and accessible. That's good.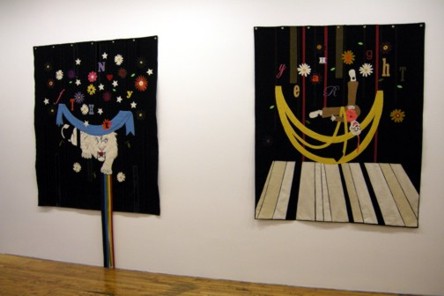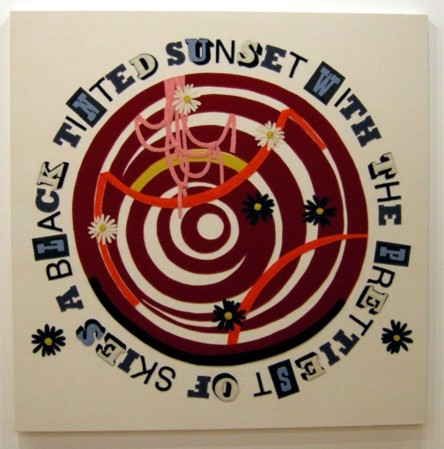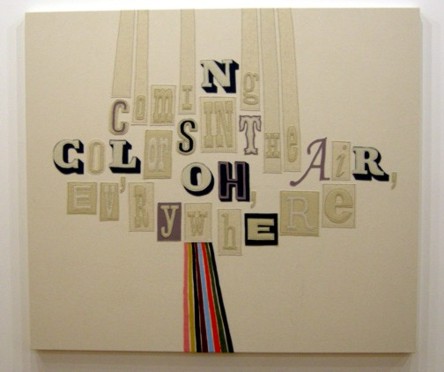 It is such a pleasure to see so many galleries emphasizing Chicago artists and to see them growing with those artists. A lot of the global art world prefers to embrace the newbies. I'm afraid to suggest we have more substance here, but I'm seeing a trend that suggests we make a propriety of relationships and conviction, instead of blindly following the School of What's Happening Now.
I've got to give Western Exhibitions, recently relocated across the hall from Tony Wight, credit for perseverance. When they first worked with Stan Shellabarger, he was a guy who would glue sandpaper to his shoes and shuffle for days on a board, leaving visual documentation of his performance. Sometimes he'd spend an equinox shuffling back and forth outside. And sometimes he'd fill notebooks with repetitive phrases ad nauseam. Tough way to make a living. Shellabarger's new work has both transcended and melded his past. Now, he's made gorgeous, wall works that are the result of walking on beautiful lengths of paper that he's placed in unbound books, but presents them splayed for exhibition. So now, besides the time-based mantra of walking, rubbing and transferring, we have profound beauty. Excellent show. Excellent growth.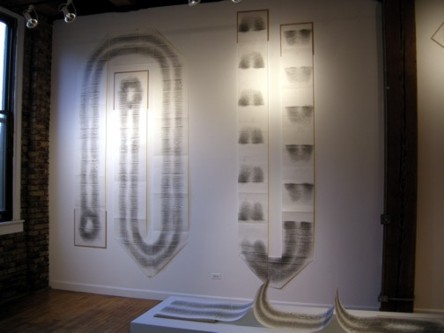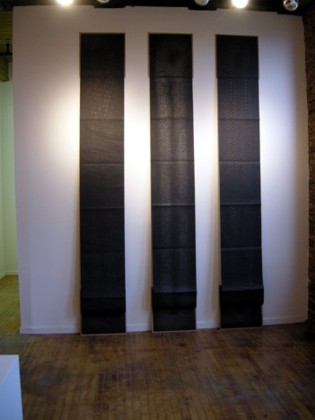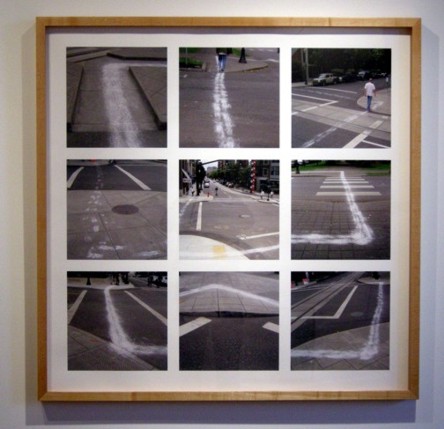 Across the street at Monique Meloche is one of two exhibits by Rashid Johnson opening tonight. Rashid used to be a Chicagoan and still has family on the South Side, but moved East seeking, and finding, greener pastures. (We need to give our artists more reasons to stay - which is certainly one of the reasons I write these missives.) The last time I wrote about Rashid, I chastised him for taking the easy way out. This time the show is strong, with a lot of artifacts from his youth; memories of family, ritual and the daydreams we had, but forgot. The work isn't all that complicated. I just think a white audience (me) is prone to expecting deep, meaningful, Black content when we don't expect white artists to create work laden with white content. Yes, there's a lot of African-American content here, but it's more about an artist reflecting - and he happens to be Black.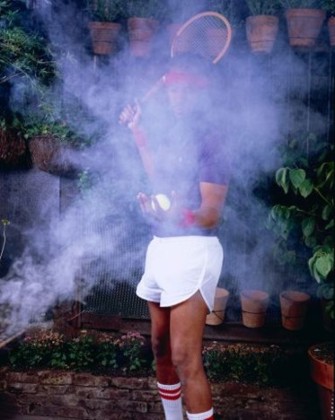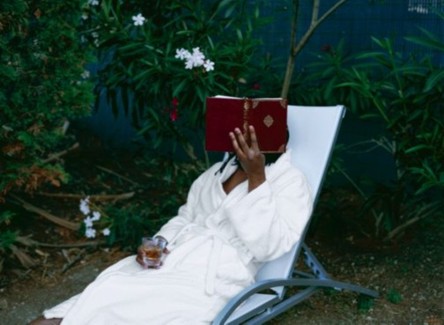 We'll get back to the West Loop shortly, but I want to segue to Richard Gray Gallery where another Rashid Johnson's exhibit appears. Here, he is showing a series of work called CosmicSlop. Lightheartedly inspired by a failed Funkadelic album from 1973, Johnson made seductive, dark pours from black wax and black soap, which is thought to have healing powers. They feel contemporary and they feel ancestral - with a lot of ritual.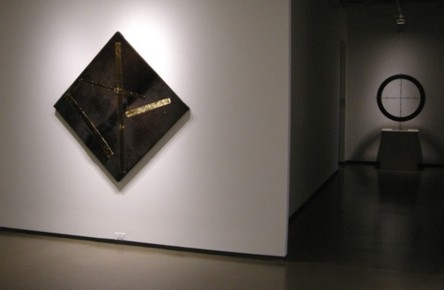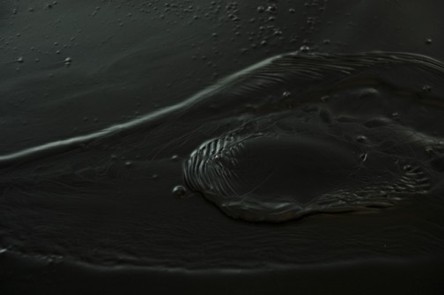 Okay, back in the West Loop, Rhona Hoffman Gallery is always an easy destination to recommend . A curated show (IE, not assembled by the gallery) titled Angles in America presents a range of artists who work with shape, geometry and line. I found the show uneven, but several pieces so good that the presentation was memorable. And I always like second guessing curators.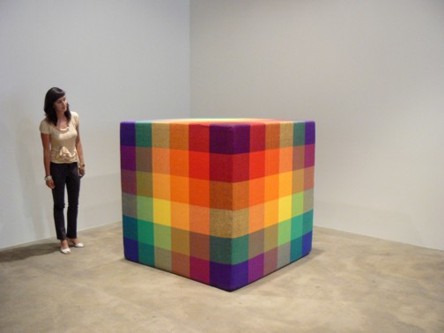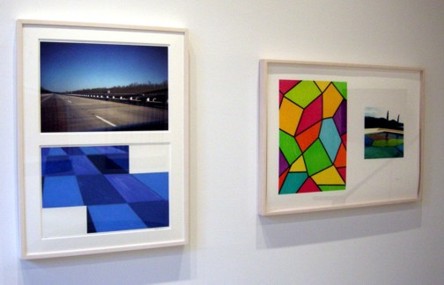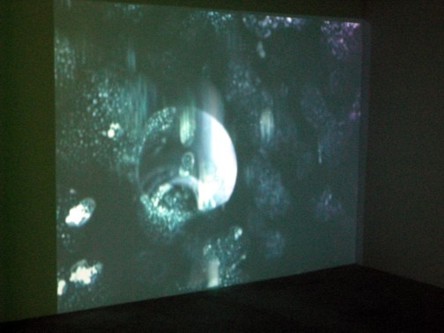 Linda Warren Gallery is presenting her second exhibition with Conrad Freiburg. Conrad is young, smart, knowledgeable, and dexterous. This body of work is based on the Declaration of Independence and the physical (again literal) destruction of our rights and freedom. Every piece - with the exception of the drawings - is interactive. We can affect the art and in a de facto manner, vote to, at least philosophically, create our own demise.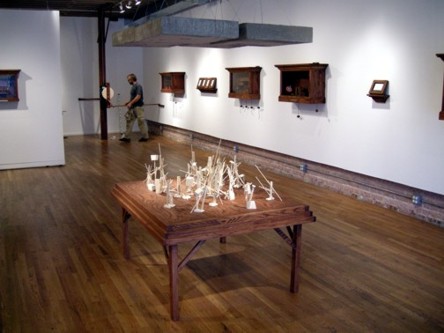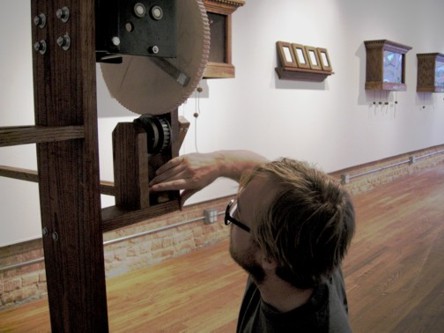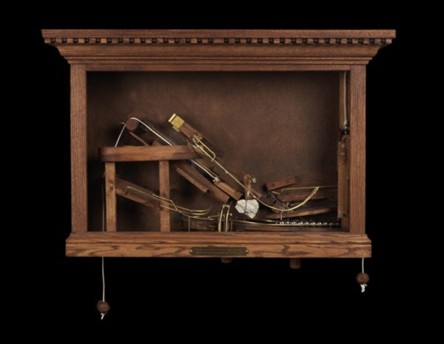 The itinerant gallery, Allegoric, shows up at the Architrouve. Working with a variety of local artists, they seem to emphasize well-made, well-considered, solid, sometimes provocative, sometimes fun, art. With seven artists in the show there were two that I felt fresh appreciation for. Michael Pajon's collages have taken a handsome leap forward. No longer as referential as they were just last spring, his art is finding it's own voice, humor and confidence. And Joseph Lappie's harrowing, vertical figures with shadows of text were brand new to me, yet they made so much sense.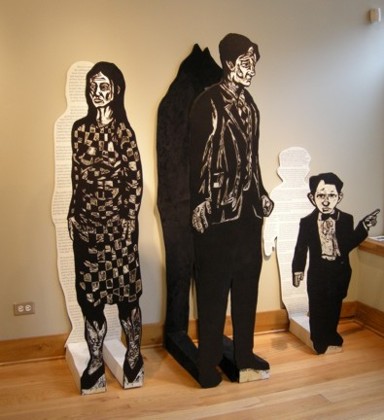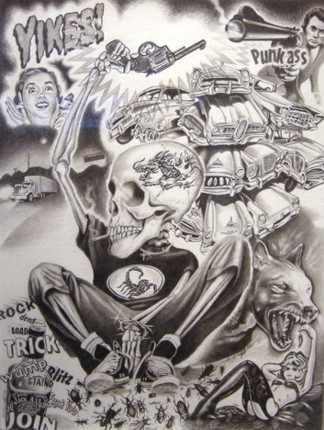 I told you there were a lot of shows opening tonight - and the ones I'm writing about are just the tip of the iceberg. Go out and find out for yourself. And even if you disagree with me, you're certain to find a lot you'll like. In River North two shows looked really good. Hammer Gallery is presenting Michael Hernandez de Luna. Hernandez de Luna designs and prints his very own profane postage stamps, sticks them on contradictory envelopes and mails them to himself from often obtuse places. They are art, documentation of a performance, and a pithy commentary on all sorts of hypocrisy. Ouch.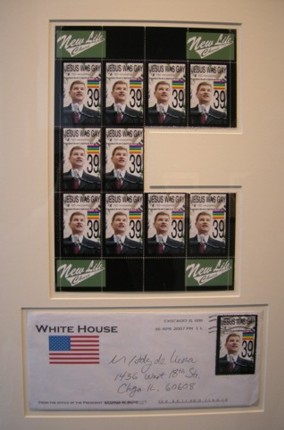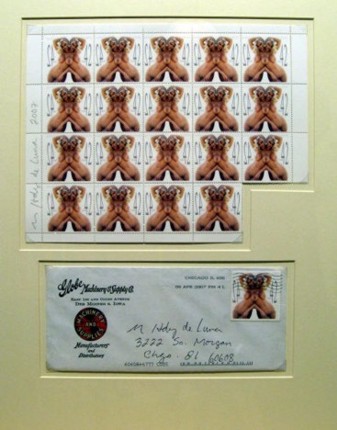 John Fraser's new exhibit at Roy Boy Gallery continues his exploration of bookbindings as a quiet, yet charged, embodiment of nonspecific content. Clean, but laden, they are calm, meditative and beautiful. These are about looking.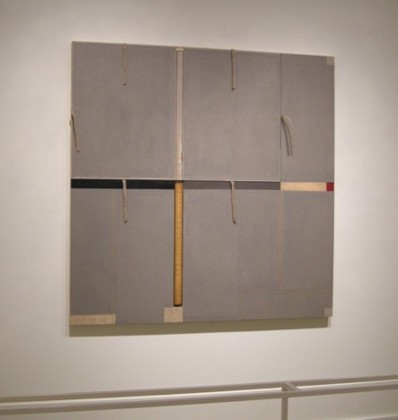 I've saved the best for last. The exhibit at Glass Curtain Gallery (affiliated with Columbia College) opened last night and not tonight. Not only that, I don't think anything is for sale, which is invariably the assumption we make when we visit a museum or college gallery, but I know better than that. Curated by Mark Porter, the exhibit sings with playful, thoughtful, meaningful, stimulating, memorable art by five female sculptors - which I was told was not by intent. All the site specific installations transcend their common materials to discuss waste, beauty, and frivolity. Pieces shimmer, drip, sparkle and ooze. I think more exhibits should do that.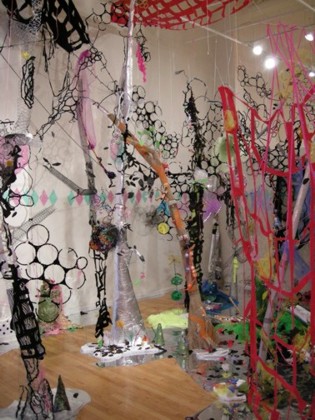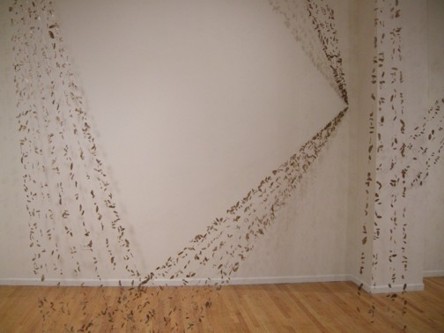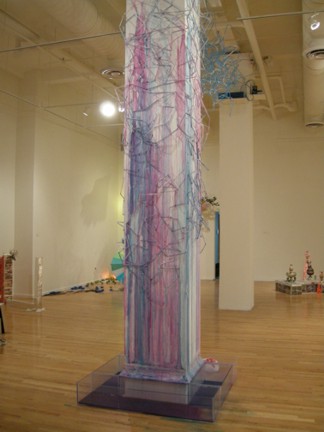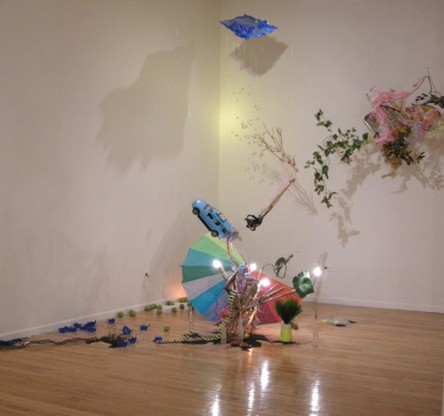 There's a fabulous exhibit curated by Lisa Wainwright that's already had its opening reception, but this show is so over-the-top wonderful that you should use any excuse you can to see it. Titled, Ah Decadence, this show is a brilliant celebration of the opening of the School of the Art Institute's new Sullivan Gallery. All works are by Chicago artists, wondrously installed with fascinating juxtapositions. Too often curators seek to force a point of view on the art they select, but here it feels much more like insightfully unveiled relationships are revealed. See it with a friend. This show is worth sharing.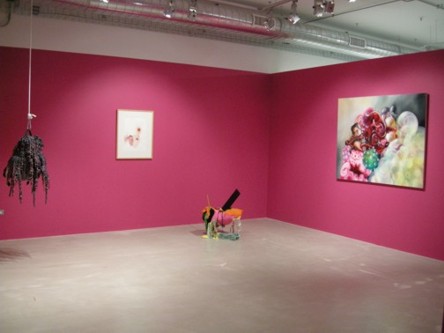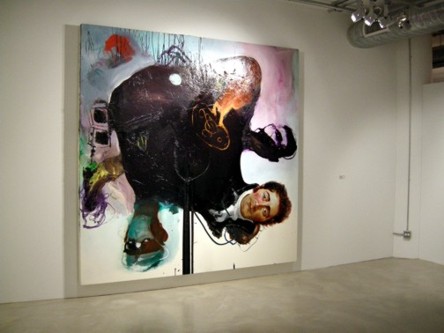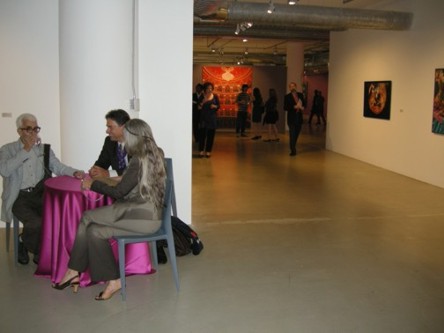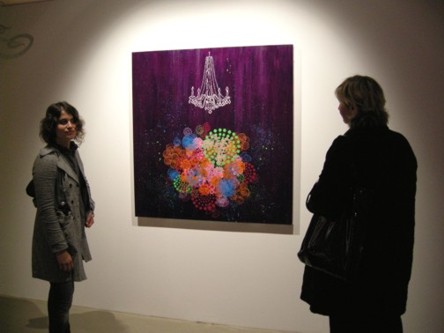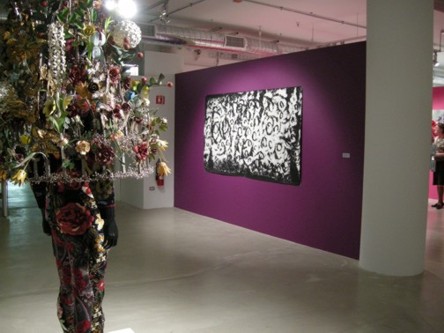 And finally, never forgot the wonderment of Ed Marszewski (aka Edmar) and the very many hats he wears. Tonight he's hosting a bash at his Co-Prosperity Sphere, celebrating the Bridgeport All Stars, a fine batch of artists from the community, some of whom are damned good.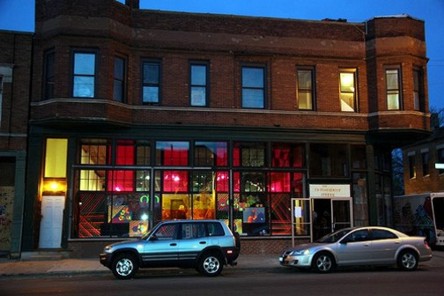 Calling all HuffPost superfans!
Sign up for membership to become a founding member and help shape HuffPost's next chapter