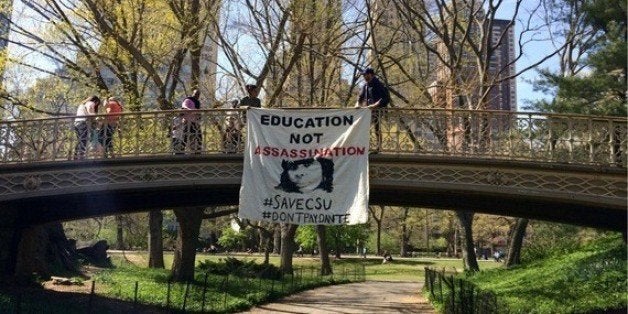 After 149 years of public education, Chicago State University escapes last month's deadline for closing -- but the university faces grave uncertainty past July 1. The state's refusal to act in a meaningful way is just an example of the Anti-Black actions and policies that are harming Black people in Illinois.
For months, the university, whose students are predominantly Black, has been in crisis due to Illinois' failure to pass a budget to provide funding for the school. At the end of April, CSU received partial funding of $20,107,300 under an emergency funding bill for higher education. This money only keeps the University open for the next four months and does not fund the approaching fall semester.
We will not stand for this. Pink slips have gone home to 300 staff members -- a full third of the school's employees -- and students' educational futures are in peril, as our billionaire governor, Bruce Rauner, is sitting pretty. We demand that our communities are invested in and that CSU be fully funded.
Our collective met with CSU students on April 25, 2016, days before the university's 358 commencement. We heard testimonies from students who are directly impacted by the looming closer of Chicago State. We listened to a young mother from the surrounding area talk about how CSU has given her the opportunity to provide a better future for her daughter. She will more than likely have to drop out of college if CSU closes because of higher tuition cost at other institutions, lack of child care, and the fact that Rauner also viciously cut the Monetary Award Program (MAP) grants and other financial aid. This mother's story is just one account.
At a symbolic ceremony, students this week burned faux degrees to represent the very daunting fact that they may never walk across the stage at a CSU commencement. As they gathered around the quad, Charles Preston, a CSU student just shy of graduation, said, "Tonight we take these diplomas to self-determine our own futures, burning them is a representation of the struggle that is going to happen after tonight." The crowd then chanted, "Save CSU, Black Education is good for our health, Save CSU budget or else!" We cannot let their academic futures burn in ashes.
Many people are to blame for the budget impasse and CSU's position, among them being Governor Bruce Rauner and Rauner-appointed Chairman of the Illinois State Board of Education Reverend James T. Meeks and Rauner-appointed CSU trustee Reverend Marshall Hatch. It is disturbing to anyone who cares about Black life and public education that this is our reality in Chicago. Despite the faux-concern that many of our city and state leaders, both elected and undemocratically appointed, claim to have for Black Chicagoans, the efforts to provide for our well-being are minimal at best.
Just over 83 percent of CSU students are Black. 71.5 percent are women, and many are parents and nontraditional students. The school is ranked first in the state in awarding bachelor's degrees to Black people in the physical sciences, health professions, hosts unique projects like Emmanuel Pratt's Aquaponics Facility, a vertical farm that trains students in green entrepreneurship. Over the course of its existence on the South Side, it has provided thousands of students and community members with tools they need to survive in a world that does not believe in or provide options for Black people. The campus is used a space for community organizations, is the area's largest public library -- accessed by all community members, and the campus provides a safe space for South Side residents, almost all Black, to exist in a world that has never welcomed them.
As we fight for CSU's funding, we are fighting to get a killer cop off the city's payroll once and for all. Four years ago, 22-year-old Rekia Boyd was murdered by off-duty police officer Dante Servin. Rekia was simply hanging out with her friends in a park. While Officer Servin still is being paid by the Chicago Police Department -- a Department that receives $4 million a day, nearly 40 percent of the Chicago budget -- we are fighting to keep open a public space. Clearly there is no regard for Black life in this city. CSU requires just $5 million a month to run, and we spend almost that amount daily on an institution that is killing our people.
The political system as it stands is a failure for Black people and it is especially harmful to Black women, whether we seek higher education or not.
Servin, if fired -- there is a hearing at the end of May to decide this, is likely to receive a pension that will be paid for by the tax dollars of Chicago and greater Illinois residents. When there is money for cops who murder but not for public education that benefits Black people, we see who our governing bodies truly serve.
It is undeniable that our current political system in Illinois is stacked against Black people at every level, and we see the ways that Black women in particular bear the brunt of this violence and then are forgotten. Shame on Illinois. We demand that the city and state Remember Rekia: stop wasting our tax dollars on police officers who kill and otherwise brutalize Black people and instead make full investments in institutions like Chicago State University. Our futures depend on it.
#RememberRekia #SaveCSU #DontPayDante
-Kofi Adamola Xola
-Joan Fadayiro
-Imani Jackson
-Tess Raser
Calling all HuffPost superfans!
Sign up for membership to become a founding member and help shape HuffPost's next chapter