Jimmy Carrane made simply living funny with his long-running improv shows "I Am 27, I Still Live at Home and Sell Office Supplies" and "Living in a Dwarf's House."

Now in his 50's, this comedian, actor, and teacher created The Art of Slow Comedy, which teaches actors the importance of reacting honestly in the moment and trusting that something will come of that.
It works on stage, but what about in life? The death of Jimmy's father is forcing him to improvise in a whole new way.
He explains how losing his dad has been his most challenging scene.
"He was not my 'best friend,' and I cringe when other people say that, because for me it's an unbelievable concept. To say 'he raised me' would be generous. And I get annoyed when other people say, 'He just did the best he could.' It may be true, but it feels like bullshit.
But he was my Dad and I only had one. As a wise old friend said, there is a bond between a father and son. And this friend went on to say that even though his dad was abusive to him when he was growing up, it was still hard on him when he died. He missed his dad terribly. This is how I feel; though my Dad was not abusive, he was neglectful, which is a different side of the same coin.
I guess going through this is a rite of passage. My Dad's memorial is in a few days, and by the end of June, I will become a father. At 51, I am coming of age. This is either pretty sad or pretty humorous, but not surprising, since I am a late bloomer.
Grief is not one emotion, but an umbrella of many. I have felt sadness, anger, fear, and anxiety or a combination of them. They are unpredictable and intense.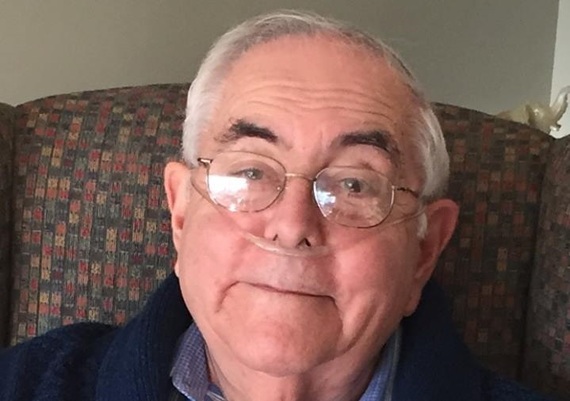 The grief of my father is weighing over everything. It sticks to my ribs like Thanksgiving dinner, making me feel stuffed for days.
There are also long stretches of time I want to be alone. Returning a phone call or reading the paper seems impossible. Sometimes I want to be around people and sometimes I want to kill them.
There are short patches of time where I'm focused, like now, but most of the time, I am not on the same frequency as the rest of the world. I am tuned out, flaky and annoyed. It's been four weeks since he died, and I thought by this point I would be back to writing about improv, but as you can see, I'm not.
Some of my feelings don't come up as easily. They are trapped deep down there, like those coal miners from Chile who were waiting to be rescued.
Others, like anger, come right to the surface, like when I'm in traffic or in line with the slow cashier at the CVS. And still others need to be tricked to come up, like sadness by watching Titanic with my wife where we both cried and I got a new appreciation for James Cameron.
However they come up, I am glad when they do because I feel better for the time being.
The next piece I write will be my Dad's eulogy. Months ago, when I talked to him about speaking at his funeral, he asked that I be funny and not portray him as a saint. I believe I can do at least one of those things.
God speed, Dad. God speed. I miss you.
Love, your son."
Tammy Letherer is the author of one novel, 'Hello Loved Ones,' and a memoir, 'Real Time Wreck: A Crash Course in Betrayal and Divorce,' for which she is seeking agent representation. She is a writing coach who loves to help others find their voice, whether in a blog or in a book. She has also worked as an intuitive healer and uses her gifts of listening, insight, and vision to guide clients to write--and live--their best stories. Follow her on Facebook and LinkedIn.

REAL LIFE. REAL NEWS. REAL VOICES.
Help us tell more of the stories that matter from voices that too often remain unheard.