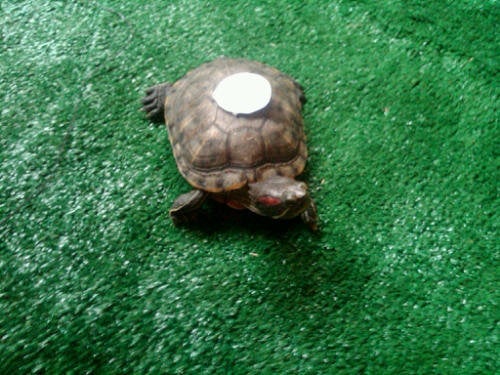 Whether it's cocktails, straight liquor, wine or (most likely) beer, we Chicagoans love to throw a few back now and again. What makes it even better is a little entertainment and friendly competition. Shuffleboard and trivia nights can get old after a while, though, so it's a good thing that our city has a few bars that offer truly unusual bar games. Between rock-paper-scissors, turtle races and ping pong, there's always another hidden gem to be found on the Chicago bar scene.
Rock-Paper-Scissors: Ravenswood Pub boasts a weekly rock-paper-scissors tournament that perfectly combines one of the best things about being a kid (simple, juvenile games) and one of the best things about being an adult (alcohol). Get there early to sign up for the competition which starts at 10 pm every Thursday. The winners are rewarded with a gift certificate to Ravenswood Pub, which of course can be used to fuel another heated match the following week. If that isn't enough, check the bar's website to find out when they'll be having their next round of "Crapple." On these nights, patrons can buy raffle tickets and if they are lucky enough to have their number called, they receive a useless item – think random junk from the local Goodwill or your crazy neighbor's yard sale. Ravenswood Pub, 5455 N. Ravenswood Ave.; 773-769-6667
Turtle Racing: Another place to hit if you're craving some bizarre entertainment is Big Joe's 2 & 6 Pub. Located just a few blocks from Ravenswood Pub, this bar's claim to fame is its weekly turtle races. Every Friday, the bar places a special ring on top of a pool table. Meanwhile, patrons earn raffle tickets for each pitcher of beer they purchase. An announcer calls out ticket numbers – if you have the matching ticket, you're randomly assigned to one of the racing turtles. Just before the race begins, the turtles are placed in the middle of the ring under a clear container. When the buzzer goes off, the container is lifted and everyone starts cheering, hollering and generally confusing the turtles on the table. The first turtle to reach the outer edge of the ring wins, and the person assigned to that turtle gets a T-shirt. The bar takes pity on the last place turtle, giving the assigned patron a free beer as his or her reward. This goes on once every 15 minutes for a large portion of the Friday night festivities. For a peek at this unusual form of entertainment, check out this YouTube clip of the turtle races at Big Joe's. Big Joe's, 1818 W. Foster Ave.; 773-784-8755
Raunchy Bingo: For something a little naughtier, head to The Burwood Tap in Lincoln Park. Though this pub has been around since the Prohibition days, it's definitely keeping up with the times thanks to fun activities like Raunchy Bingo. Every Thursday at 9 pm, The Burwood Tap hosts this saucy event where patrons use bingo cards filled with dirty words and sexual positions rather than numbers. There are even a few bonus games thrown into the mix, like the Banana Deepthroat Challenge and the Penis Toss. It's just $10 to play and the prizes include everything from dildos and porn to drink tickets. Burwood Tap, 724 W. Wrightwood Ave.; 773-525-2593
Old-School Video Games: If you want to relive the your late 80s childhood, then head to Goldie's Bar in North Center. Sure, there are plenty of bars with Wii consoles and big projector screens, but how many bars have a Super Nintendo? At Goldie's you can play your favorite video games from your childhood – think Teenage Mutant Ninja Turtles, Madden NFL, Super Mario Allstars, etc. Thanks to wireless controllers, players can sit right at the bar with prime viewing of the wall-mounted TV. As if that weren't enough to recall great memories from the past, Goldie's also uses their 106-inch HD projector to screen campy flicks from the past like "Sleepaway Camp" and has a stack of old board games – anyone for a round for a round of Guess Who? Goldie's, 3839 N. Lincoln Ave.; 773-404-5322
Movieokie: Finally, there's The Whistler. With classy cocktails, a chic atmosphere and plenty of hipsters, there's nothing particularly weird about this Logan Square bar. However, a visit on the first Monday of the month brings in the unique (and hipster-friendly) feature of Movieoke. Much like karaoke, bar-goers make a selection then get up on stage to perform. In this version, however, you get to choose a movie, pick out a costume and then act out a scene from your chosen film. The fact that the actual scene is played out behind the impromptu actors on a big screen just makes this all the more entertaining. The Whistler, 2421 N. Milwaukee Ave.; 773-227-3530
Calling all HuffPost superfans!
Sign up for membership to become a founding member and help shape HuffPost's next chapter