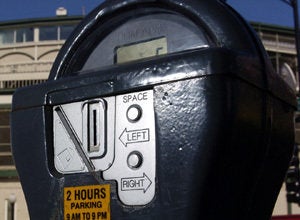 As of February 11, when the parking meter lease deal finally closed, all of Chicago's parking meters are now officially under the control of Chicago Parking Meter LLC for the next 75 years.
What does that mean for people driving and parking on the streets of Chicago?
If I were you, I would go out and get a crapload of quarters to keep in your car.
Might as well buy an entire roll.
That's because every single parking meter in the City of Chicago will have it's rates increased with the first meters changing as of today.
Here's how parking meter rate increases breakdown for 2009.
Downtown/Loop: $3.50 per hour (up 50 cents)
Non-Loop/Central Business District: $2.00 per hour (increase of $1.00)
Neighborhoods: $1.00 per hour (generally quadruple(!) the old rate)
Now, with over 36,000 parking meters in this system, it will take a bit of time for all the meters to be changed to reflect the increased rates. The proposed timetable is 24 days from last Friday, with a completion date of March 9th.
Downtown meters will be the first to be changed, with crews working their way out into the neighborhoods.
Here is the proposed timetable:
*Downtown/Loop: February 13
*Near North, Near West and Near South: February 14
*Lincoln Park: Feb. 18-19
A proposed pace of changing 1,500 meters per day seems overly ambitious to me. So don't be surprised if it takes a bit longer than the planned 24 days.
Start paying attention to how much the meter you park at costs. Don't get a ticket because you under fed a meter. Read the meter carefully so you understand what the rates are for that particular meter.
Seven Day A Week Operation
Until last week, the vast majority of parking meters in Chicago did not have to be fed on Sundays. It was a time honored tradition. Sunday was a day of rest--even for parking meters.
Not anymore. The lease deal states that parking meters will operate seven days a week.
The same goes for major holidays. Before, there were six parking meter holidays a year: New Year's Day, Memorial Day, 4th of July, Labor Day, Thanksgiving and Christmas. But not anymore.
Under the new lease deal, we must feed the beast 365 days a year.
However, all 36,000 meters must have the stickers (note the rectangular yellow sticker on the meter above) that regulate time and days of operation (when they must be fed) changed with the new information. Again, make sure you read the meters you park at very carefully and behave accordingly.
In most cases, the vast majority of parking meters will keep the same hours of operation as before.
However, meters in the Loop will have to be fed 24 hours a day. The hours from 9 PM-8 AM will be at a reduced rate.
This parking meter deal will not change how parking regulations are enforced. The city is still controlling enforcement and thus the issuance of parking tickets.
That's because income from parking tickets has always been greater than the quarter-ante income generated by the meters themselves. The city does not want to relinquish the cash cow called enforcement.
So Police officers, Parking Enforcement Aides (PEAs), etc., will continue to ticket as usual.
However, these ticket writers will be joined by employees of Chicago Parking Meter LLC to make sure enforcement is at maximum efficiency, per the details of the lease deal. Increased enforcement or fear of enforcement will be the incentive for drivers to always keep their meters fed at all times.
Enforcement will also be increased to include Saturdays and Sundays.
In general, enforcement is going to increase.
Nothing will change with administrative hearings when it comes to contesting your parking tickets. The way tickets are contested in hearings is not affected by the parking meter lease. So keep fighting those tickets!

Check out The Expired Meter for even more information and advice about parking, parking tickets and red light tickets in Chicago.
Calling all HuffPost superfans!
Sign up for membership to become a founding member and help shape HuffPost's next chapter