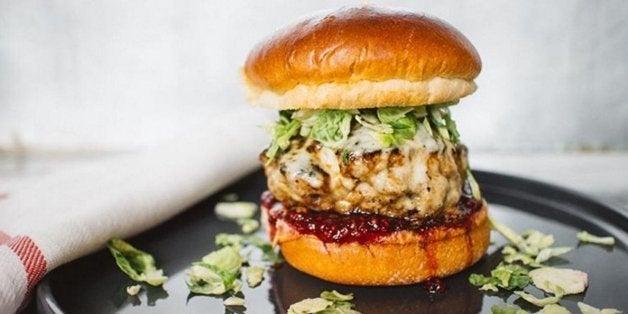 My love for Chicago, food and food pics has no bounds. Combing the three with a round-up of the best food ideas I've seen in the weeks leading up to arguably the largest food holiday. Enjoy!
1. Thanksgiving dinner in gelato. Cafe Spiaggia hosted a one-night-only Thanksgiving feast on Thursday, Nov. 19 with dishes made entirely of gelato or sorbetti. The menu featured sweet renditions of classic Thanksgiving dishes, including turkey with sage pizzelle, sweet potatoes and marshmallow, brussels sprouts, green bean casserole and spiced cranberry sauce. The dinner also included wine pairings from their sommelier - hope they bring this back in 2016.
2. and 3. The turkey burger and pumpkin mac and cheese (baked in a pumpkin!) by Chefmade. Perfect for the 'Friendsgiving'/doing it for the 'gram types.
4. The Gobbler Cobbler from Three Dots and a Dash. I'm a sucker for a good cocktail and this one's got pumpkin butter in it.
5. Turducken Thanksgiving leftover ramen by Momma Cuisine. For the home cooks who have no interest in turkey sandwiches.
6. Pumpkin pie purée and granola pizza by Dimo's Pizza. Dimo's! Always good for strange and delicious seasonal concoctions.
7. and 8. The Gobbler Turkey Burger and Apple Pie Shake at DMK. It's the second burger on the list but DMK is just that good. My friend had this the other night and can't stop raving about it.
9. Corn and asparagus fritters by Leftover Roots. For people who love fancy sides, these seem perfect.
10. Sweet Potato Cupcakes with Marshmallow Buttercream by Nicole Tingwall (@windycitydinnerfairy) Nothing beats a sweet potato and marshmallow casserole - unless it comes in cupcake form.
Bonus: Dress up your bread with Prosciutto Pinwheels by Her Tasty Life