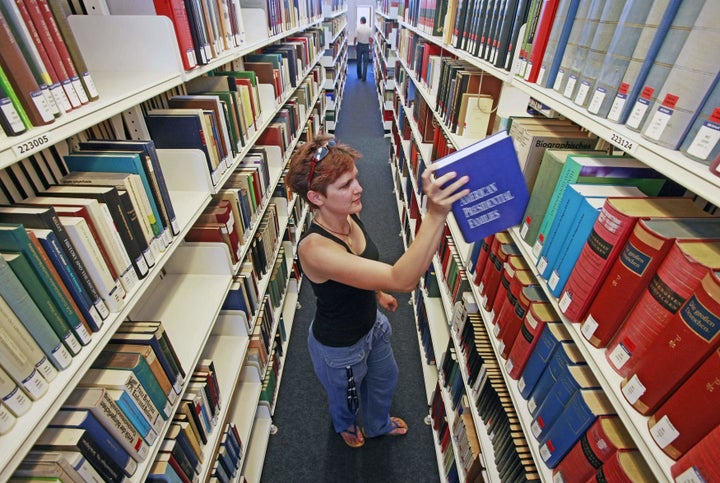 For a bookstore with some of the most diverse programming in the country, many readings at Chicago's Women & Children First begin the same way. If you've ever been there, you'll recognize the scenario. The misty eyes that suddenly overcome the author as she takes the floor. The statement of how much it means to her to be here, in this particular place. And then the revelation that Women & Children First is where she attended her first reading -- how, on the verge of womanhood and not yet at all convinced she would ever find her voice, her courage or her audience as a writer, she came alone to hear (insert here: Maya Angelou, Gloria Steinem, Alice Walker, Margaret Atwood) and her inspiration, her confidence, her world was transformed.
On Oct. 3, Women & Children First celebrates its 30th anniversary with a benefit event that will raise money for its Women's Voices Fund, an endowment that ensures such inspirational, progressive programming will continue into the future. Thirty years ago, when Ann Christophersen and Linda Bubon met at the University of Illinois-Chicago and launched the store, they were pioneers in a burgeoning marketplace of feminist bookstores; by the early 1990s, there were more than 100 in the United States. Now, after the explosion of chain bookstores and a changing political climate, there are a mere seven remaining. Says Bubon, "This is a national issue. If these seven stores disappear, an entire culture will be lost. It's not just our readings featuring important writers, but also the fact that we have entire sections of the store devoted to issues like healing from rape or how to leave a battering relationship. It's the fact that we will never stock a book that has the word 'diet' in the title. It's a children's story-time hour where gay and lesbian parents feel welcome, and the bulletin board where you can sign up for an all-women soccer league, and that we offer support groups for new moms, or women working to overcome cutting. The chain stores can never step in to fill that cultural gap."
To say, then, that WCF's mission is more essential than ever is no understatement -- nor would it be to say that, despite the sentimental attachment many writers and readers feel for the store, its continued existence lies in a perpetual state of economic peril. The most immediate threat to WCF (or any indie bookstore) is the epidemic of online book purchasing that keeps readers out of stores. But in a wider sense, a similar peril is being echoed throughout the literary world, at every level of operations. At New York corporate publishing giants, imprints are folding and venerable editors being laid off left and right. In college towns across the country, longstanding literary magazines and presses are having academic funding cut (or withdrawn entirely). Chicago, it seems, has been hit particularly hard, losing Powell's, the Printer's Row Book Fair (or at least the Chicago Tribune's sponsorship of the fair), and the print version of TriQuarterly magazine all in one year. Our stalwart old newspapers are declaring bankruptcy and book review sections (here and nationally) have been cut or radically reduced. In a climate like this, WCF's survival can seem almost miraculous.
So what, exactly, is this store doing so right? Bubon puts it this way: "We have been extremely fortunate to have some great authors -- Julia Alvarez, Sandra Cisneros -- read at the store and enjoy the experience so much that they want to come back even once their careers grow. These extraordinary writers have given the store a kind of glamour that two Midwestern kids with master's degrees in English could never have given it alone." Adds Christophersen, "We feel very strongly about the writers who come to read at the store -- about our mission to bring writers and readers together. When we book someone, we are committed to trying to find a good audience for them -- which is often not hard -- but I think writers pick up on how happy we are that they're here. We share the responsibility and honor of introducing them, and we read their work before they come. There are stores with the same ethic of care, of course, but I believe our attitude, which comes out of sincere gratitude, doesn't go unnoticed."
Indeed. When I was touring after the release of my first novel, I sometimes arrived at a bookstore to find no one even remembered I was coming, much less had ordered my novel to sell or advertised the event. While such debacles are mercifully rare, equally rare is it to show up at a store for a reading and, as a first-time novelist, find that every staff member you encounter has read your book cover-to-cover and wants to talk to you about it. Yet this is the experience one has when reading at Women & Children First. Another first-time novelist, Corrina Wycoff, author of O Street, says reading at WCF was a way of coming full circle for her. "I went to the store to hear Adrienne Rich during her Atlas of a Difficult World tour," Wycoff remembers. "The space was crammed with fans ... I was twenty years old and making six dollars an hour. I'd taken the evening off work to go. I'd never been to Women & Children First or to any reading before. I cried when Rich read the lines, 'I know you are reading this poem as you pace beside the stove warming milk, a crying child on your shoulder, a book in your hand because life is short and you too are thirsty.' She understood what it meant to fit writing and reading into a life that didn't organically make space for either. It was a story I was already trying to tell in my own work, and it was the life I knew. After that night, Women & Children was a place I'd go on my way home from work when I felt 'thirsty.' I'd browse books I couldn't afford for a few stolen minutes and then go home to the money worries and the dishes in the kitchen sink. Giving my own reading at WCF when my first book was published fifteen years later seemed an impossible honor."
However devoted writers may be to the store, no business can survive on the love of writers alone -- Christophersen also credits Chicago itself with keeping Women & Children alive all these years. When the store came very near closure in 2007 and Bubon and Christophersen broadcasted the imminent threat, customers began pouring out of the woodwork in support. Chicago, Christophersen says, is a city that strongly backs neighborhood businesses, and WCF's Andersonville location (its third location during its history) has enabled the store to both grow its space and transition from a strictly niche market to a true neighborhood gathering place. Bubon is responsible for buying stock for the extensive children's section, and Christophersen says the political section of the store has also expanded and is not limited to feminism, though, she qualifies, "Our definition of feminism has always been broad, in that it includes many other political issues." In keeping with that sentiment, WCF also features "essential" male writers and sometimes even male readers. Despite -- or perhaps because of -- its feminist focus, its vibe is highly inclusive, never intimidating. Like other independent bookstores in the city, such as The Book Cellar and Quimby's, WCF is also especially receptive to Chicago authors, stocking local magazines on consignment and featuring books by local authors prominently. This is a stark difference from chain stores, where there is little concept of a "local" economy or local interests.
Bubon and Christophersen both think of Chicago as a strong literary city. "It seems to me there have never been so many good writers publishing in Chicago as there are right now," Bubon muses. "We're on the brink of a heyday, and it's very exciting. It's a multicultural group and a lot of women ... as well as some amazing children's and young adult writers, too. You know, people go to New York, for a little while -- but when writers come to Chicago, they come to stay." Adds Christophersen, "Right now, Granta magazine's Chicago issue is selling like gangbusters -- we've gone through seventy-five copies in a week and a half."
The picture of literary Chicago is not all rosy, though. Christophersen says what is missing is "book talk" in the media. "I still feel the loss of Mara Tapp on WBEZ," she says, "and I wish the Chicago Tribune did a more in-depth job of covering and promoting local writers." The upshot of this lack of book coverage in local media, she laments, is that many New York publishers have lost interest in sending their authors to Chicago as part of their book tours due to a lack of press. "Sometimes," she says, "the reading itself is less important to the publisher than what kind of media coverage the author will get while in a city." That coverage may lead to more sales than the reading itself. "There are many writers we'd love to host at the store who never come here because Chicago is being passed over." (Notably, she went on to commend Time Out Chicago for doing an excellent job of covering the local scene.) Bubon adds, "The more publishers pass over Chicago on their book tours, the harder it is to get national media for the store -- and national media is really what we need to fill in the gap of the customers we lose to online book shopping. As one of only seven feminist bookstores in the country, we need to be a tourist destination for a certain kind of reader, and to be more nationally known."
When asked to reflect on what has remained constant about Women & Children over three decades, however, the overwhelming sentiment of the duo is gratitude. As Christophersen puts it, "We have been enormously fortunate. The customers who come through our door tend to be a self-selecting group of highly interesting people who feel at home here. That has never changed. We love our customers." Bubon also chimes in about their staff -- constantly changing over three decades. "All of these women have added such excitement and ideas," she says. "We've had the opportunity to watch so many young women come to consciousness, become activists and find their voices -- Ann and I are a steady force, but all these great young women who have worked with us have added so much to the store and keep people coming in, their friends, the communities they're a part of -- they're abreast of the new issues being discussed in Women's Studies classes, or what people are blogging about. Thanks to them, we have a zine section! Our employees usually don't stay for longer than a couple of years, but they continue to shop at the store or volunteer for special events -- they bring people in of their generation." She sites one of WCF's longest-term employees, Kathie Bergquist, who has drifted in and out of WCF for years and is now its publicist and runs its vibrant Sappho's Salon reading series. Says Bubon, "We have four volunteer publicists who have all stepped up for the Anniversary -- these women aren't rolling in money, but they all care enough to give us their time." She also cites excitement about "new local publishers" who are working to build Chicago's reputation as a literary city.
In an industry currently awash with negativity, it may just be Bubon and Christophersen's hope and excitement that set them apart as much as anything else. "I thought the chain stores were going to ruin it," Bubon admits. "I worried they would make author readings so ubiquitous, just nothing special, and people would stop thinking of these events as any big deal -- but that's all kind of passed. Writers and community members seem to be coming back to readings at smaller, local stores and really participating, asking authors good questions -- I see a real desire for people to connect and communicate that way." In this way, too, the relationships Women & Children First has fostered over thirty years seem to have come full circle.
Women & Children First is located at 5233 N. Clark Street, Chicago, IL.

The 30th Anniversary Celebration and Benefit takes place on Oct. 3 at The Breakers at Edgewater Beach (5333 N. Sheridan Rd.) and features Alison Bechdel and Dorothy Allison, as well as a wine tasting with Alpana Singh and an After party at Big Chicks (5024 N. Sheridan.) Festivities begin at 5:30 p.m. Visit womenandchildrenfirst.com or call 773-769-9299 for tickets and pricing.