 The end of August in Los Angeles has historically been a time of sad recollections for Latinos, especially activists who remember a triumphant civil rights march that turned murderous.
On Aug. 29, 1970, some 25,000 activists gathered in East Los Angeles to take part in what was billed as the National Chicano Moratorium march, and protest against the Vietnam War.
They were protesting the disproportionately large number of Latino soldiers who were being killed in Vietnam. It never occurred to any of them that one of three people who would be killed that day as a result of the march would be perhaps the most important Hispanic who would die in the age of civil rights protests.
Journalist Ruben Salazar, a crusader for Latino rights — especially against law enforcement — was slain when Los Angeles Sheriff's deputies fired a tear gas projectile that struck him in the head, killing him instantly.
No one was ever arrested — then or since — in connection with Salazar's violent death.
Commemorating the Chicano Moratorium
In the years since, activists have commemorated Salazar's death and the march each late August. But this year, the reflection has taken on deeper meaning, and some suggest this is because of the civil rights fervor created by the 50th anniversary celebration of Martin Luther King Jr.'s "I Have a Dream" speech.
"'I Have a Dream' is the mantra of any group of people that has hopes of overcoming," says Cal State Los Angeles graduate student Raymond Gonzalez. "And I suspect that a celebration of that speech on the level that we've experienced this year can't help but inspire all generations of all groups that dream of a better life in America."
Indeed, among those participating in last Sunday's commemoration of the Chicano Moratorium march were dozens of so-called Dreamers – young immigrants seeking eventual citizens through immigration reform – who were quick studies about an event that took place more than two decades before any of them were born.
"We study American history because it is our history as well," said college sophomore Miranda Almanza, "and we relate to the moratorium and to Mr. Salazar because he is part of our history.
"He is part of what has happened to our people who have come before us."
The hundreds of marchers who participated in this year's Chicano Moratorium commemoration traced the route of the 1970 march, beginning at Belvedere Park in East Los Angeles and proceeding about four miles to Ruben Salazar Park.
But the marchers made one significant departure from the original route. They went to the Silver Dollar Bar where Salazar was killed and took part in a vigil celebrating his life.
Salazar was a columnist for the Los Angeles Times and also news director at KMEX, L.A.'s pioneering Spanish-language television station.
He had retreated to the Silver Dollar for a beer with his KMEX crew. Sheriff's deputies later said they were called to the bar because a report of an armed man — an armed man witnesses say they never saw.
Deputy Thomas Wilson later acknowledged aiming a tear-gas gun at the bar entrance trying to get the suspected gunmen to come out.
"When I fired the first round… I observed a hole appear in the curtain where the round had been fired through," he told investigators.
He had fired a lethal missile into a room crowded with people, without being able to see where he was aiming, and somehow, miraculously it would appear, happened to hit the one man who in recent years had been a thorn in the side of law enforcement in Los Angeles.
An autopsy later found that the tear gas projectile had passed through Salazar's skull and what appeared to be fibers from the curtain at the bar entrance inside his brain.
Although no action was taken against those involved in his death, Los Angeles County did pay $700,000 to Salazar's family to settle a wrongful-death lawsuit.
Now, almost half a century removed from that decade of fallen civil rights figures, fuller examination of that day and Salazar's death is only weeks away.
Filmmaker Phillip Rodriguez's documentary, "Ruben Salazar: Man in the Middle," to be aired this fall on PBS, will have a pre-screening Sept. 19 at the USC Annenberg School for Communication and Journalism.
"I have no preconceived ideas about what led to Salazar's death," Rodriguez told an interviewer as he worked on his documentary. "But I do know how profoundly painful this episode has been for many people."
This article originally appeared on VOXXI under the title "'I Have A Dream' Inspires Chicano Moratorium Reflection."
Before You Go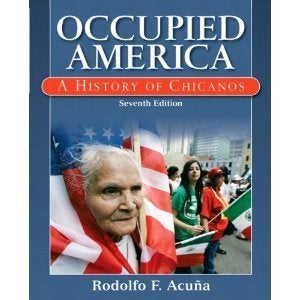 Latino Books Once Banned In Arizona
Popular in the Community