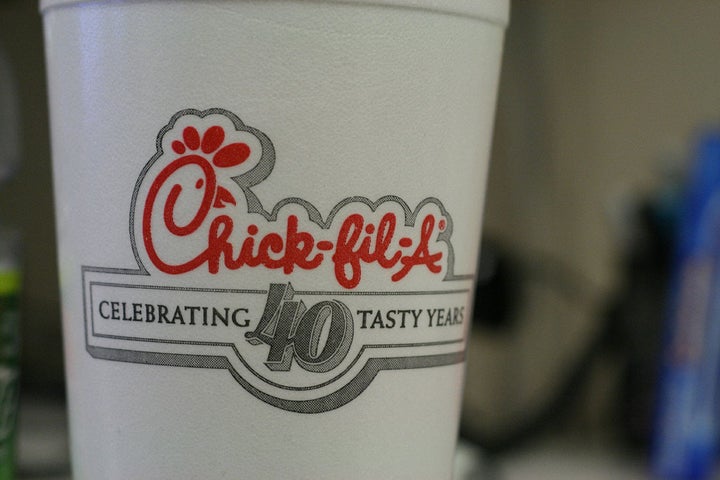 Chick-fil-A is quickly becoming more well-known for its alleged anti-gay donations than for its fried chicken.
As reported by Equality Matters and The Advocate -- among other publications -- a newly-released analysis of Chick-fil-A's charitable work has found that the fast found chain donated nearly $2 million to anti-gay groups over the course of 2010.
Meanwhile, The New Civil Rights Movement's David Badash presents an even more disturbing figure: that Chick-fil-A has donated an estimated $5 million to anti-gay organizations and hate groups between 2003 and 2010.
Not surprisingly, the revelation has already sparked a number of impassioned responses from lesbian, gay, bisexual and transgender (LGBT) rights advocates and media outlets. "Let's face it: despite what the company's president says, Chick-Fil-A is an anti-gay corporation," wrote Tyler Coates for BlackBook. "And, on that note, I'm just going to have to assume that anyone who spends their money there are completely fine with the fact that an anti-gay corporation not only exists, but pushes money to other groups to continue the widespread practice of discriminating against everyone in the LGBT community."
Calling the reported donations "a fat middle finger" to LGBT consumers, Instinct magazine proclaimed, "Looks like gays won't be chowing down at Chick-fil-A anytime soon!"
The Atlanta-based chain's questionable contributions have been both well reported and the subject of a number of high-profile protests. Last November, Equality Matters published an earlier report, noting that Chick-fil-A had similarly donated $2 million to anti-gay groups in 2009.
Calling all HuffPost superfans!
Sign up for membership to become a founding member and help shape HuffPost's next chapter
BEFORE YOU GO