 It's not just college students who want Chick-fil-A off their campuses.
Chick-fil-A currently serves thousands of students a year at the University of South Florida. However, the company has spoken openly against LGBT equality and consistently funded groups that seek to curb LGBT rights. In fact, Chick-fil-A has donated over $5 million dollars to anti-gay organizations between 2003 - 2010, supporting groups such as Focus On The Family, Exodus International, and the Family Research Council.

As a campus that stands for diversity and inclusion, the University of South Florida should not fund a company that supports anti-equality measures. LGBT rights are human rights and no university should cooperate with a group that is openly against human rights. By removing the Chick-fil-A vendor from the Marshall Center, the USF community will affirm its commitment to all of its members.
Also this week, as students at the University of Texas-Pan American returned to campus, a demonstration against Chick-fil-A was held. The protest at UTPA is lead by the school's Atheist Student Organization and the LGBT Alliance.
Chick-fil-A is on five college campuses in North Texas. Both the University of North Texas and the University of Texas at Arlington have started online petitions. A UNT student petition on Change.org had garnered 469 signatures and the one started by an alumnus has 44 signatures. The UTA petition has 155 signatures.
The leaders of the UTPA protest plan to present their petition to their administration soon.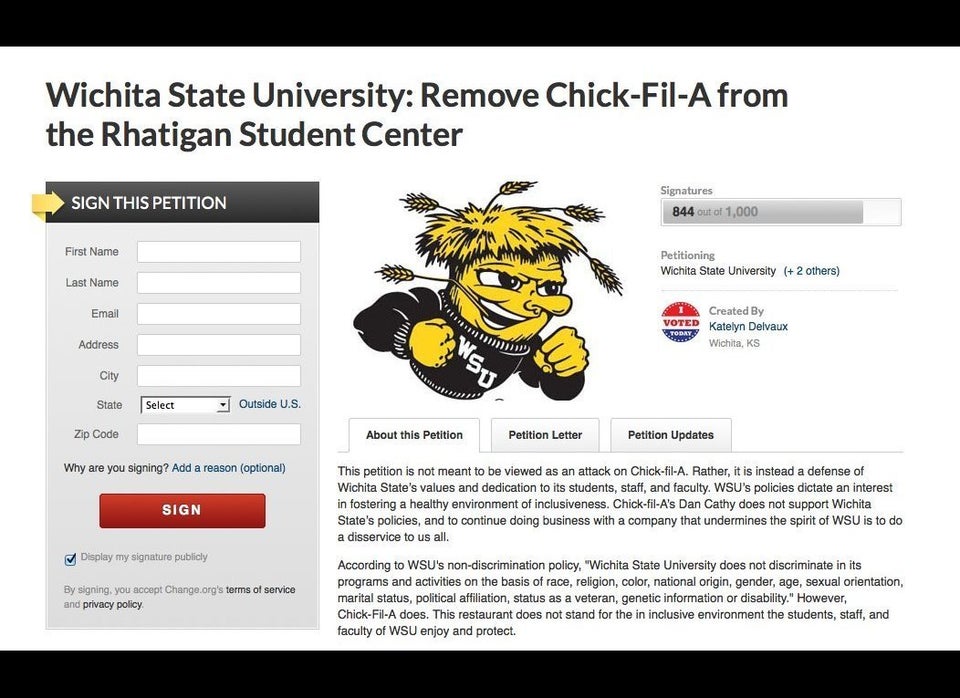 A Sample Of Petitions For And Against Chick-fil-A At College Campuses