 Davidson College in North Carolina has become one of the first colleges in the country to give Chick-fil-A the boot.
Students at Davidson began protesting against serving Chick-fil-A at school sponsored late-night food-and-music events called After Midnight, which are held on one Saturday each month. An online petition gathered nearly 500 signatures calling for the school to stop serving Chick-fil-A at campus sanctioned events. Some Davidson students oppose the company's support of anti-gay groups, and its president, Dan Cathy, admitting to being against same-sex marriage rights. Davidson joined forces with institutions like St. Mary's College in Maryland who ended their relationship with Chick-fil-A last September.
In response to the opposition against the fast food joint, Davidson has decided to stop serving Chick-fil-A for the time being.
In a statement to the Davidson community, Union Board President Adriana Nassar and Vice President Cameron Joe, said:
We reached out to the Union Board members to begin initial conversations but because the board operates on consensus decision-making, a final decision is being put off until we can have face to face conversations and gather more student input. Until a final decision is made, alternative options will be served at After Midnight and other Union Board events. The Davidson College Union Board is firmly committed to building an inclusive community that serves each member of our student body.
Bill Giduz, director of Media Relations at Davidson, told the Christian Post the Union Board will gather student input in their early-semester weekly meetings after classes resume on Aug. 27.
Ben Wiley, the Davidson student responsible for the petition, told DavidsonNews.net the students at other colleges trying to evict Chick-fil-A locations are "much more complicated" movements and are "morally ambiguous."
"One of the clear aspects of this petition –- hopefully clear –- is that we're not actually trying to get any laws passed or resolutions in the student government. … We don't actually have to deal with trying to move a unit away," Wiley said. "We're just going to stop importing it."
North Carolinians voted in May to amend their state constitution to ban same-sex marriages, all civil unions and domestic partnerships.
Correction: The headline of this article originally read "Davidson College Becomes First Campus To Suspend Chick-fil-A." In fact, St. Mary's College of Maryland suspended Chick-fil-A back in September. We regret the error.
Related
Before You Go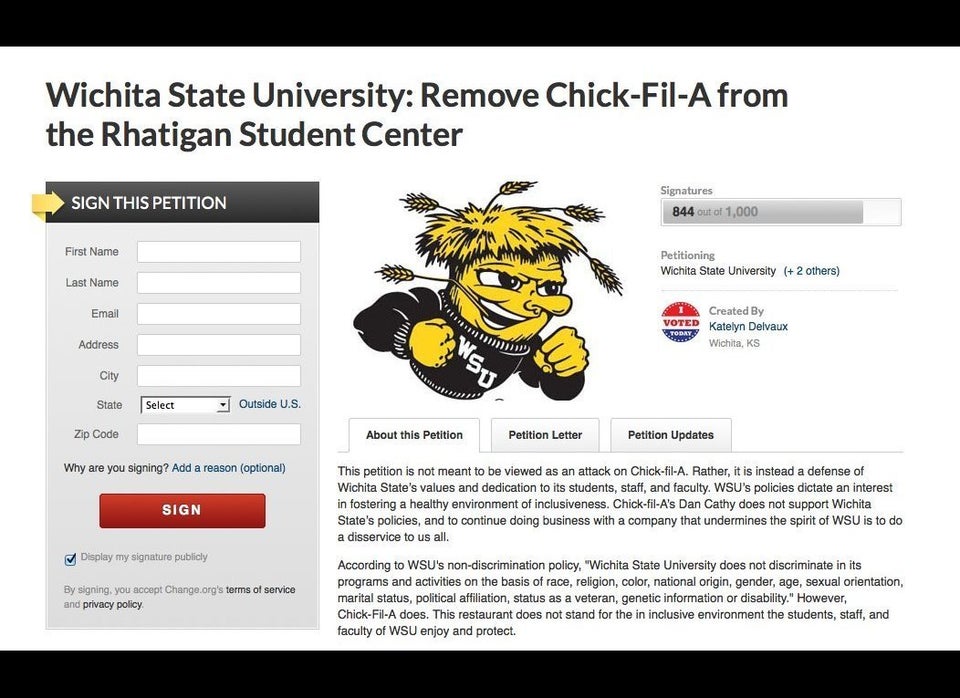 A Sample Of Petitions For And Against Chick-fil-A At College Campuses
Popular in the Community