In the wake of its 2012 anti-gay media firestorm, Chick-fil-A has been removed from the food court at Emory University.
Think Progress points to a tweet from the Georgia-based university's campus newspaper Emory Wheel, which confirms the news but offers few details:
Previously, the university's administration issued a Dec. 17 statement saying Chick-fil-A President Dan Cathy's confirmed donations to anti-gay organizations did not reflect the school's "values of access, inclusion and equity," according to the Georgia Voice. Still, the statement did not ask for the restaurant to be removed, according to the report.
Despite the administrators' stance, lesbian, bisexual, gay and transgender (LGBT) students and allies continued to campaign against the restaurant.
Atlanta is also home to Chick-fil-A's corporate headquarters.
UPDATE: Michael Sacks, co-chair of the Food Advisory committee at Emory University, emailed HuffPost Gay Voices, saying the decision to remove of the restaurant was "not politically motivated."

"Instead, we see the removal of Chick-Fil-A as well as other dining locations as an opportunity to appeal to the student body and explore other types of food," Sacks added.
Emory University isn't the only university that had students demand that Chick-fil-A be removed from its campus. Students of the University of Louisville similar created a petition to remove the chain, which received more than 1,000 signatures.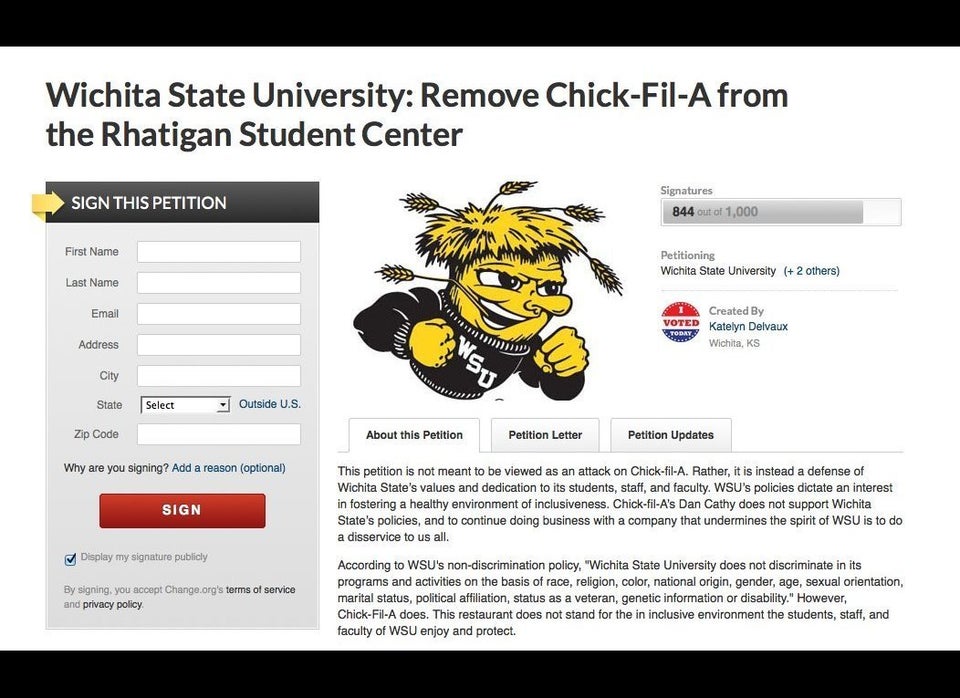 A Sample Of Petitions For And Against Chick-fil-A At College Campuses