 In a survey that tallied the responses of 7,600 consumers, Chick-fil-A was voted number one. It was followed by Raising Cane's and Boston Market in second and third, and El Pollo Loco, Zaxby's, Popeyes, KFC, Wingstop and Church's Chicken brought up the rear in descending order.
Like previous Market Force studies, the chicken chain study looked at a total number of votes for each chain and the number of locations in each chain. Chick-fil-A has the most locations of any chain considered in the study -- 1,600 stores in 39 states -- and claimed the most favorite votes per location.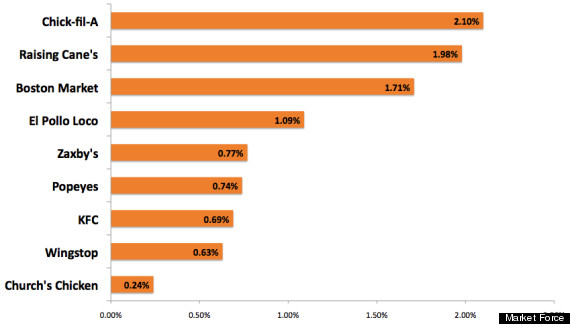 Chick-fil-A also fared well when considered on a regional basis; it was named the favorite chain in all regions except the South, where Raising Cane's took top honors. Boston Market performed respectably in each region, remaining in the top three across the country.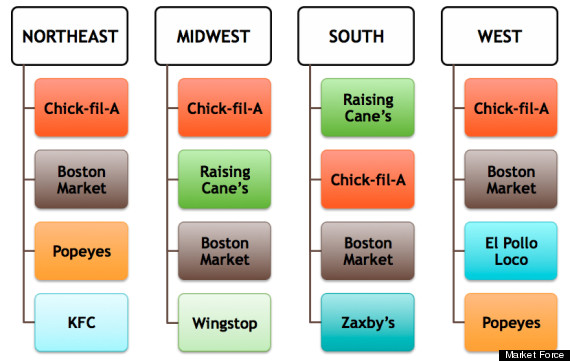 Market Force attributed Chick-fil-A's high performance to its high consumer-reported rankings of food quality and taste, customer service, cleanliness, atmosphere and overall value. Raising Cane's also performed well in these categories. KFC, in contrast, ranked ninth in the food quality/taste and value categories.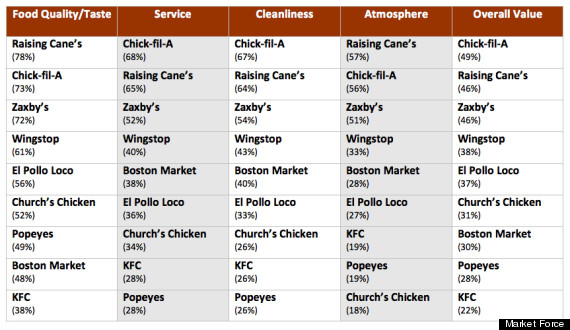 In a company press release, Market Force's chief marketing office Janet Eden-Harris explained Chick-fil-A's appeal:
"Whether it's wings, fingers or sandwiches, chicken is more popular than ever with the masses ... With its quirky marketing campaign and consistent brand concept, Chick-fil-A has carved out a large stake in the expanding chicken segment, although regional competitors like Raising Cane's and Zaxby's are also seeing impressive growth."
Click through the below gallery for more insight into America's favorite chains.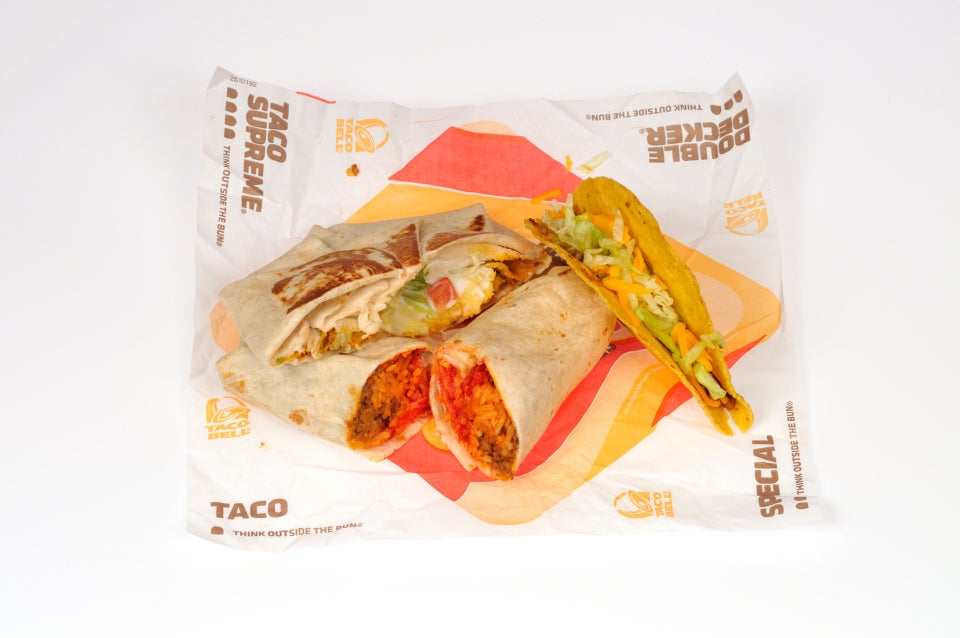 America's Favorite Chains
Related