A California Chick-fil-A did something shocking for same-sex marriage supporters this week: Supported them.
"There were a lot of things said over the past year," Braun told the Inland Valley Daily Bulletin. "I wanted to show that Chick-fil-A doesn't discriminate against anybody. We serve everyone. We're happy to serve the community and this was an opportunity to have this group come in and show them our hospitality regardless of their beliefs, sexual orientation, or whatever. Chick-fil-A has never been about hate"
Back on Aug. 1, hundreds flocked to the Rancho Cucamonga restaurant on "Chick-fil-A Appreciation Day" in defense of Cathy and his anti-gay marriage comments. But on Monday, things were different, and same-sex couples and same-sex marriage backers were surprised at Braun's act.
"[W]hen people are open and apologetic and accepting, it's touching to us," Eden Anderson, a board member with LGBT rights group Equality Inland Empire, told the Daily Bulletin. "It feels like acceptance and we just want to be accepted and engaged in society, so when it's confirmed, I think the overall reaction was, yes, certainly that Chick-fil-A in Rancho Cucamonga is welcoming to us."
Meanwhile, same-sex marriage advocates Wednesday posted signs in defense of equality on the front of a Chick-fil-A in San Antonio, Texas, according to Houston station KHOU. The signs were scrawled with messages like "Government can not dictate love," "Support love note hate" and "Your son is gay and everything will be okay."
CLARIFICATION: Language has been changed to indicate that KHOU is a local station based in Houston, not San Antonio.
Support HuffPost
Every Voice Matters
Before You Go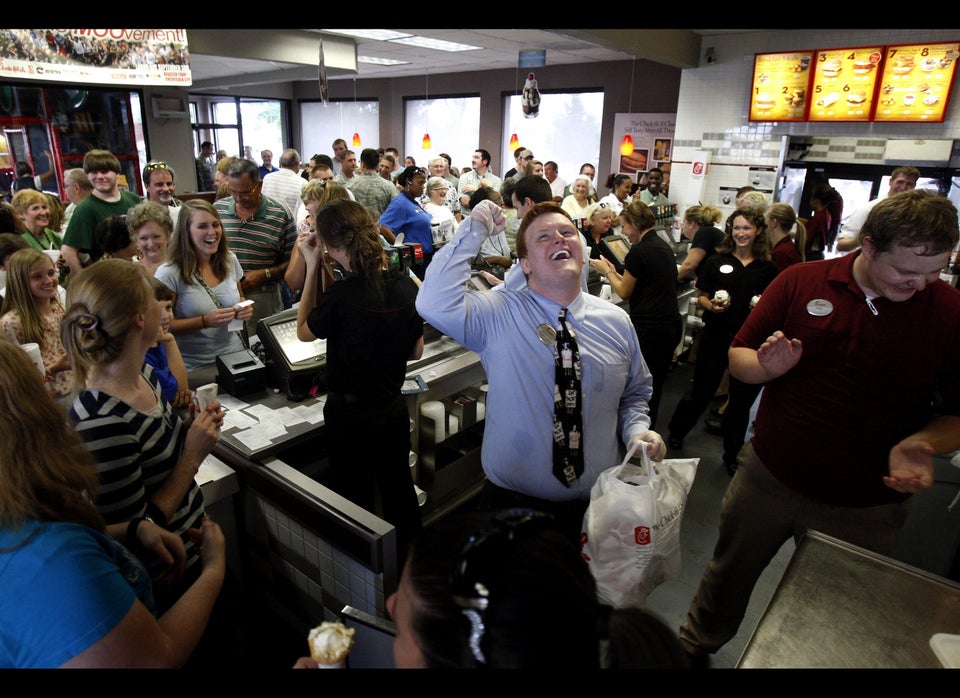 The Chicken War
Popular in the Community