Last week, the Jim Henson Company announced it would no longer partner with Chick-fil-A in the wake of the fast food company's acknowledged support of anti-gay organizations. Now, however, Chick-fil-A officials are reportedly telling franchise customers that the kids' meal toys which were produced as part of the now-severed collaboration have been recalled due to safety issues.
A photograph of a sign reportedly displayed at a Chick-fil-A restaurant at the Shops at Willow Bend in Plano, Texas has gone viral on Twitter and the blogosphere. The sign reads as follows:
"We apologize for any inconvenience but as of 7/19/2012 Chick-fil-A has voluntarily recalled all of the Jim Henson's Creature Shop Puppet Kids Meal Toys due to a possible safety issue. Please be advised that there have not been any cases in which a child has actually been injured, however there have been some reports of children getting their fingers stuck in the holes of the puppets."
You can view that photo below: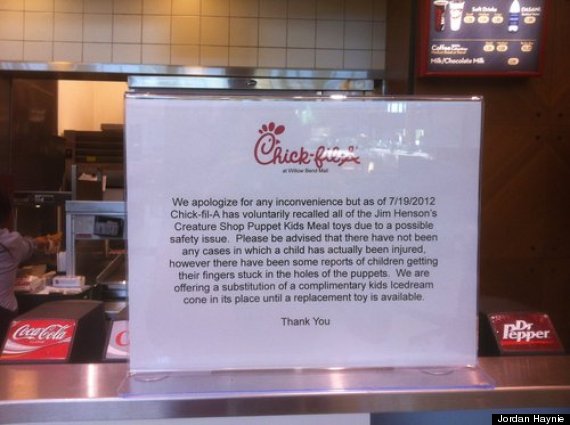 "Chick-fil-A is initiating a voluntary withdrawal for our Jim Henson Creature Shop Puppet Kid's Meal Premiums due to a product issue (even though all puppets passed safety testing requirements).

In lieu of the kid's meal premium we will offer a Kid's Icedream."
Chick-Fil-A spokeswoman Tiffany Greenway told HuffPost Gay Voices that the company had decided to recall the Muppets toys nationwide, as of July 19, "for the protection of our customers." She said it was a decision completely separate from the Jim Henson Company's Facebook announcement.
Franchises, however, were not directed to put up notices of the development. The Willow Bend location chose to do so to communicate what happened.
"But just because it would cause confusion, he has since taken it down," she said.
Greenway declined to elaborate on what the safety concerns were with the toys.
A representative for the Jim Henson Company told HuffPost Gay Voices they had no further statement beyond what had initially been posted on their Facebook page last week, and that those inquiring about what happened with the toys should contact Chick-Fil-A as they "are at the front of what is currently happening."
Furor over Chick-Fil-A President Dan Cathy's remarks made in a July 16 Baptist Press interview continues to rage. When writer K. Allan Blume pressed Cathy, who is the son of founder S. Truett Cathy, about his company's contributions to known anti-gay organizations like Exodus International and the Family Research Council, he responded, "Well, guilty as charged."
Meanwhile, Good as You blogger Jeremy Hooper has unearthed additional video footage of Cathy expressing anti-gay marriage sentiments. "It's very clear in Romans chapter 1, if we look at society today, we see all the twisted up kind of stuff that's going on," Cathy states in the clip. "Washington trying to redefine the definition of marriage and all the other kinds of things that we go -- if you go upstream from that, in Romans chapter 1, you will see that because we have not acknowledged God and because we have not thanked God, that we have been left victim to the foolishness of our own thoughts."
The Jim Henson representative also noted that the company no longer has any affiliation with "The Muppets," as they were acquired by The Walt Disney Company in 2004, but does maintain ownership of the "Fraggle Rock" franchise. The "Sesame Street" characters are owned by Sesame Workshop.
Amanda Terkel contributed reporting to this story.
Let us know what you think of the growing opposition to Chick-Fil-A, and check out the slideshow below to see companies and products that, unlike the fast food chain, have been supportive of gay rights.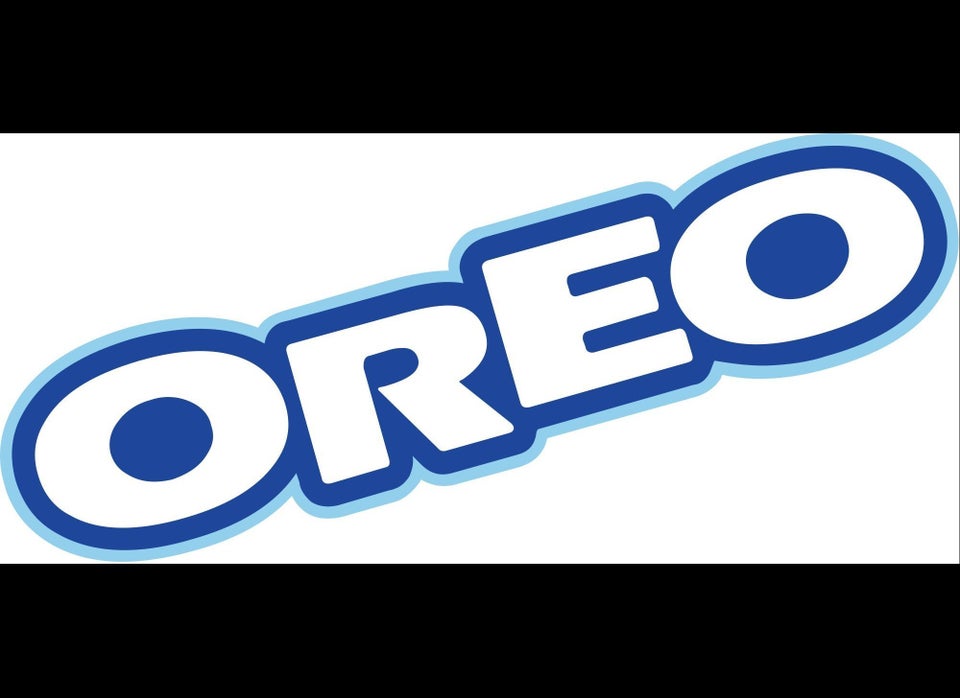 25 LGBT-Friendly Products & Companies Targeted By Boycotters
Popular in the Community