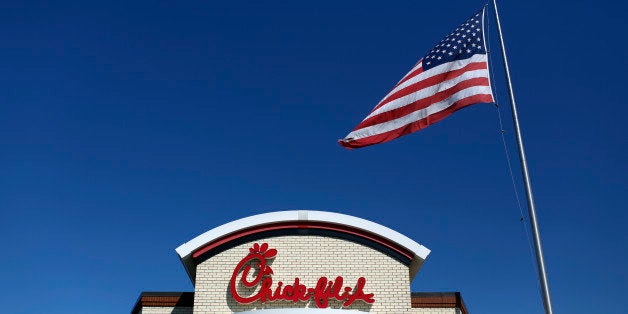 Chick-fil-A is hatching a plan to take over New York just two years after enraging much of the city.
In a lengthy story in USA Today, an executive at the fast food chain detailed plans to add more healthful items to the menu as the company opens 108 restaurants this year, many in cities and a number of those in New York.
A Chick-fil-A spokeswoman told The Huffington Post that the company is "still in the process of evaluating locations in [New York]."
It may take more than the company's cultish following and new grilled chicken offerings to win over the country's largest city.
"We don't need bigots coming to New York City," Councilman Daniel Dromm, who is openly gay, told HuffPost. "They are not welcome here unless they can embrace all of New York's diverse community, including the LGBT community."
The Atlanta-based chicken chain's CEO, Dan Cathy, set off a firestorm in 2012 by publicly opposing gay marriage. His remarks sparked boycotts and "kiss-ins" and seemed to stymie the company's chances of appealing to more liberal customers in the Northeast.
The company's success in New York -- where, in 1969, the Stonewall riots helped catalyze the LGBT rights movement and are commemorated each June with one of the world's biggest Gay Pride celebrations -- could prove to be the litmus test for pushing further into the Northeast. So far, Chick-fil-A has only managed to open a franchise location at New York University.
"If we can't do it in New York, we have no business going anywhere else," Woody Faulk, Chick-fil-A's vice president of design and innovation, told USA Today.
The fast food chain isn't alone in trying to juggle public relations trouble with New York expansion. Earlier this year, Barilla, the pasta company, opened a restaurant in Manhattan that it hopes will become the "Italian version of Chipotle," after the CEO had been widely criticized for saying he would never feature a gay family in Barilla's ads. He later apologized, but the restaurant move still raised eyebrows in the Manhattan gay community.
Chick-fil-A isn't reversing its views on gay marriage.
In July 2012, Cathy proclaimed himself "guilty as charged" when asked about his company's "support of the traditional family."
"We know that it might not be popular with everyone, but we thank the Lord we live in a country where we can share our values and operate on biblical principles," he said in an interview with the Baptist Press.
Last month, Cathy called it a mistake to have dropped his company into the same-sex marriage debate that way, but he seemed to stand by the substance of his statement.
"I think the time of truths and principles are captured and codified in God's word, and I'm just personally committed to that," he told the Atlanta Journal-Constitution. "I know others feel very different from that, and I respect their opinion and I hope that they would be respectful of mine. ... I think that's a political debate that's going to rage on."
Cathy's original comments enraged mayors in San Francisco and Chicago, and prompted then-Boston Mayor Thomas Menino to write a letter vowing to block the franchise from opening new locations in his city.
Michael Bloomberg, then the mayor of New York, said he would not intervene. Current New York Mayor Bill de Blasio did not respond to questions from HuffPost on whether he would support the company's planned expansion.
But Dromm, the city councilman, said there was no place for Chick-fil-A in New York, even if it remains out of the political fray.
"We don't need bigoted people even keeping their opinions to themselves," he said. "They need to wake up and see reality."
Popular in the Community