 Late last month, when the uproar over Chick-fil-A CEO Dan Cathy's anti-gay marriage comments were just reaching its peak, San Francisco Mayor Ed Lee tweeted, "Closest #ChickFilA to San Francisco is 40 miles away & I strongly recommend that they not try to come any closer."
The 0.7-acre lot on Rowland Way is currently being occupied by a Carl's Jr. restaurant.
Chick-fil-A has long boasted a reputation as a company largely based in the Christian values of Cathy, whose father founded the chain in 1967. All of its locations close on Sundays so employees can go to church.
Some have opposed the company's support of the traditional family. "Well, guilty as charged," said Cathy when asked about the company's position.

"We are very much supportive of the family--the biblical definition of the family unit. We are a family-owned business, a family-led business, and we are married to our first wives. We give God thanks for that.
Following Cathy's comments, Chick-fil-A released a statement saying, "going forward, our intent is to leave the policy debate over same-sex marriage to the government and political arena."
However, that's done little to quiet the hostility many gay marriage supporters feel.
Chick-fil-A currently has 52 restaurants in California, but its Fairfield location is currently the Bay Area's only spot. All additional plans for expansion are being met with local opposition.
A proposed store in the Silicon Valley town of Mountain View was temporarily blocked by a group of locals on zoning and land use issues, in addition to Cathy's controversial politics.
"It could be Mother Teresa that owns it, and it would be a bad place," opposition leader David Speakman told the San Francisco Chronicle. "But because it was a bunch of bigots, it gave us an extra nudge."
The opening of a franchise in the East Bay city of Walnut Creek was pushed back until later this year after its original early August grand opening was slated to be overshadowed by a protest.
Take a look at a sample of petitions for and against Chick-fil-A below: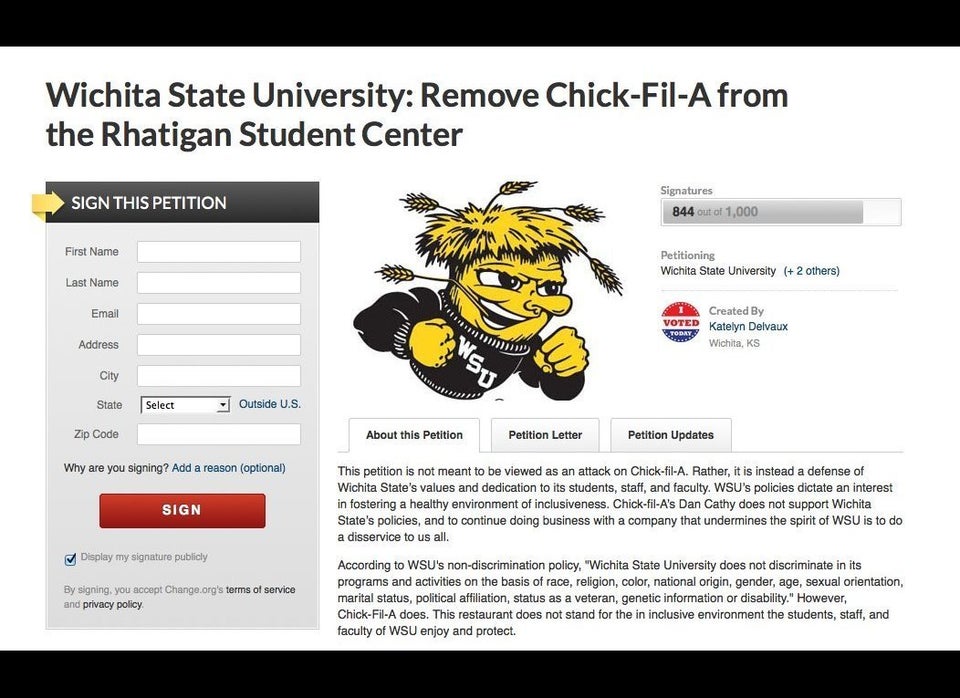 A Sample Of Petitions For And Against Chick-fil-A At College Campuses
Related
Popular in the Community