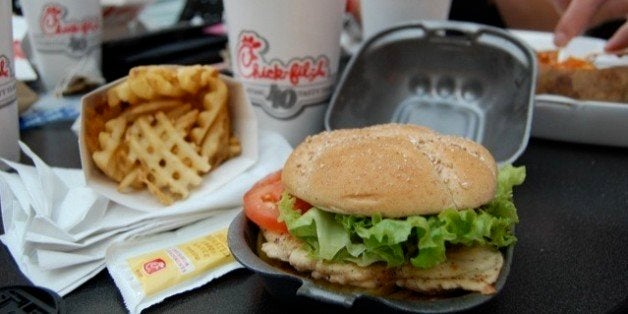 NEW YORK -- Chick-fil-A is coming to the Big Apple in a big way.
The fried chicken chain, which operates a small venue at New York University, will open its first major franchise at 1000 Sixth Avenue in Manhattan's Herald Square in late summer, the company said Tuesday. The Atlanta-based chain vowed that the forthcoming New York eatery would be the first of many.
"Until now, the only place you could enjoy our food was on the campus of NYU," Carrie Kurlander, a Chick-fil-A spokeswoman, said in a statement. "This location will allow us to serve fans who have been asking us to come to New York and to earn the opportunity to serve new customers, as it will be the first of many locations in the city."
The company did not immediately respond to questions about the number and sites of future franchises.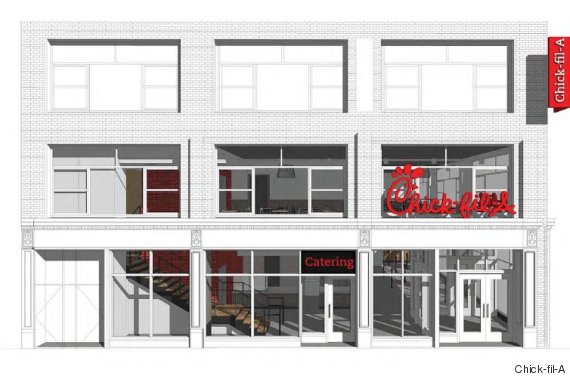 A mockup of the 5,000-square-foot, three-story Chick-fil-A coming to Herald Square.
But Chick-fil-A, which is popular in the South, may have to work to win the trust of some New Yorkers. In 2012, CEO Dan Cathy ignited a firestorm by publicly opposing gay marriage, which had been legalized in New York in 2011. His comments sparked boycotts and "kiss-ins" and seemed to pit the restaurant's values against those of more liberal customers in the Northeast.
The chain's ability to make it in New York will determine its future in a region of the country where its restaurants are few and far between.
"If we can't do it in New York," Woody Faulk, Chick-fil-A's vice president of design and innovation, told USA Today when the company first announced plans last April, "we have no business going anywhere else."
Popular in the Community