 College students around the country do not want their waffle fries served on campus from a company they perceive as being against LGBT rights.
At least 30 colleges and universities have had students start petitions to remove the fast food chain Chick-fil-A from their campus, and many of the protests are popping up in states considered to be relatively conservative.
There are more than 500 signatures on a petition to close the Chick-fil-A at Appalachian State University, in Boone, N.C. -- a state which recently voted to amend its constitution to prohibit same-sex marriages. Students and faculty members at the University of Southern Mississippi are collecting signatures to have the Chick-fil-A on their campus removed.
"We have a nondiscrimination policy at USM that includes sexual orientation," said Kate Greene, associate political science Professor at Southern Miss. "I think to live up to that, then we should not be doing anything to support organizations that are anti-gay."
Chick-fil-A came under fire in 2011 when Equality Matters revealed the fast food company donated millions through its charity arm WinShape to support anti-gay rights organizations. The company's president, Dan Cathy, further inflamed tensions in July when he said he was "guilty as charged" for being against same-sex marriage. Cathy then said he believed legalizing same-sex marriage was tantamount to "shaking our fist at God."
A Southern Miss spokesperson said in a statement the university "has out-sourced all of its food service operations through a long-term contract with the Aramark Corporation." Chick-fil-A is one of ten different retail dining options available on campus, he said.
That's the same corporation which runs the Chick-fil-A locations at the University of Virginia and on New York University's campus. An NYU freshman attracted more than 15,000 signatures on her petition to remove the chain from campus, more than any other college student's Chick-fil-A related petitions. NYU recently told The Huffington Post they will ask the student senate to take up the issue when classes resume in the fall.
"The Chick-fil-A culture and service tradition in our restaurants is to treat every person with honor, dignity and respect – regardless of their belief, race, creed, sexual orientation or gender," said the company in a recent statement. "We will continue this tradition in the over 1,600 restaurants run by independent owner/operators. Going forward, our intent is to leave the policy debate over same-sex marriage to the government and political arena."
Only 28 percent of college students consider themselves "liberal," but more than 70 percent say they support same-sex marriage rights, according to the Chronicle of Higher Education.
There have been some pro-Chick-fil-A petitions as well, but the numbers of signatures on them are generally smaller. For example, a pro-Chick-fil-A petition at the University of Louisville has only 9 signatures as of press time.
Check out the slideshow below for a sample of petitions concerning Chick-fil-A on college campuses: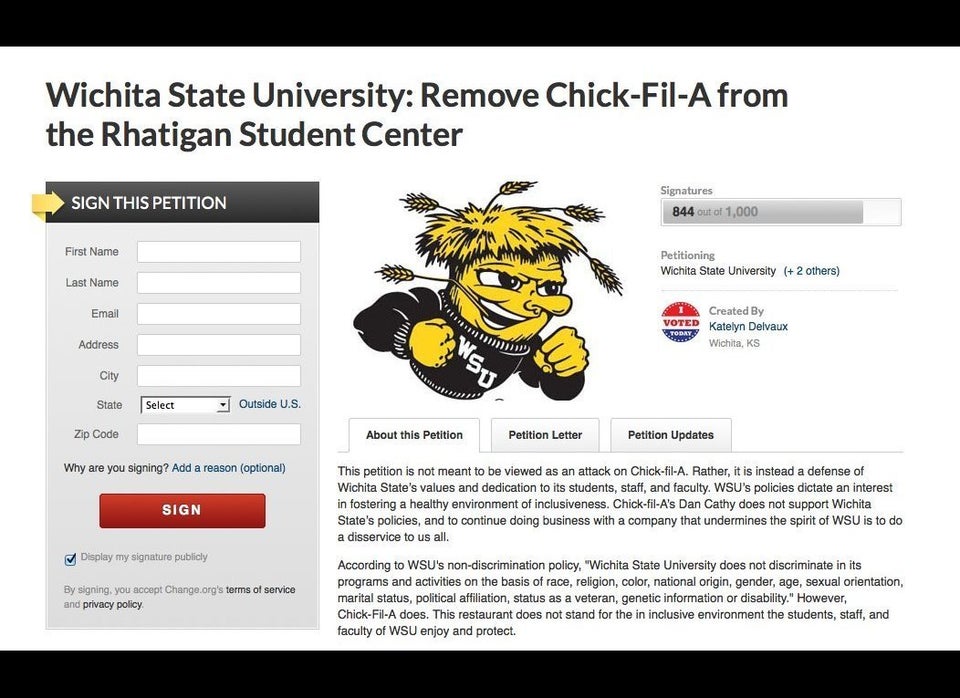 A Sample Of Petitions For And Against Chick-fil-A At College Campuses
Popular in the Community