After a flyer advertising jobs at the Chick-Fil-A restaurant on the New York University (NYU) campus sparked a viral outrage, the company took to their Facebook profile to set the record straight.
"Chick-fil-A fans, we're aware of a fake and inappropriate flyer that is circulating the web right now. We can assure you that this was not created or distributed by any Chick-fil-A Restaurant or any of its independent Operators. Chick-fil-A serves all of our customers, team members and potential team members with the utmost honor, dignity and respect. Thanks for your continued support!"
The flyer, handed out by two men in red blazers posing as Chick-Fil-A employees, provides false criteria for employee hiring.
"Please be prepared to discuss your religion, family history, personal relationships etc upon interviewing," the convincing flyer states. "Chick-Fil-A reserves the right to question, in detail, your sexual relationship history. Anyone living in sin need not apply."
So far there is little information about the distributors of the flyer, but they can be reached at press@chickfilafoundation.com and on their website.
While not confirmed, the flyer could be in satirical protest of the recent controversy with the restaurant and NYU students.
"NYU prides itself on being a diverse, open and inclusive campus community," Dworkoski wrote in the petition. "That's one of the major reasons why I enrolled at NYU as a freshman last fall. Unfortunately, maintaining a contract with an anti-gay vendor like Chick-fil-A undermines what makes this university so great."
Despite the more than 10 thousand signatures on the petition, officials at NYU told the Huffington Post they still have no plans to remove the restaurant from their campus.
Amidst student protests at the fast food joint's location, Albert Cotugno, chair of the Student Senators Council, emailed students to say tell them they voted not to remove the restaurant.
"The SSC also believes there is a fundamental difference between personal boycott and institutional prohibition," Cotugno said in his statement. "To ban any entity from campus for ideological reasons is, in most every case, to limit freedom of expression. … After extensive deliberation, the Student Senators Council agreed that there was insufficient evidence at this time to justify a ban of Chick-Fil-A."
The flyer, curtsey of Facebook: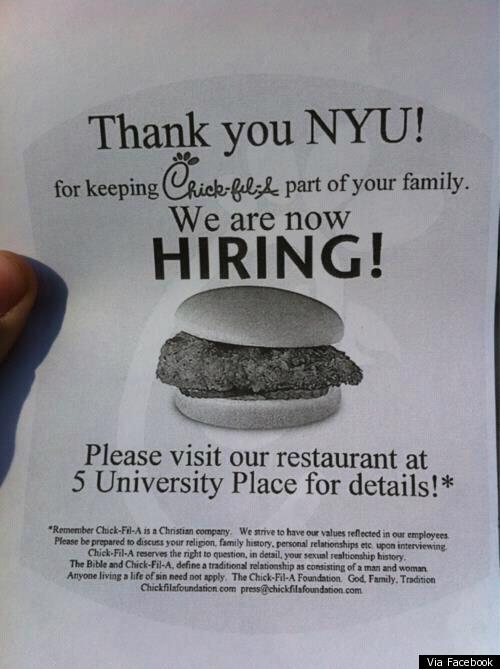 Popular in the Community