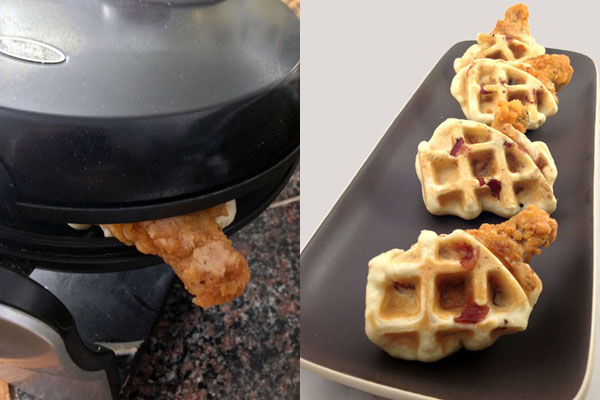 Sure, chicken and waffles are amazing together but let's be honest, they're a pain to eat. What if there was a way to make them just a little more portable? Well, now there is thanks to Chicken and Waffle Wings!
What you see here are chicken wings with waffles cooked right around them, and do you know what the best part of all is? They're extremely simple to make!
To create your own you'll want to start off by cooking some chicken wings. Any chicken wings should work, but since you ideally need something to hold on to as you're eating your Chicken and Waffle Wings, it's easiest to use the "drumette" portion of the wing, which is the one that looks just like a miniature drumstick.
Next, whip up some waffle batter. Similar to with the wings, any batter will work, so if you have a specific recipe you love then go with that. I just used Bisquick and then added some diced maple bacon pieces to it for extra flavor.
Once you've got your waffle batter ready, just heat up your waffle iron, dunk the chicken wings in the batter and place them in the waffle iron with the ends hanging out. I also spooned a little bit of waffle batter over each one after it was in the waffle iron as well just to make sure that each chicken wing was fully surrounded by a waffle.
The cooking time will vary depending on how large your chicken wings are and how much waffle batter you use, but when you lift up the top of your waffle iron and notice that the tops of your waffles are a nice golden brown your Chicken and Waffle Wings are most likely ready to eat.
Also, make sure you don't use too much waffle batter or your waffles will cook unevenly around the chicken wings. Less is definitely more when it comes to making these. Then again, maybe my undercooked waffle issues just stem from the fact that I have a crappy $15 waffle maker...