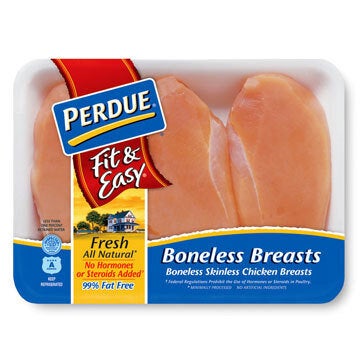 The group, which advocates a vegetarian/vegan diet, tested chicken samples from five grocery store chains in 10 major U.S. cities. In a press release, the PCRM states:
Testing revealed that 48 percent of the chicken samples tested positive for fecal contamination, indicated by the presence of coliform bacteria commonly found in chicken dung.
Dirk Fillpot, of the Food Safety and Inspection Service of the Department of Agriculture, told the New York Times that the "study's findings were not supported by any science or facts." He says the study "assumes that the presence of generic E. coli could only come from contact with feces, when that is simply not the case," and that "the E. coli identified in the study is not a type that would make consumers ill."
The National Chicken Council, for its part, issued a statement blasting the findings. Ashley Peterson, Ph.D., vice president of science and technology, vice president of the NCC asserts:
These findings, not a 'peer reviewed' study, are another misleading attempt by a pseudo-medical group to scare consumers in hopes of advancing their goal of a vegan society and to derail a USDA proposed rule to modernize the poultry inspection system.
The presence of generic E. coli is not a guaranteed indicator for fecal contamination, as suggested. Most E. coli strains are completely harmless and these findings do not differentiate between those strains and the ones that can cause foodborne illness, like O157:H7. All E. coli strains are killed through proper cooking.
PCRM president Neal Barnard, M.D. doesn't see it that way. "One in every two supermarket chickens is contaminated with feces," Barnard says. "Meat packers can't avoid contaminating poultry products during production, and consumers are cooking and eating chicken feces in about half the cases." The PCRM found that both organic and conventional skinless chicken breasts were "particularly likely to have fecal traces."
The Times article notes the small sample size of the study -- PCRM tested 120 chicken samples in total. Yet the small sample size didn't seem to bother the PCRM. The group's study concluded: "In summary, feces are present on approximately half of chicken products at retail stores in locations across the United States."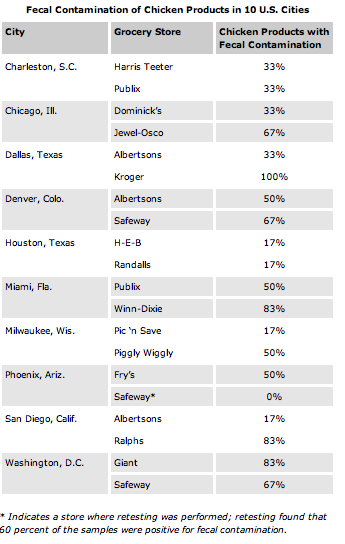 Related