An undercover investigation at a farm contracted with meat giant Tyson Foods shows horrific treatment of chickens, but what's most disturbing is that the cruelty is not new or even unusual, animal advocates say.
Sick and deformed chickens languish in filthy, intensely crowded conditions and suffer kicking and being thrown by workers in a video released Wednesday by the nonprofit Mercy for Animals.
The group says most of the footage comes from a contract farm in Lewisburg, Tennessee, where an MFA investigator worked undercover between March 26 and May 10. But the video also includes clips from other Mercy for Animals investigations over the past year. (A "contract farm" means that Tyson provides the farmer with chickens, feed, medication and technical advice, while the farmer provides labor and housing for the birds.)
WARNING: The following video is disturbing.
Tyson said in a statement that the company is looking into claims of poorly treated birds on the Lewisburg farm:
It's disturbing to us to see any sick or injured birds, which is why we have a track record of quickly addressing animal welfare concerns.

Our veterinarians and animal health experts are looking into these claims, which re-use old videos about matters we've already investigated and taken action on. If our investigation into this farm uncovers anything wrong, we will immediately address it.

The health and well-being of the birds raised for us by independent farmers is extremely important, which is why we employ veterinarians and coordinate third-party animal well-being audits of the farms that supply us.
Sadly, much of the suffering chickens experience on industrial farms is far from illegal, said Matt Rice, MFA director of investigations.
"Unfortunately, the abuses and neglect we documented in this new investigation in Lewisburg, Tennessee - including workers breaking the necks of animals and violently slamming animals into transport crates - are considered normal industry practice," he told The Huffington Post in an email. "This case graphically illustrates the need for stronger laws and oversight to prevent and prosecute animal abuse on factory farm."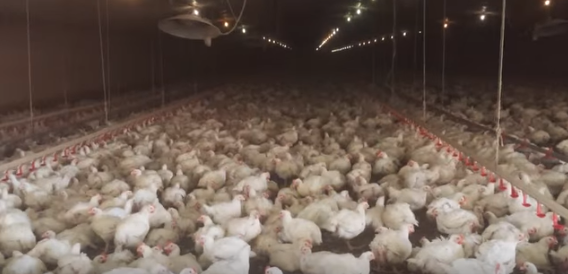 In other words, MFA isn't saying this particular Tennessee farm is the worst of the worst — it's just yet one more part of the mountain of evidence that animals raised for food experience terrible conditions on industrial farms.
And while this investigation focuses on a farm affiliated with Tyson — one of the world's largest meat producers — many other major meat companies are hardly any better, according to Rice.
"For the poultry industry, sickening animal abuse is just business as usual," Rice said. "This isn't a matter of Tyson failing to meet industry standards, it's a matter of industry standards allowing for blatant animal abuse."
MFA wants to see Tyson adopt a "meaningful" and comprehensive animal welfare policy. The nonprofit's recommendations include providing birds with enough room to engage in natural behaviors like flapping their wings and preening, giving them environmental enrichments like perches and hay bales, and transitioning to "less cruel" methods of slaughter like gas asphyxiation. (Read MFA's comprehensive policy recommendations here.)
"Of course, at the level of the individual consumer, one of the best ways to help chickens and other farmed animals is to simply stop eating them," Rice said.
Calling all HuffPost superfans!
Sign up for membership to become a founding member and help shape HuffPost's next chapter
BEFORE YOU GO
PHOTO GALLERY
Turkeys Are Our Friends