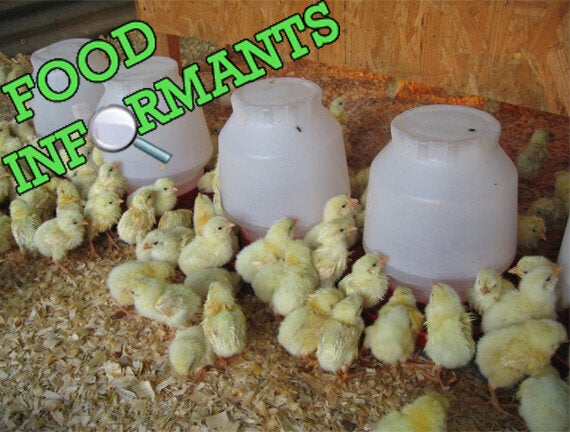 Food Informants is a week-in-the-life series profiling fascinating people in the food world. We hope it will give you a first-hand look at the many different corners of the food industry. Know someone who would make a great Food Informant? Tell us why.
Jane and Terry Levan operate a 20-acre pastured poultry farm outside of Lexington, Texas called Dewberry Hills Farm, after the dewberry vines that grow wild on their land. They raise antibiotic- and hormone-free meat chickens for sale. Their chickens mostly live outdoors. The Devans call themselves "omnivores with a conscience;" Jane won't eat any meat unless she personally knowns who raised it and how it was processed.
Jane and Terry began farming in 2003, after reading Fast Food Nation and The Omnivore's Dilemma. The pair had always wanted to farm, but they didn't want to follow the industrial agricultural model. Jane and Terry built a processing building on-site and became state certified so they could sell their birds commercially in May 2008.
While Terry grew up on a farm in northern Illinois, this is Jane's first experience with farming. She says that there has been a huge learning curve. They've faced droughts, fires, feral dogs, marauding hogs, the worst winter in a decade and a huge increase in commodity grain prices. Right now, their region of Texas is in the grip of an extreme drought.
Read Jane Levan's diary below to learn how to kill a chicken and what to do when feral pigs invade.
Monday, September 26
6:30am: Terry and I start planning the day over coffee on the porch. Mondays and Tuesdays are the days we process chickens for our restaurant clientele. We decide which field pens we will be pulling birds from and what sizes we need for this week.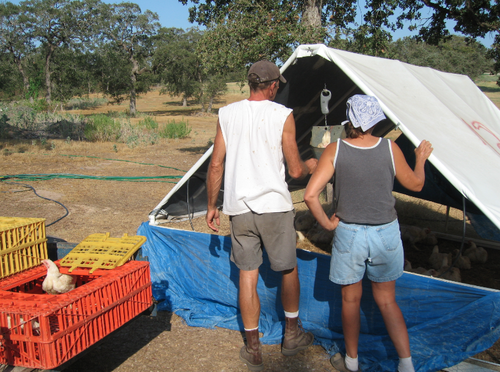 7:00am: Earl, our one full-time employee, arrives. Earl handles the feeding and watering of all the chickens as well as moving the field pens daily. As we do not feed the birds before they're processed, Earl and I go over which pens to feed and move first.
7:30am: Terry starts setting up the processing building. Every surface that a chicken will come into contact with must be thoroughly sanitized. The rinse tub and chill tanks have to be scrubbed and filled with fresh water and ice and the drain refrigerator has to be thoroughly cleaned. I use the time to reconcile the business checkbook.
8:30am: We transport the chickens in crates from the pastures to the processing building. Most chickens are transported hundreds of miles to the processing plants and many die during en route. Our birds never travel more than 100 yards and are not overcrowded, minimizing their stress level.
8:45am: I ride out on top of the crates while Terry drives the tractor. We unload the crates and hang the scale in a pen. As restaurants require birds that are a very specific size, we weigh the birds in the field first. Any birds that do not meet the size requirements for that day are marked with spray paint so I don't catch them again. I try to always minimize how many times a chicken is handled because that also just adds to their stress level.
9:45am: Earl walks over to help load the crates, now full of chicken, onto the trailer and move them into the processing building.
10:00am: We break for breakfast. I love the fact that I can eat when I'm hungry rather than trying to choke down food as quickly as possible before I have to commute for work.
10:30am: Time to get on the processing line. Terry kills the birds, dunks them in the scald pot and then plucks them using a magic fingers machine. I eviscerate all the birds. We always process the chickens ourselves because that we want absolute quality control over every bird we sell.
12:00pm: We break. The birds are looking great today.
12:15pm-2:00pm: 103 birds have been moved to the drain refrigerator to chill and the building has been cleaned. We'll take the next hour and a half off for lunch and relaxation.
3:30pm: I help Terry back the truck up to the trailer as he is off to pick up chicken feed. We go through about 4,250 pounds of feed per week. It's a special antibiotic- and hormone-free formula that is ground at a local feed store for us 17 miles from our farm in Dimebox. Most of our money goes right back into the local economy.
3:45pm: Back in the house. More down time because it's still 103 degrees in Texas and it's impossible to get outside projects done when it's this hot. We will really have to push the schedule when it cools off to get all the farm improvements accomplished before winter sets in.
5:45pm: I walk the fields and do the last check on the chickens for the night. One of the things I love most about my work is that I get to spend a lot of my time in the pastures. There's always seems to be something different happening if you pay attention. Today the red tail hawk is hunting gophers in the front pasture.
6:45pm: Terry's back with the feed and I've got all the chickens tucked in for the night. Day done.
Tuesday September 27
6:30am: Moving slowly today, as we don't have that many birds to do. Two restaurants are stacked up and cancelled their orders this week. Somehow, we always manage to sell all the birds we have available and I've learned not to go into a blind panic when I get a cancellation.
8:00am: After checking business emails, I head out for Giddings, a small town 17 miles down the road. I usually make the drive twice a week to stock the freezer with ice. We want to purchase our own ice-maker within the next year but like everything else, we have to work it in the budget and ice is cheap here. Spot 8 deer on the drive, 2 rabbits and another hawk.
8:25am: All the cashiers on the morning shift at the convenience store know me as the chicken lady. George helps me load 300 pounds of ice into coolers on the back of a truck. One of the nice things about small towns is once you become a regular anywhere, people are extremely helpful.
9:15am: Back on the farm. Terry and I unload all the ice.
9:30am: Now to start bagging chickens from yesterday. All the chickens we process are air-chilled. Terry weighs the birds and places them in poly-bags. I record the weights for each restaurant. Also, our chickens are processed within 48 hours of delivery. I twist tie the bags shut and slap our farm label on each one and the chickens are stacked in a refrigerator. It's fairly mindless work and goes quickly.
10:30am: Load up the crates and head out to the fields. We're looking specifically for game hens this morning. Terry suggests I call Jesse Griffith of Dai Due Charcuterie and ask him if he'd like any additional larger chickens. Jesse does amazing things with our little game hens. This week he's stuffing them with roasted wild garlic and organic butter. He sells them at one of the local farmers' market. Jesse decides to add six big birds to his order for chicken sausage.
11:30am: Birds loaded and moved into the processing building. Late breakfast break.
12:00pm: Back on the processing line.
1:30pm: The birds finished and the building is clean. Time to take care of some personal stuff. Another thing that I love about my work is that I can do my laundry in the middle of the day or read a book or sweep the floor or just take a nap. The flexibility is great because I can spread chores out.
4:30pm: We bag the rest of the birds.
5:15pm: Terry does the field check tonight while I create invoices for the birds we've done.
6:15pm: Finished for the day.
Wednesday, September 28
5:30am: I am doing the deliveries this week. After a quick cup of coffee, we go up to the processing building to load coolers full of chicken into the truck.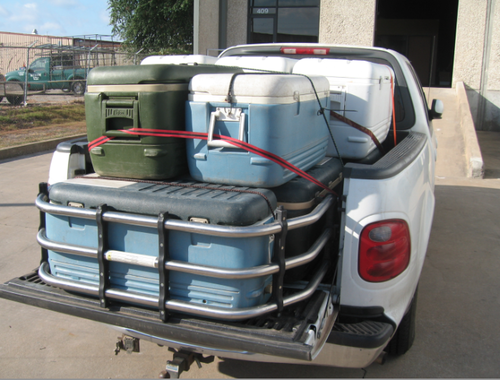 6:30am: Jennifer, owner of Slow Food Farm, arrives with her birds. Early this spring, Jennifer and her husband Harry asked if they could visit the farm because they were interested in getting into the pastured poultry business. We helped at least six other families learn to process last year. Terry and I don't want to sell more than about 350 birds per week, but the demand keeps growing, so I suggested that we form a loose cooperative with Slow Food to supply the restaurants. Normally Jennifer would do the driving on Wednesdays, but as I have errands in Austin and a friend I want to have lunch with, I've volunteered to make the run.
7:00am: Coolers are double-stacked and strapped on the truck and it's time to head out on the road.
9:00am: Traffic wasn't too bad on the way in to Austin, but it's bumper to bumper going in the opposite direction. I really don't miss commuting five days a week. My first stop is our restaurant distributor who purchases 70 percent of our flock, saving us both time and fossil fuel. We chat about business and it's off to the next restaurant. I enjoy getting to talk the chefs personally when I do deliveries because they're generally so appreciative of what we do.
11:00am: My last stop is The Highball in south Austin. Trish, the chef, is one of our biggest supporters. I was delighted when the Highball won best fried chicken in a local newspaper using our birds.
12:15pm: I'm done with deliveries and I've made the bank deposit. I arrange to meet Liz for lunch at a Greek restaurant.
4:15pm: Back at the farm in time to help with the field checks and unload and drain the coolers.
6:00pm: I pour myself a glass of wine and call it a day.
Thursday September 29
5:30am: Getting an early start. The day begins with a bang, literally. While sitting on the porch, Terry hears feral pigs in the back pasture. We have been invaded by wild hogs this year and they destroy our pens, trying to get at the feed. Terry shoots a larger male with one shot, by flashlight. If the pigs was smaller, we would process it ourselves and either eat it or give the meat away. This is a big boy, though, and would be too gamey.
6:30am: For the next two days, Terry and I will be processing for the restaurants and the farmers' market we sell at on Saturdays. We confer over coffee and decide to do mostly the market birds today.
7:30am: We set up the building together.
8:15am: Off to the fields to pull birds. It goes very quickly this time because we don't have to have exact weights for market -- we sell our larger birds there.
9:45am: On the processing line. We have a lot of birds to do. Although processing is physically laborious, I don't mind it. I've processed thousands of chickens and my hands know what do to so I can let my mind drift while I work.
2:30pm: All the birds are done and the building is clean. We go in for lunch.
4:40pm: I send out emails advertising our market special for Saturday while Terry does the last field check.
9:30pm: We have been losing chickens to a predator and although I've set the Have-a-Heart trap, I've caught nothing yet. Raccoons will usually go into the trap. We got out to the area where we've been hit and discover not one but three skunks. Two are in the pens and have killed a chicken already. You can't shoot a skunk that's in a pen. Shining the flashlight at them will force the skunks out and they take off with Terry and Dixie after them crashing through the woods. Three dead skunks later, we're back in the house.
Friday, September 30
6:30am: The post office calls to let me know that we've received another shipment of baby chicks. Earl will pick them up on his way to work.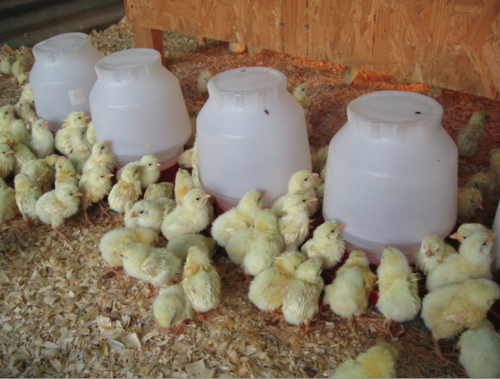 7:30am: I take off for the Giddings ice run while Terry cuts up breast and leg packs for market. We really do need to buy an ice machine -- after we pour concrete floors for two brooders and trench water lines to the back pasture.
8:30am: Earl is checking in chicks when I arrive. He dips their beaks in the waterers because they are thirsty after being shipped but don't know how to drink yet. Once they discover water, the chicks tend to play in it the first day.
8:45am: Terry and I load crates on the tractor. A weak cold front has pushed through and it's a glorious morning. Selecting the chickens takes longer today because we are pulling for the restaurants.
10:30am: We set up the building and start the processing line.
2:45pm: Head into the house.
5:30pm: I do the field checks and then start dinner while Terry bags birds. It's fresh roast chicken tonight.
9:30pm: Pen check. More skunks are back! Terry gets another one.
Saturday, October 1
6:00am: Early start. Terry heads up to load chicken while I collect up the supplies for the farmers' market.
6:30am: Harry drops off the birds from Slow Food.
7:00am: Driving to Austin for the market. Another great morning, which should mean a busy market.
8:15am: We meet our restaurant distributor first. Two chefs will pick up their chicken at the market.
8:30am: We set up our booth. I always put toy chickens on our table for our customers' kids to play with while their parents chat. I really enjoy selling at the market. You build great relationships with your customers and the other vendors. I'm proud of the fact that the three and four year old children of our customers started eating our chicken in utero.
9:00am: Market opens. Our first customers stop by -- a couple that's been buying from us for at least three years now -- and he buys us tacos for breakfast.
11:30am: Foot traffic has slowed and it's social hour. I catch up with John from Terre Madre farm and chat with Aspen and Elizabeth who work a fresh organic produce stall.
12:15pm: Earl works a half day on Saturdays. He calls to let me know the status of the birds. We've been hit by a predator again.
12:30pm: It's been busy and we've sold all but four birds. I also have two birds that are not suitable for sale (torn skin or broken wings or legs) to trade with other vendors. I get fresh veggies and eggs and flowers.
1:00pm: Break down the booth. We've had a good day, so we'll stop for lunch on our way out of town.
4:30pm: Field check. I'm always exhausted after market day. This is the one time I wished we lived in city so I could order Thai take out.
Sunday, October 2
7:30am: It's Earl's day off and we sleep in. We do all the watering and feeding on Sundays, but with both of us working together, it doesn't take more than two hours in the morning. Sometimes we have projects that we work on later, but I'm still really tired and want to do only the bare minimum to make sure the chickens are comfortable.
8:30am: Out to the pastures. Looks like the pigs have come back but no pens are damaged.
10:30am: All the birds are fed, moved and watered. I'm not going to do any more than the basics on the farm today.
4:40pm: I wake up from a long nap to discover that Terry has done afternoon feed and water. The only thing left to do is skunk patrol.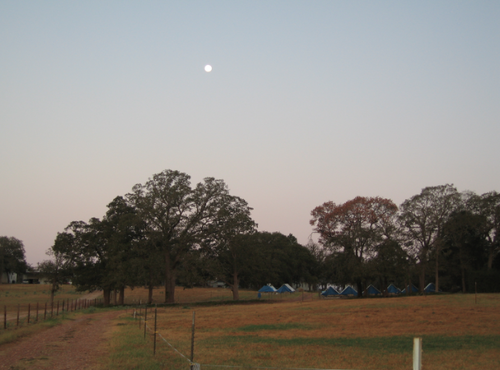 See previous Food Informants here: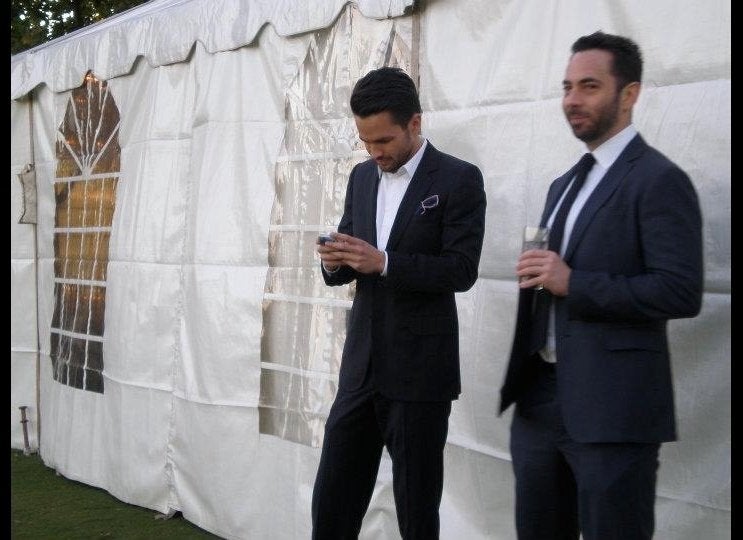 Food Informants
Related