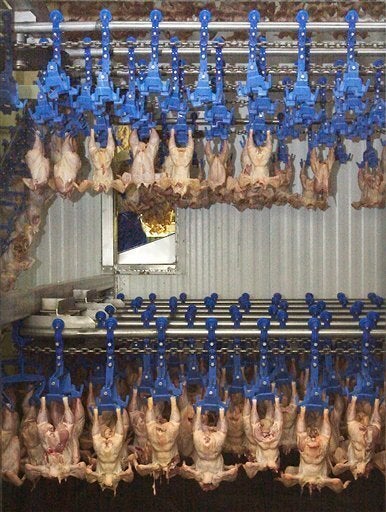 You may not know it, but every day, 10,000 dedicated USDA employees worry about the safety of the meat, poultry, and egg products you and your family eat.

Over the last few weeks, there has been a lot of misinformation in the media about a proposal by USDA's Food Safety Inspection Service (FSIS) to modernize inspection at poultry slaughter plants. In fact, our plan will help prevent foodborne illnesses.

Myths about our proposal are being touted by people who are not experts on the subject. Many of them have never even been inside a poultry plant, let alone a plant that is part of a 13-year-old study we have used to determine how best to modernize inspection. Others have suggested that those proposing this new inspection approach know little or nothing about what inspectors really do. As someone who started as an entry level FSIS inspector almost 34 years ago, and has been here for the tremendous amount of change in this agency ever since then, I want to provide a "front-row seat" perspective on how FSIS has transformed into an agency that puts public health first and focuses on prevention.

When I first started as an FSIS inspector in 1978, we were instructed to make sure that every plant followed prescriptive regulations. I was trained under and well-versed in the "command and control" philosophy focused on enforcing regulations for the sake of enforcement. The world around us was advancing technologically and scientifically. Bacterial pathogens -- hidden to the naked eye -- were identified as the biggest threat in meat and poultry. We weren't keeping pace with the industry's innovations. That changed in 1996 with a sweeping regulation that called for a shift toward contamination prevention, and required industry to implement comprehensive systems to address foodborne threats. The implementation of the 1996 Hazard Analysis and Critical Control Point (HACCP) system rule, along with other actions taken by FSIS, have resulted in a significant reduction in foodborne illness. But the latest data tells us we still have much more work to do to protect Americans from foodborne illness.

In January of this year, FSIS published a proposal that would further the agency's transformation to focus solely on public health and help address the challenge we have to reduce foodborne illness. The poultry modernization proposal will help prevent an estimated 5,200 illnesses. How? By focusing our most valuable resource, our front-line inspectors, on what matters. Right now, we focus on visual inspections of birds, carcass by carcass, and we look for bumps and blemishes. Do these blemishes put Americans' health at risk? No. But the unseen threats, salmonella and campylobacter, do. Today, we inspect poultry much the same way as we have since the Eisenhower administration, evaluating the quality of each carcass and doing industry's quality assurance work for them. Once upon a time, there was a good explanation for this: when FSIS first started inspecting poultry, quality assurance was thought to be the best way of keeping the public safe and holding industry accountable. But now that our scientific knowledge has advanced and helped us better identify true food safety threats, we cannot do the same thing we've been doing since the 1950s.

If we're going to have a debate on the merits of this proposal, I welcome it. But we need to use the same facts in this important discussion. It is not an honest debate when some people are saying that line speeds are going from 35 birds per minute (bpm) to 175. That is simply not the case. Right now, under our current regulations, line speeds are capped at 140 bpm. Additionally, the 20 broiler plants under a pilot program started in 1999, known as the HACCP Inspection Models Program (HIMP), are allowed to go up to 175 bpm. In other words, we have more than a decade of experience slaughter running at 175 bpm, the proposed maximum line speed in the rule. And the data is clear that in these plants, the poultry produced has lower rates of salmonella, a pathogen that sickens more than 1 million people in the U.S. every year. These plants also maintain superior performance on removing the visual and quality defects that don't make people sick. Those are the facts, based on the data.

Some in the debate have said that we are turning over inspection to the industry to determine what is safe for consumers. Nothing could be more misleading or incorrect. USDA inspectors will be in every plant, ensuring the safety of these products, and the proportion of them doing critical food safety related tasks will actually increase.

In the 34 years of my career focused on food safety, I have seen -- again and again -- the need to modernize to keep up with the latest science and threats. This poultry slaughter modernization proposal is about protecting public health, plain and simple.

Al Almanza serves as the USDA Food Safety and Inspection Service Administrator. In this position, he leads FSIS and its more than 9,500 employees in their mission of protecting public health through food safety and food defense. He has established and maintained a high standard of excellence in a variety of positions for more than 30 years with FSIS.
Related