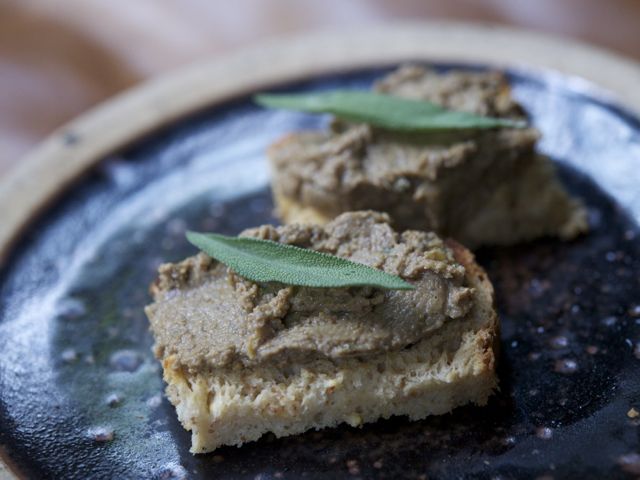 The countdown to Thanksgiving has begun, and all over the country cooks are daydreaming about their menus. I don't want to dampen your spirits, and I do realize that this is a time to throw caution to the wind and loosen your belt, but I just read that if current trends continue unabated "more than half of Americans will have diabetes or be prediabetic by 2020, at a cost to the US health care system of $3.35 trillion." Staggering, no?
So I'd like you to reconsider all those cream-laden dips and greasy chips that are so popular for snacking on before the turkey appears. All those cheese plates and fistfuls of roasted nuts that go so well with the wine and cocktails you'll inevitably be knocking back. Look, I'm no killjoy. I want you to indulge! But I also want you alive and healthy and fitting into your skinny jeans. So consider setting out a plate of fresh, crunchy, spicy watermelon radishes -- in season now! -- irresistible when sprinkled with flaky Maldon sea salt and drizzled with a little green olive oil. Or try fennel, another sweetly satisfying crunch. And if you really want to offer something spreadable, how about my recipe for Tuscan chicken liver paté? It's appearing in the new Food52 cookbook, just out in time for the holidays. Enriched with wine, anchovies and parmesan, it's not exactly like bubbe's, nor is it diet food, but a little goes a long way.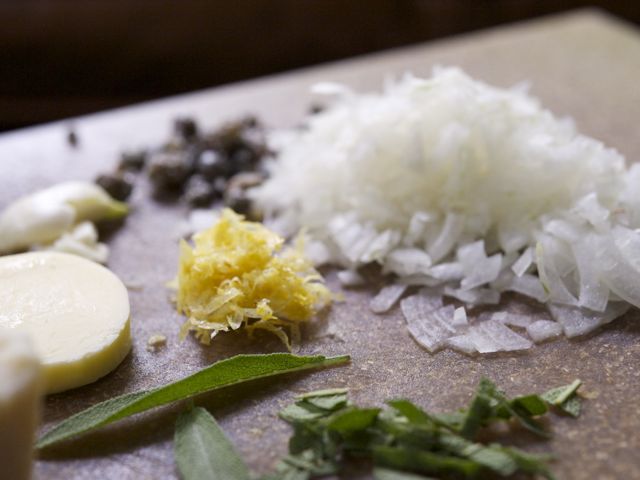 This recipe is a riff on the classic Italian chicken liver paté, eaten in Tuscany on ragged bits of grilled bread and accompanied by a glass of Prosecco. The addition of parmesan is not traditional, but I love how it ups the unctuous and umami factors. The lemon zest and capers add a little zip, and the wine gives it a rich depth of flavor.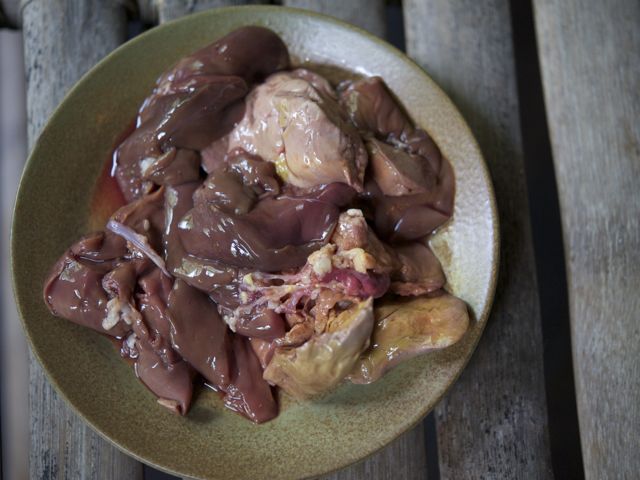 Chicken liver is an excellent source of high-quality protein, incredibly full of iron, vitamins and amino acids. This organ acts as a sort of filter in the body, so it's crucial to eat only liver from organic, humanely-raised birds. If you like liver but are squeamish about handling it, maybe you're ready to work through that. You honor the animal you're eating by acknowledging it in its entirety, and utilizing every part of it. It's a philosophy, but mainly I just don't want you to miss out on any of this deliciousness. You will need to remove all the sinew; this means any stringy bits. Just cut them out with a sharp knife or a pair of kitchen shears.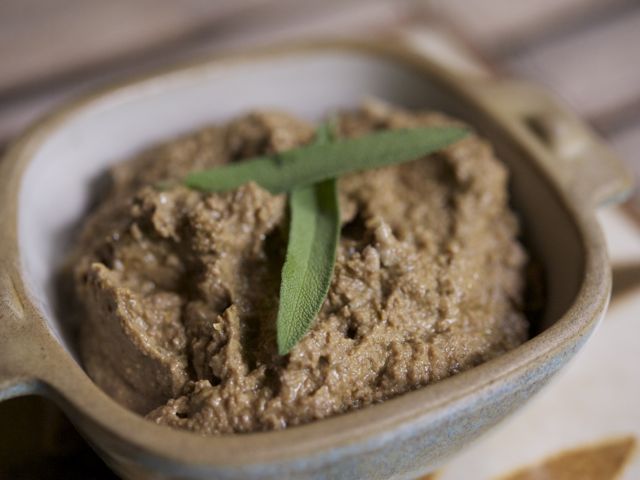 Tuscan Chicken Liver Paté
makes enough for about 2 dozen crostini
1 pound organic chicken livers
2 tablespoons extra-virgin olive oil
2 tablespoons unsalted butter
2 large shallots, thinly sliced (sweet onion is OK)
1 large clove garlic, smashed
3 anchovy fillets (or 1 tablespoon anchovy paste)
1 tablespoon capers, minces (rinsed well if salted)
4-6 fresh sage leaves
2/3 cup dry white wine
scant teaspoon lemon zest
1/2 cup parmesan, grated
rustic country bread, sliced and grilled, for serving
fresh or fried sage leaves, for garnish
Trim any sinews from the livers, rinse and dry well with paper towels.
In a large skillet, melt the butter and olive oil over medium-high heat. Sautee the shallots, garlic, anchovy, capers and sage until shallots are lightly browned, 6 minutes or so.
Season the chicken livers with salt and pepper and add to the pan. Cook over high heat until browned, then add half the white wine (1/3 cup) and keep stirring with a wooden spoon, breaking up the livers as they start to cook through. When the wine is absorbed, add the second 1/3 cup of wine and repeat the process.
Remove from heat, cool slightly and transfer to a food processor. Process until quite smooth, then add lemon zest and cheese and process again. Taste and add salt or pepper as desired.
Serve warm or at room temperature, spread on grilled bread and garnished with fresh or fried sage leaves.
For more healthy and delicious recipes, and thoughts on eating animals, visit http://gluttonforlife.com.
REAL LIFE. REAL NEWS. REAL VOICES.
Help us tell more of the stories that matter from voices that too often remain unheard.