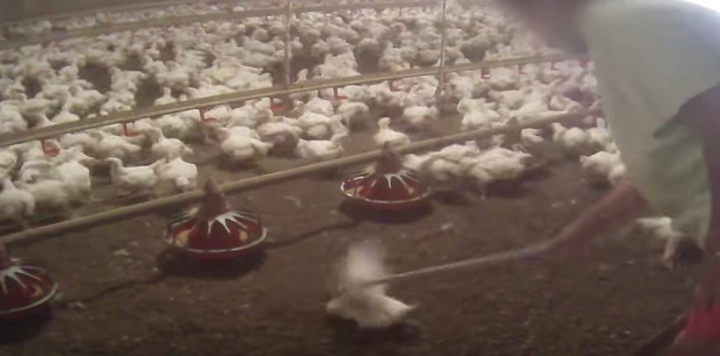 Chickens cruelly beaten, stomped to death and left to die painfully and slowly. According to Mercy For Animals, that's the "disgusting secret" behind McDonald's Chicken McNuggets.
On Wednesday, the advocacy group released disturbing hidden-camera footage capturing what it says is evidence of abusive practices at a McDonald's chicken supplier.
The investigation into T&S Farm, located in Dukedom, Tennessee, "exposed horrific cruelty to animals, including birds beaten, crammed in filthy sheds, stabbed to death with nails attached to makeshift clubs and left to suffer and slowly die without proper veterinary care," the group wrote.
Watch the video below. Be warned that it contains graphic footage:
"Animal well-being is a priority at our company and we will not tolerate the unacceptable animal treatment shown in this video," said a Tyson spokesman. "Members of our animal well-being team are investigating; however, based on what we currently know, we are terminating the farmer's contract to grow chickens for us."
In a statement, McDonald's said that it supported Tyson's decision and is participating in its investigation. The fast food chain added that it was committed to "animal health and welfare at the farm level."
T&S Farm has yet to comment on the allegations.
Director of Investigations Matt Rice said investigators are always faced with images that "shock and horrify," no matter what factory farm they visit.
"For public health, this is really a game changer," Gail Hansen, a senior officer for Pew Charitable Trusts' antibiotic resistance project, told Reuters in March.
Related
Popular in the Community