For decades a burger and fries have been the fast-food paradigm but data compiled for BurgerBusiness.com by researcher Mintel show that that's no longer valid. Chicken sandwiches have surpassed beef burgers in number on QSR menus.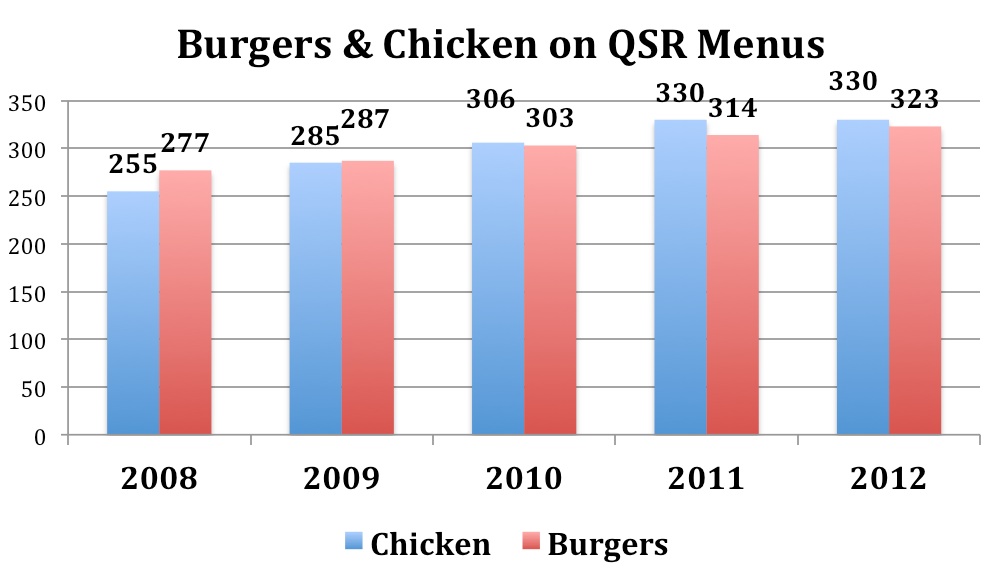 The shift actually took place in 2010 when beef prices spiked. But rather than being a short-term reaction, the emphasis on chicken has continued since. Chicken sandwiches (including turkey and subs, wraps and burritos as well as roll/bun sandwiches) long have been close to burgers in number and consumer popularity but since 2010 chicken sandwiches have held their slim lead.
The Wall Street Journal reported then that in the week ended April 9, 2010, wholesale prices for 90% lean boneless beef were up a startling 32% from levels the previous November. Not surprisingly, that spike pushed burger chains to explore non-beef alternatives. McDonald's would test Chicken Flatbreads and Chicken Grande Wraps that year and the only new beef item it would introduce would be the Angus Snack Wrap (a half-size portion of an existing burger item). Hardee's would test the Charbroiled Turkey Burger it (and Carl's Jr.) would introduce systemwide the following year. An increase in QSR turkey burgers has been a significant factor in burgers' fall to No. 2.
The numbers of chicken sandwiches plateaued from 2011 to 2012, Mintel's data show, and burgers have inched back closer. In the 4th quarter of 2012, Mintel's survey counts 330 chicken sandwiches and 323 burgers. But all the signs point to chicken maintaining its lead. Consider the barrage of new menu items introduced by Burger King in January. Yes, it included an Avocado Swiss Whopper, but the wave also brought Philly Original Chicken and Italian Original Chicken sandwiches as well as the introduction of new Chicken Nuggets.
As a result of the shift, McDonald's, Burger King, Wendy's and other burger chains must keep an eye not only on each others' marketing but also on KFC (expected to introduce new boneless chicken fillets on April 14), Chick-fil-A, Subway and other chicken-sandwich competitors, too. McDonald's executives have taken to referring to the chain's share of the "Informal Eating Out" market, not just the burger category.
The turning point in the burgers vs. chicken menu battle may have come in July 2011. That's when McDonald's tested a spicy sandwich called the Zesty BBQ Cruncher. The hook was that, for the first time with McDonald's, the sandwich could be ordered with choice of beef or chicken patty. Chicken had reached parity. Offering a sandwich in both beef and chicken versions has since become a QSR commonplace and burgers quietly slid to second place among sandwiches.
Thanks in part to the phenomenal popularity of chicken wings as well as chicken nuggets, Chicken McBites, Popcorn Chicken and other chicken snack items, the total number of chicken items on QSR menus was 994 in Q4 2012, according to the Mintel data, more than three times the 323 burgers charted. Even if you add to the burger number all other-beef QSR items (roast beef sandwiches, Philly Cheesesteaks, beef tacos, etc.) the total is 538 and little more than half the chicken total. It's a losing battle for beef.