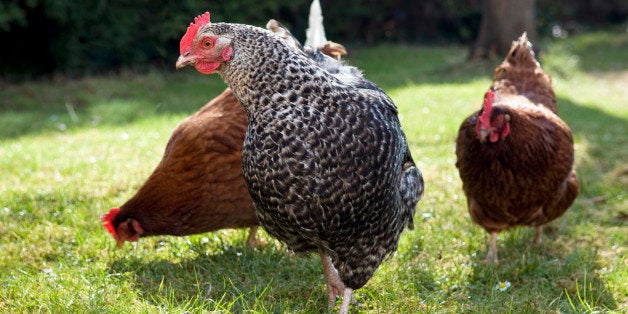 As I've previously reported, there's currently an urban chicken abandonment epidemic sweeping our poultry-loving nation as more and more "stupid foodies" and "hipster farmers" are bidding adieu to their broods after discovering that keeping chickens is, well hard work, and that the birds can live well past their egg-laying prime (that's only half of the problem as animal rescue and adoption organizations are being flooded with verboten-in-the-city roosters which are aggressive, noisy, and easy mistaken for hens).

Enter Jenn and Phil Tompkins, two fowl fanciers from Freeport, Pa., who understand the sometimes fickle nature of urban chicken owners. In order to put a damper in the number of orphaned cluckers flooding sanctuaries, they've launched a chicken rental service that allows aspiring urban/suburban homesteaders to give it a shot without any sort of long-term commitment. If hen-curious customers discover after the fact that they're absolutely terrified of birds or if they decide a coop just wouldn't match the rest of their backyard décor — I suppose you could call it chickening out — it's not a problem at all as the birds are loaners to be returned, no questions asked and with no penalties. If customers fall head over heels and decide that they're indeed ready for the commitment, they can opt to buy the chickens at the conclusion of the rental period.

"A lot of people are scared to get into chickens because they don't know what to expect or where to start, so we try to provide an easy avenue for the customer," explains Phil Tompkins to ABC News.

The Tompkins' recently soft-launched service, Rent the Chicken, provides customers with two hens (raised by the Tompkins, the egg-laying lady-loaners are between 6 months and two-years old), a portable coop, food and water dishes, and enough feed to last through the rental period. Delivery, set-up, and a quick tutorial are also included in the rental price. Currently, the service caters to customers living within a handful of counties in western Pennsylvania. Standard rental packages start at $350 although there's currently a discount that knocks $100 off the price.

The Rent the Chicken site explains the logistics:
We schedule a time to bring to your home a portable coop, two chickens that are already laying eggs, and the supplies needed for your rental period. Chickens produce the most eggs from May until November so during the last week of November we stop by and pick up the rented chickens, coop and supplies. Starting in November we shelter them and protect them from old man winter. As soon as May comes back around, we schedule a time to bring your chickens back to you and provide you with another season of rental.
If one of the rental chickens happens to ascend to poultry heaven during the test-drive period, the Tompkins will replace it, provided that it hasn't died from human neglect. Roosters are also available upon special request.

Interesting stuff. A question to all of you backyard chicken-curious folks out there: Would you consider a hen-based "try before you buy" type of program? Or are you confident that you just throw yourself into chickening without giving it a trial run first?