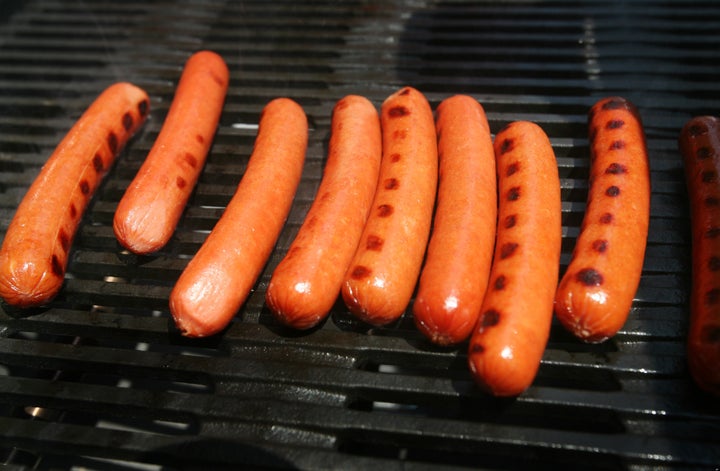 Rotisserie chicken skin, that is.
But let's look at the good part of this news first.
Hot dogs and pepperoni are relatively free of cancer-causing compounds -- while bacon and rotisserie chicken are comparatively full of those compounds, according to a new study published recently in Meat Science, the scholarly journal of the American Meat Science Association.
Kansas State University food-chemistry professor J. Scott Smith and his team set out to determine the levels of heterocyclic amines, or HCAs, in various types of meat. HCAs are carcinogenic compounds found in flesh that has been fried, grilled or otherwise cooked at high temperatures. According to a KSU news release, studies have shown that people who consume large amounts of HCAs in meat products show an increased risk of stomach, colon and breast cancers.
Conducted with an international research team and supported in part by the USDA, the American Meat Institute Foundation and the National Pork Board, the study examined eight types of ready-to-eat meat products: beef hot dogs, beef-pork-turkey hot dogs, deli roast beef, deli ham, deli turkey, fully cooked bacon, pepperoni, and rotisserie chicken.
"These are the most common types of ready-to-eat products, and their use has increased in recent years because of convenience," Smith said, as reported in the KSU release. "For this research, we took each of these products and prepared them as a consumer would."
The researchers microwaved the hot dogs and bacon, topped a pizza with pepperoni and then heated the pizza, and did not heat the chicken or deli meat. They then studied the flesh, searching for five different types of HCAs and measuring these by nanograms per gram, or ng/g.
Pepperoni showed the lowest HCA content: 0.05 ng/g. The second lowest were hot dogs and deli meat, tied at 0.5 ng/g. These minimal amounts led the researchers to conclude that eating these meat products "contributes very little to HCA intake."
Fully cooked bacon registered 1.1 ng/g, and rotisserie chicken meat registered 1.9 ng/g; both contained all five types of HCAs. The skin of the rotisserie chicken (the best part) had even higher HCA levels, a whopping 16.3 ng/g.
"Based on this research," Smith said, "HCA consumption can be reduced by not eating chicken skin," Smith said.
The other types of meat most likely have a lower HCA content because of their higher water content. Moisture prevents many HCAs from forming, and many ready-to-eat products -- such as juicy hot dogs -- have a flavored water solution added to them during the manufacturing process, Smith pointed out.
"Hot dogs and deli meat may have low HCA levels because they are manufactured at low temperatures," Smith said. "The low HCA levels may also be from ingredients that are added to the meat and prevent HCAs from forming while the meat is cooking."
Popular in the Community