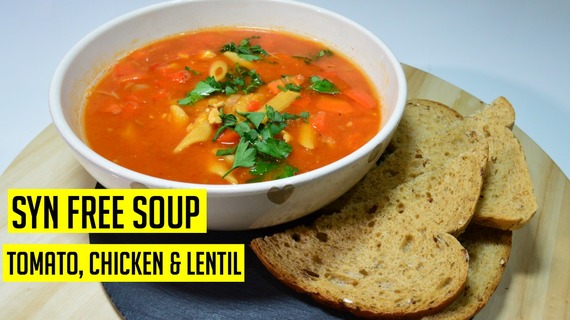 This Chicken Tomato Soup is amazing!
When its cold outside, warm yourself up with this wonderfully healthy chicken tomato soup, bursting with flavour with an indian twist and as always, so simple to make.
If you are on Slimming World or Weight Watchers or any other diet plan this would be perfect for you also!
INGREDIENTS:
Chicken Fillet (cut into pieces) - 200g
Tomato Passata - 200g - OR you can use chopped tomatoes blitzed in a machine.
Red Lentils - 1/2 cup
Pasta of your choice - Handful
1 small Onion - Chopped
1/2 Red Pepper - Chopped
1 Carrot - Chopped
1 teaspoon Red Chilli Powder
1/2 tspn Oregano
Salt to taste
1 tspn Cumin Powder
1 tspn Crushed Garlic
Spray Oil
For Garnishing - Parsley OR Coriander Leaves OR Basil
I upload weekly recipes so you might as well subscribe!
This channel is for anyone who loves food and and how to cook from student's to someone preparing for marriage or even if you are just in need of some inspiration!

I live in Leicester, England and have learnt from the the best Chefs, who have taught me everything from savouries , delicious, tasty mouth watering home made good food, snacks to sweet dishes, desserts and more!
Related