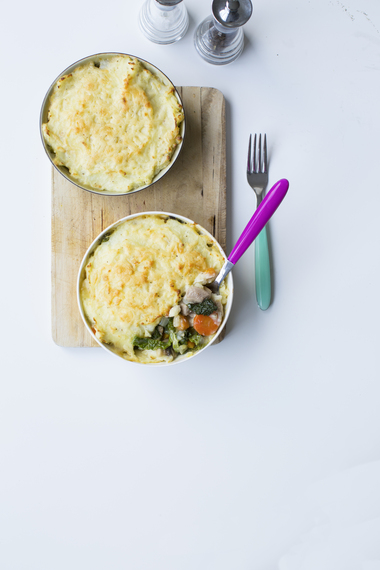 This simple recipe is a twist on the classic British cottage pie, originally with minced beef.
This pie is great for getting a fill of great vegetables as well as using up any left over vegetables in the fridge. I use lovely organic vegetables from Wholegood. Chicken thighs are usually cheaper yet more delicious and flavorsome and doesn't go tough like the breast does if you happen to overcook it. However, the thighs are secondary in this pie, the main focus are the different colour vegetables.
The secret to most of my cooking is the use of a good quality, tasty premium fish sauce. I add it to the pie filling to aid the umami flavour, making it entirely satisfying. If you use a good quality fish sauce, you should not smell it at all but the savoury flavour is what turns it from something that is good to something wonderful. Fish sauce is fermented anchovies so is great to use in Italian cooking too.
It is a good idea to make a few of these if you are a busy mum, fridge it or freeze for those can't cook/ won't cook evenings -- just sprinkle with cheese and heat in oven and you have your own homemade delicious ready meal, curled up in front of the television.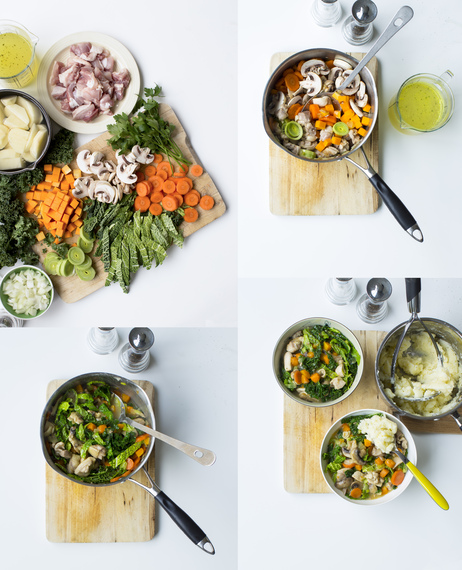 For the pie filling
250g or 3 free range chicken thighs, de-boned, skinned if desired, sliced into bite-sized pieces
1/2 onion, diced
75g savoy cabbage, stem removed, sliced into 1cm strips
75g kale, stem removed, sliced
2 inches of leek, sliced into 1cm rings
1 carrot, peeled, sliced into 0.5cm rings
4 button mushroom
130g butternut squash (or 1 inch of neck), peeled, cut into 1cm cubes
20g parsley, coarsely sliced
2 tbs olive/ rapeseed oil
1 tbs premium fish sauce
3 tbs plain flour
400ml chicken stock or water
salt & pepper to season
sprinkle cheddar cheese or similar
For the mash
400g potato, peeled, sliced, boiled for mash
splash of milk
25g butter
35g cheddar cheese, grated
salt & pepper to season
Peel, slice and cook the potatoes in boiling water for a potato mash.
Add oil to a separate medium hot saucepan and sweat off the onions for a few minutes, then brown off the chicken thigh pieces for 5 minutes.
Add carrots, butternut squash, leek, mushrooms, stir and cook for 5 minutes. Then add chicken stock or water with 3 tbs of plain flour to thicken by stirring the pan to rid all the lumps. Season with salt and pepper and premium fish sauce. You can also use either worcestershire sauce or soy sauce.
Cook and stir for a further 5 minutes, then add the strips of kale and savoy cabbage, stirring until it wilts and turn off the heat. Sprinkle with chopped parsley.
Mash the potatoes, add a splash of milk, butter and season with salt and pepper.
Fill 2 bowls or a small pie dish with the chicken and vegetable filling and cover with mash potato. Top with cheddar cheese (optional) and bake in a pre-heated oven for about 20 minutes or until golden.
Serve as is or with extra helpings of steamed vegetables.